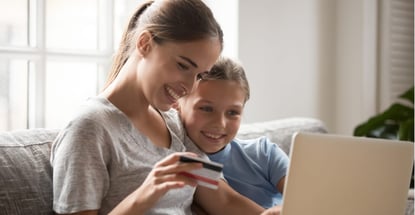 Prepaid debit cards for minors are becoming increasingly common. Most people use debit cards as a form of payment and having one can provide your child or teen with the first-hand experience of managing their own money.
The best thing about prepaid debit cards for minors is that they don't work like a credit card or prepaid credit card (secured credit cards). Spending is often limited to only the amount available on the card. That way, your child can use it just like a bank card.
Prepaid Cards | Debit Cards | FAQs
The Best Prepaid Debit Cards For Minors
The best prepaid debit card for minors is going to vary depending on the features you're looking for. We've managed to narrow down the top seven options that offer a ton of value and will be easy for you and your child to manage.
We rank the Greenlight – Debit Card For Kids as the best debit card for minors. It's loaded with features that teach kids about managing finances and provides parents with an easily managed account to assign chores and pay allowances.
Savings accounts earn interest, and the app even allows kids to build long-term wealth through investments in fractional shares. The card provides real-time notifications, instant transfers, and parents can set spending limits.
There are three plans to choose from with varying monthly fees of up to $10 per month.
The BusyKid Visa® Prepaid Spend Debit Card is another solid option for young adults to spend money using a real Visa card and learn along the way.
The BusyKid Spend Card is a secure EMV chip card with enhanced security for safe transactions. Misplaced cards can be locked with one press of a button in the mobile app.
And because it is a reloadable debit card, children and parents can easily add money to the card by logging into the account, clicking Spend, then Transfer to Card. Type in the amount you wish to move to the card and hit Transfer. You'll then receive a notification that requires you to reply Yes to approve the transfer to the spend card.
Great for families who wish to store money on multiple prepaid cards linked together
No risk of debt, overdraft, or hidden fees
Retain parental visibility and control while empowering kids of all ages
Separate funds into multiple purpose-driven accounts
Alert parents and children about card activity and the remaining balance in real time
A paid FamZoo subscription entitles you to use all of the active prepaid cards in your FamZoo family for as long as your subscription remains active. Adding family members and adding cards does not impact your subscription fee.
FamZoo is one of the best prepaid debit cards for minors because it helps get the whole family involved in financial literacy. The FamZoo Prepaid Mastercard is designed for families and as a parent, you can hold the primary card used to fund the other accounts. You can transfer funds between family members whether it's for allowance, chores, or odd jobs, among other things.
Your kids can sign in separately to monitor their spending while parents can see the entire dashboard and set up controls. Another key benefit of this kids debit card is that it will help your child learn how to create a budget, track savings, and even make donations. You can load the card through direct deposit, bank transfer, and PayPal, among others.
Since the FamZoo prepaid card is not tied to a traditional bank account, there are no overdraft fees, late fees, or risk of debt. Sign your kids up at any age, as this card does not have age restrictions. There is a monthly fee per family to use your FamZoo prepaid debit cards, but you can pay in advance for six months or the entire year. Depending on where you reload your card, there may also be a small reload fee.
at The Bancorp Bank'ssecure website
Move money from your PayPal account to fund your prepaid card account.
Earn cash back and personalized offers, just for using your card.
With Direct Deposit, you can get paid faster than a paper check.
Card issued by The Bancorp Bank, Member FDIC. Card may be used everywhere Debit Mastercard is accepted.
Click PayPal Prepaid Mastercard® for additional features & program details, and to request a Card.
PayPal Prepaid Mastercard® allows you to add children from the age of 13 to 17 years old as authorized users. First, you'll need to apply for the card then request to add your child as an authorized user so he or she can get their own card. You must be the legal parent or guardian, and you can request up to two secondary cards for eligible minors to use.
Depositing money onto your Mastercard prepaid debit card is easy and free when you choose from one of Netspend's 130,000+ reload network locations. Another way to put money on this card is through direct deposit. If your teen has a part-time job, for example, they can set up direct deposit through their employer and get paid up to two days earlier.
Consider using this card to teach your child how to deposit money, track spending, and even pay bills. You'll gain access to the PayPal Prepaid mobile app to check your balance, review transactions, and even deposit paper checks. This prepaid card is accepted anywhere that accepts Mastercard payments including purchases online or over the phone.
Netspend is well known for its NetSpend® Visa® Prepaid Card but what you may not know is that you can add your teen (ages 13 through 17) as an authorized user. To get the Netspend Visa Prepaid card, there is no credit check, activation fee, or minimum balance required, so it's perfect for someone who's just starting out. Order your reloadable prepaid card online or you can buy it at a local retailer that sells prepaid cards.
This Visa card also helps you get paid up to two days earlier with direct deposit, but this option may not be available to your teen with their card. To help you save money on reloading your Netspend card, these locations allow you to add money to your card for a low fee to help you save on reloading fees.
Keep in mind that reloading fees can range from $0 to $3.95, so the costs can add up.
The Bluebird® American Express® Prepaid Debit Account has no monthly fees and can be used wherever American Express is accepted. You can load your Bluebird Card for free at any Walmart checkout register or MoneyCenter. This is another excellent prepaid debit card option for minors since you can add a subaccount for your child when they are 13 years old or older.
With a subaccount, the other person will have access to your Bluebird American Express account funds but you have control over how much they can spend. They will receive their own card and login credentials, but you will be the primary account holder.
You can use the debit card to pay your child's allowance or send money to them for college. You'll also get to add up to four subaccounts. Once you create the new account(s), adding money to their card is easy. Since everything is connected, all you need to do is make a simple transfer. Utilize control features like setting a daily spending limit, enabling or disabling ATM access, and limiting purchases to only the United States if that is your preference.
You can, however, enable your teen to create money goals within their account or even pay a bill online, including their cellphone bill, with their Bluebird Card.
American Express is well known for its credit cards, but debit cards are also available, including the Serve® American Express® Prepaid Debit Account. American Express Serve is a prepaid debit card available in different versions that offer different benefits, including free reloads, cash back, and free direct deposit, among other perks. This card is widely accepted wherever Visa or American Express cards are accepted.
If your child is at least 13 years old, you can add them as an authorized user so they can obtain their own card. Early direct deposit is available, and the monthly fee can be waived if you have at least $500 of funds direct deposited each month. The free mobile banking app can be used to check your balance, deposit paper checks, and send money. Use Moneypass ATM machines to withdraw funds for free.
Another benefit of having American Express Serve is that, if you use the cash back card option, your teen can experience earning cash back for regular purchases.
Best Debit Cards For Minors
Debit cards are tied to a bank account and need to be funded with cash before they can be used, just like a prepaid card. They're a great alternative to prepaid cards that still allow parents to control the account.
8. Capital One MONEY Teen
The Capital One MONEY teen checking account is a fee-free bank account that comes with a debit card for kids.  It's a great option if you want to allow your child to make purchases on a card and learn how to manage money.
How it works is that you have a joint bank account with your child where you can monitor their activity, send allowance easily to their account, and lock or unlock their account as you see fit. You can give your child a spending limit to help them save some of the money in their account. Plus, they can also set savings goals for future purchases and track their progress.
There is no monthly fee or minimum balance requirement for this teen checking account. Another great benefit of this card is that it's not just reserved for teens. You can open an account for your child so long as they are 8 years old.
Kids can use their cards to withdraw money from more than 70,000 fee-free Capital One ATMs and Moneypass ATM locations nationwide. Capital One also offers savings account options for minors.
9. Current Visa Debit Card
Current is an online-only bank based on the belief that every person should have accessible and affordable banking opportunities. Current has a teen banking card that minors can use to help them learn more about financial responsibility and properly managing the money they have.
Kids can set up automatic round-up transfers to meet savings goals with their accounts. As a parent, you can set spending limits for their card, block certain merchants, and easily make transfers, especially if you allow your teen to earn an allowance.
You'll need to first sign up on the Current app and then connect your bank account. Next, have your teen download the banking app for iOS or Android, then you can link your account with their Current Visa Debit Card. After that, they should be ready to use their new debit card.
This card charges an annual fee, but it doesn't have any minimum balance fees, overdraft fees, or hidden costs. You can set spending limits for the debit card and even limit spending categories with just a touch of a button in the app.
Another great feature of using the Current Visa Debit card is that you can set up a chores list as well as an allowance, then set up transfers to their account. Just use the app to choose a day for allowance to be paid out to your teen each week once chores are complete. Then the money will transfer directly from your account.
Can a Minor Get a Prepaid Debit Card?
A prepaid debit card can be a great way to teach your kids about money and help them adjust to digital banking as they get older. Plus, it makes it easier to transfer money for allowance and other purposes.
If your child often asks you about ordering things online, you may have thought about getting them a prepaid debit card. If you're looking to teach your child about credit and their credit score, consider checking out our list of prepaid cards that build credit.
Most prepaid cards are available to people who are 18 years old or older. However, there is a way around this if you would like your minor child to get a prepaid debit card.
One of the easiest ways to get started is to add your child as an authorized user to your prepaid card. That way, your child will likely get access to their own card, but you can monitor transactions and even set up spending limits.
Another option would be to open a checking account for them and treat their debit card as a prepaid card. See if you can add overdraft protection or otherwise forego an overdraft fee. Realize that if popular banks don't offer prepaid debit cards for minors, smaller online financial services, like FamZoo and a few other companies mentioned in our list above, may offer that service.
How Do I Add My Child as an Authorized User?
Adding your child as an authorized user for a prepaid debit card should be a pretty streamlined process. First, you will likely need to open an account in your name and receive your prepaid debit card. From there, you can add your child as an authorized user either online or by calling the card issuer.
Some cards may allow you to log in to the app or website and submit a request. Be sure to read the eligibility requirements to make sure you and your child qualify.
For example, many prepaid debit cards require your child to be at least 13 years old to become an authorized user. Other cards may not have an age limit.
You'll want to read through the terms carefully to see what the conditions are for authorized users. Find out whether they will get their own card and linked account or if they would be spending money from your account. Also, see if there's a charge to get a new card for an authorized user (usually there isn't but it never hurts to confirm).
For example, with the PayPal Prepaid Mastercard®, you can add an authorized user by logging into your account online and starting at the Account Summary page. You will then be transferred to the Synchrony Bank servicing site where you can manage cardholders and add a new cardholder.
Another option with the PayPal Prepaid Mastercard® is to call the number on the back of your card and request to add an authorized user by phone. Once your request to add an authorized user is approved, it may take a few business days for your child to receive their new card in the mail.
Which Prepaid Cards Charge No Fees?
When using a prepaid debit card, be aware of fees since they can add up quickly. Prepaid cards typically come with all types of fees, including:
Monthly maintenance
Not meeting the minimum balance requirement
Cash reload
ATM withdrawal
Allowing your account to go inactive
That said, prepaid cards that do not charge fees are highly sought after. Some of the best low and no-fee prepaid cards include cards like PayPal Prepaid Mastercard® Bluebird® American Express® Prepaid Debit Account.
Once you've narrowed down the best prepaid card with no fees, it's important to read the fine print and check out the fees list on each card. The Netspend card does charge a monthly fee but you can have this waived if you choose the pay-as-you-go option.
Some cards may advertise no fees but when you dive a little deeper and pull up the fees list, you'll see that there are charges associated with using your card. One of the biggest fees with prepaid cards is the loading fee that allows you to add money to the card. You can avoid this fee by setting up direct deposit through your employer as well as only using approved network loading centers to add money to your card.
Each prepaid debit card has locations where you can add money to the card for free. This can help you avoid an ATM fee. Identify the locations nearest you where you can add money to your card without being charged a fee and keep those in mind.
If you're traveling with your prepaid debit card, check to see whether your card has a locator tool that can help you find the nearest free cash reload location.
Which Accounts Offer Parental Controls?
Several of the best prepaid cards for minors offer parental controls. While you may want your child to enjoy the experience of having a prepaid debit card, you also probably want to monitor their spending and help them learn basic money management skills. Parental controls can be very helpful in this area.
Capital One MONEY Teen
Current Visa Debit Card 
All of the family-oritented debit cards reviewed in this article have parental controls, including the Greenlight – Debit Card For Kids, BusyKid Visa® Prepaid Spend Debit Card, and FamZoo Prepaid Mastercard.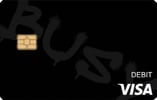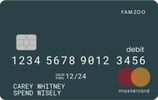 With the Capital One MONEY Teen debit card for kids, you can set limits for your child's spending, track their activities, and lock their account if you need to. Having a spending limit allows your child to see their account balance, but they may not be able to spend the whole amount.
This can help teach your child good financial habits, such as how to avoid spending every dime that's in their account, as well as keeping money in a savings account for future purchases.
With the Bluebird® American Express® Prepaid Debit Account, you can control your authorized subaccounts from the settings section in the debit card app. Decide whether you want to enable or disable certain purchases or set a daily spending limit. This means that if you only want your child to spend $30 during an outing, you can just set the limit for their prepaid debit card and not worry about it.
Another great feature of the Bluebird® American Express® Prepaid Debit Account is the low balance alerts so you can be notified when your child has a low card balance.
With Current's Teen Banking card, you can set certain spending limits, automate allowance payments, and authorize other family members to add funds to their card. Another helpful feature of this card is the ability to block purchases from specific merchants.
Is There a Prepaid Debit Card With No Age Limit?
Yes, cards designed for children, such as the Greenlight – Debit Card For Kids, generally have no minimum age requirements. But it's important to check the specific terms and conditions of each card before choosing, as some may have restrictions based on the state you reside in.
Which Banks Give Debit Cards to Minors?
Quite a few banks give debit cards to minors, including Capital One, Wells Fargo, Chase Bank, and Bank of America. Navy Federal Credit Union issues the Visa Buxx Card to students and allows parents to easily monitor spending and load money onto the card. However, these debit cards are usually tied to an active checking account.
Prepaid debit cards, on the other hand, are not connected to a bank account. You simply load money onto the card and spend up to that amount at different merchants or use the card to pay bills.
This list of best prepaid debit cards for minors includes many nonbank cards, so you have plenty of options if you'd rather go with a prepaid card over a debit card that's tied to a checking account. Either way, the experience will certainly teach your child more about money, how to save, and how to track spending.
What Are the Advantages of Giving My Child a Prepaid Card?
There are clearly many benefits to getting your child a prepaid debit card. For starters, it will help train them to know how to use a regular debit card when they get older.
At least 63 million Americans are unbanked or underbanked, according to a 2019 report from the Federal Reserve. Of that total, 6% have no bank account whatsoever and often rely on alternative financial services like high-interest payday loans and check-cashing services that pack on tons of fees.
By setting your child up with a prepaid debit card early on, you can help them learn how to use a debit card wisely, track their spending, and practice necessary money management skills. You may even want to give your teen a small bill to pay like their cell phone bill or Netflix so they get used to managing expenses each month.
Another advantage of getting your child a prepaid card is that it can teach your child how to budget and set certain savings goals. It's also easier to send money to a savings account with a debit card. A piggy bank is no longer the only way to help kids save and visualize their goals.
The prepaid cards on this list all allow access to a mobile app where kids can check their balance and determine goals for their money.
Replacing a lost debit or credit card can get expensive, so starting your child off early with a prepaid card can help teach them to be responsible and keep their card in a safe place.
What Are the Disadvantages of Giving My Child a Prepaid Card?
Giving your child a prepaid debit card can come with its disadvantages as well. It's important for you to make sure your child does not get into the habit of overspending or making unnecessary purchases simply because there is money on their card.
A prepaid card is not the same as a gift card since you can use it at a variety of merchants.
Know that your child will likely make mistakes with their card or perhaps even lose it. Understanding how to use your parental controls can help. Some prepaid accounts allow parents to control every aspect of their kid's spending and savings goals.
You'll need to monitor your child's spending, especially if they want to order something online. You don't want them falling victim to a scam or revealing personal information online.
Finally, these prepaid debit cards don't build credit. If you're looking to help your child build credit, consider a secured credit card instead, or adding your child as an authorized user to one of your credit cards. Most issuers allow authorized users age 13 or older.
Compare the Best Prepaid Debit Cards For Minors
Prepaid debit cards can be excellent tools to help you teach your child more about money and the impact of their spending. When it comes down to narrowing down the best option for you, compare all the features and benefits of each card side by side. Know what you're looking for to help with money management and be mindful of extra fees.
Tons of great options are out there, and this list just scratches the surface.
Advertiser Disclosure
CardRates.com is a free online resource that offers valuable content and comparison services to users. To keep this resource 100% free, we receive compensation for referrals for many of the offers listed on the site. Along with key review factors, this compensation may impact how and where products appear across CardRates.com (including, for example, the order in which they appear). CardRates.com does not include the entire universe of available offers. Editorial opinions expressed on the site are strictly our own and are not provided, endorsed, or approved by advertisers.