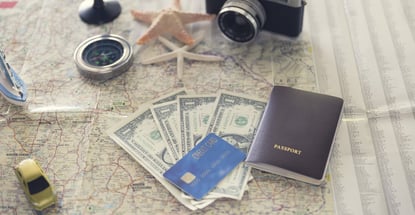 Trying to decide whether a cash back or a travel rewards card is right for you? The truth is you don't have to choose. The best credit cards for cash back and travel allow you to earn and redeem your rewards in a way that fits your individual needs.
Cash back credit cards let you earn back a percentage of your spending in the form of a reward that can be used for whatever you want, including travel. Similarly, rewards earned using travel cards can be redeemed for cash instead of travel, although this may not always be the most efficient use of rewards points.
In either case, the fact is there's flexibility in how you can redeem your rewards — as long as you choose the right card. Here are our choices for the best cards that can be used for both cash back and travel.
Cash Back | Travel | Business | FAQs
The truth is you can't go wrong with cash back rewards; they can be used to offset spending on anything, including travel. Cash back cards are a great option if you don't travel often enough to justify a dedicated travel rewards card, or if you prefer to use budget airlines and hotels.
That's because most travel cards are affiliated with major airlines and larger hotel chains, while cash back cards have no affiliate limitations. If you want a rewards card that can pull double-duty, here are the ones we recommend.
In addition to its cash back on all purchases, the Chase Freedom Unlimited® also offers a signup bonus for spending a nominal amount within the first three months of having the card. That's extra cash that you can redeem for travel using the Chase Ultimate Rewards® web portal.
Trips can be booked using your card, your points, or a combination of both. There's also no annual fee for this card, and your cash rewards never expire.
If you're looking to maximize your cash rewards, the Chase Freedom Flex℠ card offers 5% back on up to $1,500 in combined purchases on rotating bonus categories each quarter. You can also earn a signup bonus after spending a certain amount on purchases within the first three months of having the card.
All of the cash back rewards you earn can easily be redeemed for travel using the Chase Ultimate Rewards® redemption portal. As with other Chase Freedom cards, cash back rewards never expire and can be redeemed in any amount.
The Bank of America® Cash rewards Credit Card lets you earn 3% cash back in a category of your choice, making it a flexible option for cash back rewards and for travel. Depending on how you use your card, maximum rewards can be earned for gas, online shopping, dining, travel, or other categories.
This flexibility lets you quickly earn cash back that can be used to book travel or to offset travel expenses. This card has no annual fee, and you can earn a bonus cash back reward for spending a minimum amount within the first 90 days of account opening.
With one of the most generous cash back reward percentages in the industry, the Blue Cash Preferred® Card from American Express® lets you earn 6% cash back at U.S. supermarkets on up to $6,000 a year.
You can also earn 6% back on select streaming services, 3% back on taxi, rideshare, and other transit options, 3% back on gas, and 1% on everything else. It's the perfect card for busy families, and can also be used to book travel through American Express Travel Services. This card has a $95 annual fee, which can be easily offset by the generous cash back rewards.
If you're looking for an all-around credit card that lets you earn unlimited 1.5% cash back, the Wells Fargo Cash Wise Visa® Card is hard to beat. This card comes with no annual fee and a lengthy introductory APR period for purchases and balance transfers.
But the real advantage of the Wells Fargo Cash Wise card is its simplicity. No rotating categories, no quarterly activations, just unlimited 1.5% cash back that can be used for anything, including travel. There's no annual fee, and you could even earn a cash bonus for meeting a minimum spending requirement in the first 90 days.
Travel reward cards are a great way to rack up the mileage points, but what if you need to cash them in? Although these cards deliver their maximum benefits when used for travel-related expenses, redeeming points for cash is also a viable option.
Many premium travel cards let you accrue more points per dollar spent than with a standard card, meaning they'll deliver the rewards faster. Here's our list of travel cards that let you redeem for cash when needed.
A card for frequent travelers who have excellent credit, the Chase Sapphire Reserve® card offers exceptional travel benefits and a generous rewards program. However, consider the $550 annual fee when calculating whether it's the right choice for you.
The card earns 3X points on travel and dining, and there is a $300 annual travel credit to help offset the fee. Points earned with the Sapphire Reserve® card can be redeemed for cash at a 1:1 ratio, meaning each point is worth one cent. Redeeming 10,000 points will get you $100, however, if you redeemed the same amount of points for travel, you'd get $150 in value, at least.
Similar to the Sapphire Reserve card but with an annual fee of just $95, the Chase Sapphire Preferred® card is a great way to accumulate a lot of reward points. Aimed at less frequent travelers, the Sapphire Preferred card earns 2X points on travel and dining expenses.
When redeeming for cash, points transfer at the same 1:1 ratio, but when used for travel 10,000 points will equal $125 in value.
If there's a single word to describe the Discover it® Miles credit card, it is simplicity. The card earns miles for every dollar spent on anything, and the rewards never expire. There are no blackout dates or airline restrictions when redeeming for travel.
Miles can be redeemed in any amount and can be issued as a statement credit or as cash. One thing to note is the unique first-year bonus Discover offers its cardholders.
The Capital One Venture Rewards Credit Card lets you earn an unlimited 2X miles on every purchase made. There's also an opportunity to earn big bonus miles if you meet the minimum spending requirement in the set time frame from account opening. There is also a $100 credit for global entry or TSA Pre-check.
Reward points can be redeemed in several ways, including for cash, gift cards, or statement credits. Redemption value is one penny per point when redeemed for cash or cash equivalent.
Plus, if you're a Preferred Rewards® member, you can automatically earn 25% to 75% more points. When it comes time to redeem all of those points for cash, you can simply log in to your card account and transfer any amount over $25 to your Bank of America checking or savings account at a penny-per-point rate.
Although the Capital One VentureOne Rewards Credit Card doesn't offer the most miles for your dollar at just 1.25X, it does have a lot of useful features for infrequent travelers. New cardmembers enjoy a low introductory APR, along with bonus miles for meeting minimum spending requirements, all with no annual fee.
Capital One Venture Miles® never expire, and you can redeem them for cash or a statement credit anytime.
Business travelers know what's important when it comes to choosing a credit card for cash back and travel, and that's flexibility. You want a card that offers top performance no matter what you happen to use it for.
The best of these cards offer rewards for the categories in which you spend the most, and the cards let you choose how to redeem them as you need. Here are our choices for the best cash back and travel business cards.
With its huge potential signup bonus and 3X points on major business purchases, the Ink Business Preferred℠ Credit Card from Chase is one of the best business cards for cash back and travel. And, to make this card an even better deal, the points you earn are worth 25% more when redeemed for travel through Chase Ultimate Rewards.
That means 80,000 points are equal to $1,000 toward travel. The card charges an annual fee, which is more than compensated by business perks like zero foreign transaction fees, free employee cards, and the option to redeem points for cash back.
Offering similar business benefits to those of its sibling but without the annual fee, the Ink Business Cash® Credit Card gives cardholders 5% cash back on up to $25,000 in business purchases annually. It also provides 2% cash back on up to $25,000 in purchases made at gas stations and restaurants annually, and unlimited 1% back on everything else.
Cash back can be used for travel or redeemed as cash, for gift cards, or as a statement credit.
As business travel cards go, the Capital One® Spark® Miles Select for Business is a solid partner for small business owners. With its unlimited 1.5X miles on all purchases, you don't have to worry if you're using the right card. Plus, you'll earn 5X miles on hotels and rental cars when you book through Capital One Travel.
An introductory low APR offer and a welcome bonus may be available for new cardholders. There's no annual fee for this card, and miles can be redeemed for flights, hotels, vacations, or transferred within the travel partner network.
The Ink Business Unlimited® Credit Card combines features of the company's other two Ink business cards with no annual fee, a potential cash back welcome bonus, and unlimited 1.5% cash back on purchases. There's also a low introductory APR on purchases for new cardmembers.
Rewards can be redeemed for cash, gift cards, or travel through Chase Ultimate Rewards. Additional employee credit cards for authorized users are also available at no extra cost.
When choosing a cash back card, you want the one that gives you the biggest reward; but since we all use our cards differently, understanding which one gives the most cash back isn't so straightforward.
There's bonus cash back if you meet minimum spending requirements, rotating bonus categories, and, of course, category-specific cards that give maximum rewards for travel, entertainment, groceries… you get the picture.
What we can help identify, however, are the cards that give you the most cash back for certain common spending scenarios. Here are some of the best cash back cards we've identified for specific situations.
Similar to cash back cards, travel reward cards also come in different forms. There are cards that earn lots of miles, cards that offer signup bonus miles, cards for frequent travelers, and, of course, cards for those who take only the occasional trip or vacation.
The point is no single travel card is the best choice for everyone. With that said, some cards stand out in a few common travel mile scenarios.
Cash back credit cards may seem like an awesome deal — you get paid for buying things you need anyway. But the truth is most of us either don't take full advantage or don't use our cash back cards correctly.
Deciding on a cash back credit card requires a lot more thought and analysis than most people put in. For example, in choosing whether a card is right for you, it's important to understand what you use your card for, how often you use it, and whether you will carry a balance.

You should also consider whether the card charges any fees that can completely wipe out your cash back rewards. That includes annual fees, late payment fees, transaction fees, etc. Then there are considerations such as cash back redemption options and restrictions.
Here are a few more things that people contemplating a cash back card may want to keep in mind.
First, the APR for cash back cards tends to be higher than for cards that offer fewer or no rewards. That means if you carry a balance and are paying interest on it, your cash back is for naught.
If your card has a 23% APR, your 2% cash back simply reduces your rate to 21%. You could find a card without rewards that charges 16% interest and be better off.
Second, many cards with high cash back rewards only pay the maximum on purchases made in specific categories. Others pay only up to a certain amount, then the maximum payout drops to 1% or less. Be sure to thoroughly read any restrictions in the cardholder agreement.
Finally, holders of these reward cards tend to spend more simply because they know they're earning cash back. However, spending $100 to earn $2 back rarely makes sense.
When all things are considered, if you're a disciplined card user that pays off your balance each month and is not susceptible to frivolous spending, a cash back or travel reward card can be a good choice. Many of these cards offer rewards that are quite lucrative.
The best credit cards for cash back and travel let you make the most of your spending while earning something extra along the way. Just be sure to use them wisely.