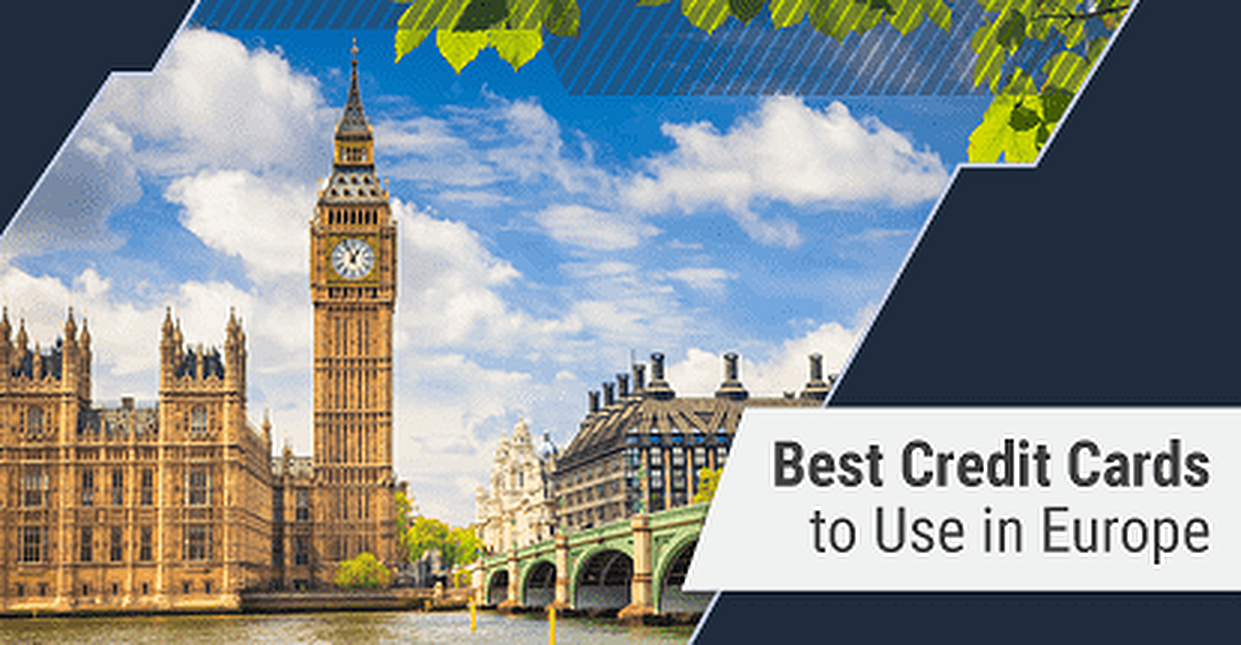 credit card advice
Disclosure: When you apply through links on our site, we often earn referral fees from partners. For more, see our ad disclosure and review policy.
Steeped in history, culture, and cuisine, Europe is a top destination for millions of vacationers every year, with plenty of Americans taking the long trip over the pond to explore what the continent has to offer.
But when even a domestic vacation can easily cost hundreds of dollars, a transcontinental adventure is likely to have a four-digit price tag. Luckily, there may be some things you can do to keep your trip on budget.
For example, you can save on fees and earn rewards on nearly every aspect of your European vacation simply by being smart about which credit cards you use.
No Foreign Transaction Fees | Chip & PIN | Travel | Dining | Entertainment | Business
Best "No Foreign Transaction Fee" Cards to Use in Europe
One of the most important fees to watch out for while traveling abroad are foreign transaction fees. Many credit cards charge foreign transaction fees on purchases made in a foreign currency to offset the cost of exchanging the currency from US dollars to the purchase currency.
That being said, there are a good number of credit cards that charge no foreign transaction fees, including many of the most popular travel rewards cards, and you can earn rewards regardless of the currency in which you make purchases.
The miles earned with your Capital One® Venture® Rewards Credit Card can be redeemed for statement credit to cover a range of travel-related purchases made with your card, a category that includes most transportation from airlines to railways, hotel stays, travel agencies, and even timeshares. Miles can also be transferred to a qualifying frequent flyer program.
The Chase Sapphire Preferred® Card earns the popular Ultimate Rewards® points, which are lauded for their redemption flexibility and high per-point potential value. Earn 2X points per dollar on travel and dining, one point on everything else, and pay no foreign transaction fees for any of it.
The Capital One® Quicksilver® Cash Rewards Credit Card is a straightforward unlimited cash back card that offers 1.5% cash back on every purchase, regardless of its category. With no foreign transaction fees, the Capital One® Quicksilver® Cash Rewards Credit Card can be good for your vacation expenses that don't fall into bonus categories.
Best "Chip & PIN" Card to Use in Europe
Although EMV-chip credit cards have become the standard in most of the world, the chip cards in the UK and US vary in one key way: how they're authenticated. In the US, we use a signature to authorize purchases (though even that's being phased out).
However, in Europe, most credit card transactions are authenticated via a four-digit PIN, similar to US debit cards. While your US EMV card can be used for most European merchants, certain unattended kiosks, such as ticket machines and parking garages, will typically require a card with chip-and-PIN capability.
The chip-and-PIN enabled Bank of America® Travel Rewards Credit Card earns an unlimited 1.5X points per dollar spent on all purchases, with no foreign transaction fees. Points can be redeemed for a huge range of travel-related purchases, including the basics, such as flights and hotels, as well as things like select tourist attractions.
Best "Travel Rewards" Cards to Use in Europe
Although there are certainly some deals to be had if you're flexible about when you take your trip, it's safe to say that travel expenses will likely be the bulk of the cost of your European escape.
Happily, with a good travel rewards credit card, you can start saving up points or miles for your vacation well before you book your trip, potentially eliminating the cost of transportation and/or accommodations with smart redemptions. Plus, earn more points for your taxi rides and rail tickets as you explore your destination.
The Chase Sapphire Reserve® is by and large one of the most popular travel cards on the market. Not only does it earn 3X Chase Ultimate Rewards® points on travel purchases, it also offers airport lounge access, an annual travel credit, trip cancellation/delay insurance, and a host of other potentially valuable travel perks.
While the Chase Sapphire Preferred® Card has a much lower annual fee than its big sibling, it also earns fewer points, only offering 2X Ultimate Rewards® points per dollar on travel. It also doesn't come with the travel credit or lounge access, though it does share the trip cancellation and lost baggage insurance.
The Capital One® Venture® Rewards Credit Card not only offers unlimited 2X miles per dollar spent on travel-related purchases, and miles won't expire for the life of the account. There's no limit to how many you can earn.
Best "Dining Rewards" Cards to Use in Europe
No matter where we are, food is usually a significant part of the budget. But that number is likely to skyrocket when you head off on a European vacation, especially when most of us spend our vacations in hotel rooms sans kitchens.
Of course, given that many of Europe's most popular tourist destinations also happen to be hailed for their culinary delights, few of us would likely cook even with a kitchen. Happily, you can explore the tastes of Europe and earn rewards with these dining rewards credit cards.
The Chase Sapphire Reserve® offers 3X Ultimate Rewards® points for qualifying dining purchases, a broad category that includes sit-down, fast food, and fine dining establishments. And since the card charges no foreign transaction fees, you can swipe without worry regardless of the currency.
The Chase Sapphire Preferred® Card offers many of the same perks as its big sibling, including no foreign transaction fees, but at a fraction of the cost with only a $95 annual fee. That lower fee may mean fewer rewards, however, as you'll only earn 2X Ultimate Rewards® points per dollar on dining.
The Uber Visa Card not only offers 4% cash back on dining purchases, including restaurants and bars, but it also has a lot going for it in terms of utility abroad thanks to its Visa network and no foreign transaction fees.

Earn 4% cash back on dining purchases, including restaurants, takeout, bars, and UberEATS
Earn 3% cash back on hotel & airfare, 2% for online purchases
Earn 1% cash back on all other purchases
If you're not carrying a better travel card, the Uber Visa Card can also be a good choice for certain travel purchases, offering 3% cash back on hotels and airfare, including vacation home rentals.
Best "Entertainment Rewards" Cards to Use in Europe
Although there's certainly plenty to see and do on a European trip without paying for entertainment, chances are you'll want to hit at least one museum, theatrical production, or sporting event while you're on vacation.
The cards in this category all offer bonus rewards for entertainment purchases, which can help you find a little more room in the budget for adding some extra culture — or just having a little more fun.
This card is a great option for entertainment purchases, offering 4% cash back on everything from concerts and sporting events to museums and zoos. Plus, cardholders can also earn 4% cash back on dining and 2% cash back at grocery stores.
If you're looking to earn points for entertainment while still enjoying transferable points, the Citi Premier Card might be your perfect pick. It offers a solid 2X points per dollar on entertainment spending, a broad category that will cover everything from concerts to sporting events.

Earn 3X points per $1 spent on eligible travel purchases, including gas stations
Earn 2X points per $1 spent on dining out and entertainment
Pay no annual fee the first year, then $95
On top of bonus rewards for entertainment, this card will also provide double points on dining — great for exploring local flavors — as well as triple points on travel, an inclusive category that contains gas purchases in addition to things like airfare and hotel stays.
The Marvel Mastercard® also pairs dining and entertainment, offering 3% cash back for both categories. While you'll be stuck paying a 3% foreign transaction fee, if you can pre-purchase your tickets in US currency, you can score a decent return.

Earn 3% cash back on dining, select entertainment, and eligible Marvel merchandise purchases
Earn unlimited 1% cash back on all other purchases
Pay no annual fee
Unlike the Citi cards above, the Marvel card's entertainment category excludes museums, art galleries, and sporting events from its bonus rewards. However, it does include movie theaters, theatrical and concert promoters, and amusement parks (including zoos and aquariums).
Best "Business" Cards to Use in Europe
Despite the focus on vacationers, of course, not everyone on their way to Europe is taking the trip for the sightseeing; business travelers spend millions of euros a year in European markets as they go about their, well, business.
On the plus side, while the business credit card market isn't quite as flooded as the consumer market, there are still a number of great options for not only saving on your purchases in Europe, but on all of your qualifying business expenses.
The Ink Business Preferred℠ Credit Card has a ton of features that make it a great pick for your European purchases, including no foreign transaction fees, 3X Ultimate Rewards on the first $150,000 in bonus category purchases that includes travel, and a 25% redemption bonus for travel redeemed through the Chase portal.
With the Capital One® Spark® Cash for Business, you'll earn unlimited 2% cash back on every purchase, regardless of currency, with no foreign transaction fees. Plus, you can obtain rewards-earning employee cards at no additional cost, making it easy to track expenses while your employees conduct business abroad.
The Ink Business Cash℠ Credit Card is good for saving on business essentials no matter where you are thanks to no foreign transactions fees and rewards that include 5% cash back on up to $25,000 in office supply purchases and internet, cable, and phone services each year. Plus, earn 2% cash back on the first $25,000 in annual dining and gas purchases.
Shop Like a Local with the Right Card
Whether you're headed to Europe for the English castles, the French cheese, or just the chance to see a little history, a European vacation can definitely be well worth its usually-high price tag.
But you can also get even more value out of your trip with a little smart spending. Ensuring your go-to card doesn't charge foreign transaction fees, for instance, can easily save you 2% to 4% on every European transaction.
And a good chip-and-PIN card can help you fit in and shop like a local by avoiding awkward moments hunting for a pen for your US chip-and-signature card (or, worse, missing a train because your card won't work at the ticketing kiosk).
No matter which cards you decide to take with you on your trip, however, be sure you contact your credit card issuers before you leave to let them know you'll be making purchases in another country. Without advanced notification, your card issuer may consider foreign purchases to be a sign of fraud and put a hold on your card — which can put a crimp in your vacation agenda.