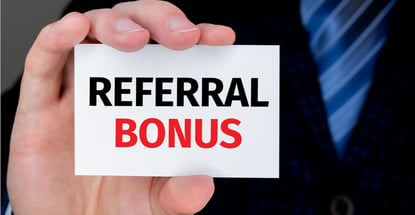 Writing this article about prepaid cards with referral bonuses wised me up to my cousin. She is constantly bombarding me with emails inviting me to sign up for this or that. I used to think she was just looking out for my interests, but it's apparent that her family and friends are profit centers for her refer-a-friend enterprise. Gotta love her initiative!
You don't have to make a career of it, but receiving referral bonuses is a nice way to earn a few extra dollars. As it turns out, several prepaid cards happily share their wealth with successful referrers. Here are our top seven.
Best Prepaid Card Referral Bonuses
Unlike gift cards, these seven prepaid debit cards are reloadable. And if you refer a new cardmember, the issuers will reload your account with a $5 to $30 bonus. Rest assured that these cards are worth recommending, as they can all provide cash-free purchasing to consumers without a bank account or credit score. 
The Refer-a-Friend bonus from the Brink's Armored™ Account (managed by Netspend) credits you $20 when others sign up. You and the referred person get the reward after the new cardmember activates the card and loads at least $40 in cash or direct deposits. There is no limit on the number of referral bonuses you can receive, but the referred individual cannot have used any Netspend card in the 180 days before they load their account.
The PayPal Prepaid Mastercard®, another member of the Netspend family, sponsors a Refer-a-Friend program that credits you and the referred individual $20 each after the person activates a new card and loads $40 onto it. To qualify, the $40 initial load must take the form of cash or direct deposit. There is no limit on the number of people you can refer.
The NetSpend® Visa® Prepaid Card from Bancorp Bank credits you and the referred individual $20 each when the person activates the card and loads $40 or more (cash or direct deposit). The bonuses are unlimited, although the standard Netspend 180-day prohibition on card use before the $40 load applies. You'll receive your reward within two business days following a successful referral. This Visa debit card uses the Visa USA Inc payment network.
The Mango Prepaid Mastercard® will credit you $10 for each successful referral of a new cardholder. The process begins when you obtain a unique referral link from the issuer and share it with referred individuals, who must use it when applying for the card. The referred person must make a direct deposit of their paycheck or federal benefit of at least $50 to satisfy the referral conditions.
The Greenlight – Debit Card For Kids offers a $30 credit for the new cardmembers you refer via a shared link. You can send the unique link via text, email, or Facebook. The referred person must pay the first month's fee after completing the 30-day free trial to receive your bonus. Greenlight may run prepaid card promotions that pay higher bonuses for multiple referrals. 
The Walmart MoneyCard® is a little different in that its referral rewards go to new cardholders rather than the referring individual. The new cardholder will receive the $5 referral bonus when they activate their card, enter the referral code, and load at least $20 onto the card. Walmart will load the bonus within 30 days. The MoneyCard is available as either a Visa debit card using the Visa USA Inc payment network or a Mastercard debit card using the Mastercard network.
The FamZoo Prepaid Mastercard offers a $15 referral bonus for new subscribers. To collect the bonus, you must send the referred individual a special referral link to activate their new card. The new subscriber also benefits by receiving an extra free month on their FamZoo account.
What Is a Prepaid Card?
Prepaid cards are a type of debit card that cardholders load with money and then use to make eligible purchases of goods and services. You can buy items in stores through either a PIN purchase transaction or a signature transaction. A PIN purchase transaction is the more secure of the two.
Unlike a bank debit card, a prepaid card's funding doesn't come from a savings or checking account. It also differs from a gift card (because it is reloadable) and a credit card (because it doesn't extend credit). Usually, a large credit card issuer, such as Capital One, does not offer a prepaid debit card. 
American Express, however, is a credit card issuer that provides a couple of prepaid debit cards in addition to some of the industry's best credit cards. But Amex's prepaid debit cards don't offer referral bonuses. 
You can load money onto a prepaid card in several ways, including in-person at reload locations, mobile check deposits via Ingo Money and others, or online through transfers and direct deposits. 
Once loaded, you can use the card to make eligible purchases online, in stores, in apps, and over the phone. You don't need a bank account or credit score to use a prepaid card.
Issuers of prepaid cards make money by charging fees, although the exact fees they charge vary. Most charge an initial setup fee and your choice of a per-use or flat monthly fee arrangement. Other charges apply when reloading the card, withdrawing cash, and conducting other transactions.
Prepaid cards do not allow overdrafts, although some offer a modest $10 purchase cushion to cover minor shortfalls. Purchase cushions, when available, are a complimentary, discretionary feature. 
While versatile, prepaid cards do not offer the same functionality as credit cards. For example, a credit card allows you to borrow money, stretch payments out over several months, and perform balance transfer transactions. 
Some prepaid cards will support a balance transfer from an external source, such as a checking account, but this is a feature to load the card, not to save on interest expenses. Some prepaid cards and credit cards also offer rewards points or cash back.
Some banks (e.g., Regions Bank, First Century Bank) offer referral bonuses on their savings or checking accounts but not on their prepaid cards, like the Regions Bank Now Card.
Some folks may confuse a prepaid debit card with a secured credit card since both require money upfront. The main difference is that you make purchases on a secured credit card using credit, not your security deposit. 
What Is a Referral Bonus?
The many fees issuers collect from prepaid card customers earn them oodles of money, so they can afford to spread the wealth around by offering referral bonuses for new cardmembers. 
In almost all cases, a referral bonus is an amount that issuers pay to existing cardmembers who refer new members. In some cases, the issuer also gives the bonus to the new cardmember, and in one case, solely to that person. 

Prepaid card referral bonuses range from $5 to $30, and there's no limit to the number of people you can refer. After the referred friend satisfies the program's conditions, you can collect the bonus. 
You'll note that you can earn a credit card referral bonus like that for prepaid cards. But you may receive a credit card referral bonus in points or miles, not just cash. 
How Do Referral Programs Work?
First, you have to be an active cardmember of the cards you refer. The typical referral process works as follows:
You request a unique link code from the card issuer online. The link code is the key to collecting your referral bonus.
You contact family and friends who may be interested in owning the prepaid card and share your link with them. You can usually use email, messages, and Facebook to contact potential new customers. 
The referred friend must sign up for the card, activate it, and load it with a set amount of funds to receive the bonus. They can load the money via bank transfer, cash, or direct deposit. 
The issuer will release the bonus once the referred person satisfies the program's requirements.
Some referral programs follow slightly different procedures. For example, the issuer may send the invitation on your behalf rather than having you send a link. Netspend cards do not issue bonuses when the referred person has used one of its cards in the 180 days before the card's qualifying funding. 
While referral programs usually don't limit how many bonuses you can earn, they do observe the tax laws by sending you a copy of IRS Form 1099-MISC once you've collected a threshold bonus amount (usually $500 or $600) for the year. Consult your tax expert for details.
Issuers pay referral bonuses as statement credits to your prepaid card account. Sometimes, they run prepaid card promotions that pay larger rewards for multiple successful referrals. 
How Do I Get a Prepaid Card?
The most convenient way to obtain a prepaid card is to apply online. Alternatively, you can buy prepaid cards at retail locations that sell and reload them. It only takes a few minutes to submit the information necessary to activate the card. This information usually includes:
Name and address
Email address
Date of birth
You must load the card when you first receive it, although the minimum amount may vary. You can also set up direct deposits and link external accounts at that time or later. 
If you order the card online, you can expect to receive it within a week to 10 days after account opening. The card carries the payment network logo (i.e., Visa, Mastercard, or American Express), and the word "Debit" is prominently displayed. It also contains a 16-digit account number and your name. 
Some cards, such as the Greenlight – Debit Card For Kids, embed chips that provide added security when you make eligible in-store purchases using a chip-reading terminal. 
Some prepaid cards offer virtual account numbers you can use for card-not-present transactions while you await delivery of your online-ordered card after account opening. A virtual account number is temporary and usually expires when your actual card arrives. 
What Are the Fees for Prepaid Debit Cards?
Prepaid cards usually carry a king's ransom in various fees. The fees start when you first purchase the card from a store or reload center, though signing up for a card online is usually free. The fees you will most likely encounter stem from:
Card purchase and activation at a retail location. Typically, this is a one-time fee of about $3.
Card usage (plan fees) collected as a flat monthly fee (about $5 to $10 per month) or via a pay-as-you-go arrangement of about $1.50 per use
Cash reloads, usually waived for direct deposits
Cash withdrawals from various sources, including financial institutions, cash reload locations, and ATMs (may be waived for in-network ATMs)
Declined transactions
Letting your balance get too low or your account idle for too long
Purchase of replacement or custom cards
Transfers to an external account
This list of possible charges is by no means complete. An annual fee is conspicuously absent, in contrast to many credit cards that charge an annual fee. Your card usage affects how much you'll pay, and prepaid cards must disclose the full roster of fees to potential purchasers. 
Does Netspend Have a Referral Bonus?
Netspend offers several prepaid cards, all sharing the same referral bonus program. Successful referrals will earn $20 credits for both the referrer and the new cardmember. 
The new cardmember must load at least $40 in cash or direct deposits to collect the referral. The issuer won't pay the bonus if the referred cardmember used a Netspend card 180 days before loading the $40. 
The Bancorp Bank NetSpend® Visa® Prepaid Card, among others, sends out a 1099-MISC form to folks who've received at least $600 in referral bonuses for the year, and you may have to include the money in your annual income.
How Do I Get My Referral Code For Netspend?
You simply have to log onto the online Netspend website or the Netspend mobile app to request a unique referral code. You then share the code with the people you refer, and they must enter the code for you and the new cardmember to earn referral rewards. 

Beware of websites that give you a specific referral code to enter. That code belongs to someone else, not the referring party.
Compare Prepaid Cards With Referral Bonuses
Prepaid cards with referral bonuses can create a small cash flow for cardmembers with many friends and family members. The reviewed prepaid debit cards are certainly worth having on their own merits, but the referral bonuses they offer don't hurt.
Before purchasing (or referring) any prepaid card, read about its fees and conditions, which are usually considerable. You can click on the APPLY NOW links above to find the details you'll need to evaluate each card. 
Advertiser Disclosure
CardRates.com is a free online resource that offers valuable content and comparison services to users. To keep this resource 100% free, we receive compensation for referrals for many of the offers listed on the site. Along with key review factors, this compensation may impact how and where products appear across CardRates.com (including, for example, the order in which they appear). CardRates.com does not include the entire universe of available offers. Editorial opinions expressed on the site are strictly our own and are not provided, endorsed, or approved by advertisers.