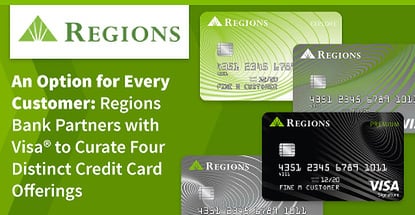 In a Nutshell: Today's banking customer often is looking for one service provider that can tackle a multitude of needs — and a variety of stages in their lives — without forcing them to jump through hoops. Regions Bank bases its company culture on listening to customers and designing products around those financial needs. The regional bank offers top savings and loan products, as well as four Visa-branded credit cards designed to meet the changing financial needs of its customers. The card options range from low rates and rewards to secured choices that act as a ladder so customers can eventually graduate to a traditional credit card that offers more options. //
Just as there are no two identical banks, there are no two identical banking customers. Every account holder is at a different stage of their financial journey. While some banks approach credit cards as near utility, others, like Regions Bank, look at them as something that combines customers' needs for credit with products appropriate for where customers find themselves financially. That diverse menu of services that appeals to everyone is a feat managed by only a few institutions.
Regions Bank operates approximately 1,500 banking offices and 2,000 ATMs throughout the US. A member of the S&P 500 Index, and consistently ranked among the top US banks, Regions has approximately $125 billion in assets.
"Our whole strategy and approach is what we call Regions 360," said Rajive Chadha, Executive Vice President and Group Head of Consumer Bank Products and Partnerships at Regions Bank. "When we engage with new or existing customers, we take a holistic view of all of their financial needs. If you walk into a branch or talk to our representatives on the phone, they aren't going to try and sell you a specific product or solution because it's the flavor of the day."

Instead, Regions offers a wide array of products and solutions for all of its customers. The company believes in providing options, which is apparent in its four Visa credit card choices. The cards offer distinctly different perks — from rewards to a secured credit-builder option — that cater to different types of customers.
"We use certain tools and processes to engage with you as a customer and identify what your current banking needs are," Chadha said. "We want to provide the best service to help you reach your goals. That can be a transactional or liquidity goal, a savings goal, an investment goal, or a borrowing need that you might have."
Choose the Card that Suits Your Needs
Some banks choose to limit their credit offerings to only two cards — providing a low-rate pick and a rewards option — which is a strategy that, while it provides strong choices, can alienate customers who may not yet qualify for premium or top-tier cards.
In contrast, Regions tiers its cards to appeal to a wider demographic, with options for a variety of credit types and spending habits. Moreover, the bank allows for customers to improve the card in their wallet along the way.
 Premium Visa® Signature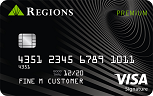 Regions' top-shelf card provides 1.5X Relationship Rewards points on every dollar spent, a competitive rate that allows for unlimited earning. The card also has a generous 12-month, 0% introductory APR for new purchases and balance transfers.
After the introductory period, the card's revolving APR adjusts to a variable 13.74%, which is among the best in its class for a rewards card. The card does come with a $125 annual fee, but that can be offset initially with a bonus points offer that can be worth up to $300.
"If you spend $2,000 in the first 90 days, you can get a special bonus of 30,000 rewards points," Chadha said. "With the Prestige, you get 10,000 bonus points if you spend up to $500 in the first 90 days."
The Premium card, which boasts credit limits up to $50,000, also comes with the Visa® concierge service, which is not available on any other Regions card. The service provides deals and booking services for anything from a night on the town to a month-long transcontinental getaway.
Prestige Visa® Signature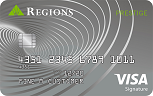 While not as packed with perks as its Premium sibling, the Prestige Visa® Signature card offers many of the bells and whistles you'd get with the top-tier card — including purchase rewards — but without the annual fee.
"The two cards are different in that the Premium Visa® earns 1.5 points for every dollar of spend, whereas Prestige is one point for every dollar spent," Chadha said.
The Prestige card comes equipped with the same 12-month, 0% introductory APR on new purchases and balance transfers as the Premium card. After the intro period, the regular APR ranges between 14.74% and 23.74%, depending on creditworthiness.
Cardholders can also earn up to a $100 bonus by meeting a very achievable $500 spending requirement within the first 90 days of opening the account.
Life Visa®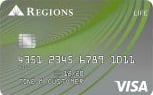 The Regions Life Visa® card is a no-frills credit card that doesn't offer rewards, but it does have an introductory 0% APR offer ideal for customers who tend to carry a balance from month to month or who want the convenience of a lower interest rate over rewards points.
The card extends the 0% introductory rate to 15 months, with an ongoing variable APR of between 13.74% and 22.74% after that, while also offering no annual fee. The introductory offer applies to both new purchases and balance transfers (balance transfer fee applies).
Cardholders who want to add a bit of flair to their wallet can customize their card, adding a picture of their choice by uploading a photo to the Regions YourPix Studio. The service is also available on the other Regions card options.
Explore Visa®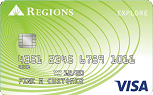 The Regions Explore Visa® secured credit card is the bank's newest offering, designed for customers who are working to build or repair their credit profile. Cardholders simply make a fully refundable security deposit and pay a $29 annual fee to open an account.
The card's credit limit is equal to the size of the deposit, meaning a larger deposit can unlock a larger credit line. The card features a 24.24% variable APR, as well as Visa® benefits like a warranty manager service, roadside dispatch, and a handy auto rental collision damage waiver.
Chadha said the card has exceeded the bank's expectations since its 2017 launch.
"While we've seen growth across the board in all of our products, we've seen the most growth in our secured card," he said. "That's because it met a huge and significant untapped need in our client base when it was launched."
LockIt Makes the Regions Mobile App More Robust
No matter which Regions Bank credit card you carry, you'll have access to the institution's mobile application that features a range of online banking tools, as well as security tools like the popular Lockit control for both credit and debit cards.
With LockIt, if you lose your card — or if you just want to keep the card dormant and not use it — you can use the app to simply turn the card on or off instantly with a single swipe.
The functionality also allows cardholders to limit the card to specific types of transactions or to specified merchants. The goal is to give users greater control over their card's security.
"It's a new functionality that we implemented during the fourth quarter of 2017 in response to one of the biggest concerns consumers have nowadays — security," Chadha said. "We really wanted to come out with a best-in-class product. If you look at the functionalities our LockIt feature provides, in terms of the options it provides to both credit and debit card customers, I would say it truly is the best in its class."
Chadha said adoption of the app by Regions customers has improved steadily over time, which encourages the bank to continue to innovate its offerings.
"We're very pleased in that we've seen very high engagement with the feature," Chadha said. "We actually ran a full advertisement campaign around it in the first quarter and have seen a large uptick in usage of the function, both on the credit and debit card side."
A Company Culture that Focuses on the Customer's Needs
Regions understands that it has a responsibility to its customers if the company wants to remain a top US banking institution. The company strives to stay ahead of the marketplace with advanced technology offerings and products that save customers time and money.
Because, after all, a customer who saves is a customer who returns.
"We have some of the most satisfied customers of all the banks in the US," Chadha said. "We've seen this repeatedly through independent research. That goes back to our company culture. We really believe in that culture and put in a lot of effort to execute it properly."
And Regions isn't just about credit cards. The bank offers savings, checking, and loan products with interest rates that consistently compete with the largest chain institutions in the US. Chadha noted that those products will only continue to grow and improve as Regions expands its footprint.
"We have a very strong brand that provides us some very strong advantages and differentiation when we engage with customers," he said. "That plays out in every product or service that we offer."
Advertiser Disclosure
CardRates.com is a free online resource that offers valuable content and comparison services to users. To keep this resource 100% free, we receive compensation for referrals for many of the offers listed on the site. Along with key review factors, this compensation may impact how and where products appear across CardRates.com (including, for example, the order in which they appear). CardRates.com does not include the entire universe of available offers. Editorial opinions expressed on the site are strictly our own and are not provided, endorsed, or approved by advertisers.