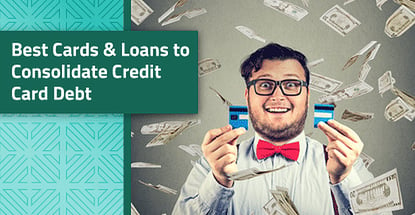 With interest rates on the rise thanks to an improving economy, many may be thinking about reducing their debts. While debt consolidation may not be the solution for everyone, it can be effective for many consumers as a way to reduce interest and simplify their finances.
Consolidating credit cards with a balance transfer credit card or a personal loan can be the ticket to getting your debt under control, but it can also be a path to even more financial trouble. The key to success is to have a plan — and to stick with it.
For instance, 0% introductory rates are good, as long as you can remain disciplined and continue paying the maximum amount toward your debt. And consolidating with a loan can end up costing more if you're not careful about your APR and term length.
Balance Transfers | Personal Loans | Consolidation FAQs
Best Credit Cards for Balance Transfers
On the surface, balance transfers from high-interest credit cards to a low- or zero-interest card can make a lot of sense. Of course, you need to consider things like balance transfer fees, the length of time the introductory rate applies, and the standard rate once the introductory period is over—assuming you're not able to pay off your balance in full.
Paying off one card (or more) with another one should only be done with careful consideration of all the factors involved. Remember that this is a transfer of a balance from one card to another. If you're not able to pay off at least a substantial amount of the transferred debt, you may find yourself right back where you started.
Not all balance transfer cards are created equal, so read the consumer disclosure information for the card you're considering, and make sure it's right for your situation.
Consumer Balance Transfer Cards
Consumer balance transfer credit cards are generally intended for people with good to excellent credit (though a few options exist for fair-credit consumers). If you qualify, these offers can be a great tool for helping you to pay down more of the principle on your high-interest cards.
Be sure to look for a card with the lowest introductory rate (0% is best), the longest introductory rate period (some are as long as 18 months or more), a low balance transfer fee, and a low or no annual fee. Here are some we recommend:

at Discover Card'ssecure website
INTRO OFFER: Unlimited Cashback Match – only from Discover. Discover will automatically match all the cash back you've earned at the end of your first year! There's no minimum spending or maximum rewards. You could turn $150 cash back into $300.
Earn 5% cash back on everyday purchases at different places each quarter like Amazon.com, grocery stores, restaurants, and gas stations, up to the quarterly maximum when you activate. Plus, earn unlimited 1% cash back on all other purchases – automatically.
Discover could help you reduce exposure of your personal information online by helping you remove it from select people-search sites that could sell your data. It's free, activate with the mobile app.
Every $1 you earn in cash back is $1 you can redeem.
No annual fee.
Click through to Discover's website to see terms and conditions.
| | | | | |
| --- | --- | --- | --- | --- |
| 0% Intro APR for 6 months | 0% Intro APR for 18 months | 16.49% - 27.49% Variable APR | | |
at Bank Of America'ssecure website
0% Introductory APR for 21 billing cycles for purchases, and for any balance transfers made in the first 60 days. After the intro APR offer ends, 15.49% - 25.49% Variable APR will apply. A 3% fee applies to all balance transfers.
No annual fee.
No penalty APR. Paying late won't automatically raise your interest rate (APR). Other account pricing and terms apply.
Access your FICO® Score for free within Online Banking or your Mobile Banking app.
Contactless Cards - The security of a chip card, with the convenience of a tap.
This online only offer may not be available if you leave this page or if you visit a Bank of America financial center. You can take advantage of this offer when you apply now.
| | | | | |
| --- | --- | --- | --- | --- |
| 0% Intro APR for 21 billing cycles for purchases | 0% Intro APR for 21 billing cycles for any balance transfers made in the first 60 days | 15.49% - 25.49% Variable APR on purchases and balance transfers | | |
Additional Disclosure: Bank of America is a CardRates advertiser.
at Chase'ssecure website
Start off strong with 0% Intro APR for 18 months from account opening on purchases and balance transfers. A variable APR of 19.49% - 28.24% on balance transfers and purchases after the introductory period ends.
Lower your interest rate by 2% each year. Automatically be considered for an APR reduction when you pay on time, and spend at least $1000 on your card by your next account anniversary.
Raise your credit limit. Get an automatic, one-time review for a higher credit limit when you pay on time, and spend $500 in your first six months.
All for no annual fee - You won't have to pay an annual fee for all the great features that come with your Slate Edge℠ card
Keep tabs on your credit health - Chase Credit Journey helps you monitor your credit with free access to your latest score, real-time alerts, and more
| | | | | |
| --- | --- | --- | --- | --- |
| 0% Intro APR on Purchases 18 months | 0% Intro APR on Balance Transfers 18 months | | | |
As you can see, some consumer balance transfer cards come with extras like up to 5% cash-back, bonus cash if you spend a certain amount, and purchase protection. If you're looking for a balance transfer card to primarily help you pay down your credit card debt, some of these features might not be of great benefit to you, especially since you won't earn rewards on transferred balances.
Business Balance Transfer Cards
Business balance transfer cards operate in much the same way as consumer cards — including charging balance transfer fees. Thankfully, some also offer the same 0% intro-APR deals on balance transfers as their consumer counterparts.
The biggest differences will be in the other features, like the type of purchase rewards they offer, which can be handy after your balance is paid off, even if you won't earn rewards on the transferred balance itself. These are some we recommend:
The Blue Business Plus Credit Card from American Express has a lengthy introductory APR offer that's good for both new purchases and balance transfers. Transfers will be charged a balance transfer fee of $5 or 3% of the total transfer amount, whichever is larger.

Earn 2X Membership Rewards® points per $1 on the first $50,000 in purchases each year
Earn unlimited 1X points per $1 thereafter
Pay $0 annual fee
You'll need to request your balance transfer within the first 60 days of opening your account for it to qualify for the introductory 0% APR offer. After that, transferred balances will be charged the standard balance transfer APR.
The U.S. Bank Business Edge™ Platinum Card offers a competitive 0% intro-APR period for balance transfers and new purchases, as well as a low regular APR thereafter.

Get 0% intro APR on balance transfers & new purchases for the first 12 months
Balance transfer fee of 3% of the amount transferred
Pay no annual fee
As with most balance transfer cards, this card charges a balance transfer fee; prepare to pay 3% of your total transaction amount for each balance transfer you make.
Balance transfer cards for businesses can be a great way to lower overall business costs — again, however, this only works if they're used wisely.  Credit card balance transfers are most effective for business owners who want to get serious about paying down the amount they owe on their other cards. A word of caution though; juggling credit card balances while trying to run your business is not for the faint of heart.
Best Personal Loans for Credit Card Consolidation
While balance transfer credit cards might be the right choice for people with good to excellent credit, a personal installment loan is a better option for many. Personal loans can still offer lower interest rates than many credit cards, and it's easier for people with less-than-perfect credit to qualify.
Personal loans are term loans, which means you'll know exactly what your payment amount is and how many payments you'll need to make. Loans are also versatile, as you can use the proceeds from the loan to pay off higher-interest credit card debt, a higher-interest car loan, or just about any debt that makes sense. Here are some of our top-rated online lending networks to help you find the right lender.
Loan amounts range from $1,000 to $35,000
All credit types welcome to apply
Lending partners in all 50 states
Loans can be used for any purpose
Fast online approval
Funding in as few as 24 hours
Loan amounts range from $500 to $10,000
Compare quotes from a network of lenders
Flexible credit requirements
Easy online application & 5-minute approval
Funding in as few as 24 hours
Loan amounts range from $1,000 to $35,000
Flexible credit requirements
Loans can be used for anything
Five minute application
Funding possible in as few as 24 hours
Large lending network with multiple partners
An advantage to online lending networks is that they can provide qualified applicants with multiple loan offers, providing a variety of terms and payment options from which to choose. This can allow you to find the right loan to fit your personal debt consolidation goals.
Personal installment loans do have some caveats, however, and you should learn exactly what it's going to cost you over the life of the loan. Origination fees, similar to the balance transfer fee for a credit card, can cost you 3% or more of the total loan amount. Be sure to figure this into your calculations when deciding whether a personal loan is right for your situation.
5 Frequently Asked Consolidation Questions
If you're struggling to decide whether a balance transfer credit card or personal loan is right for you — don't worry, you're not alone. The mere fact that you're concerned about the amount of credit card debt you have indicates a desire to take control of your finances. It also means you probably have questions about what to expect. Here are some debt consolidation FAQs that we put together to help you make a more informed decision.
1. How Do You Decide Which Cards to Consolidate?
Generally speaking, debt consolidation should begin with the cards with the highest interest rates. For example, if you have multiple credit cards that range in APR from 16.9% to 24.9%, then it makes sense to consolidate the card (or cards) on the high end of the spectrum first.
At the same time, this will also depend on the size of the debt consolidation loan or balance transfer amount that you're approved for, and the APR for which you can qualify. Consolidation is most successful when you can significantly lower the interest fees you're paying.
That said, you may also want to consider the effect that consolidation can have on your credit. For example, if the 16.9% credit card is near the limit, it may be worthwhile to consolidate at least a portion of that card. Bringing down the credit utilization to around 30% or so of the available balance on that card can give your credit score a near-immediate boost.
2. Should You Use a Balance Transfer or a Loan to Consolidate?
Deciding whether a balance transfer credit card or a personal loan is best for your financial situation is something only you can decide. That said, if your credit score is good enough to qualify for a balance transfer card with favorable terms, like 0% interest for 18 months and a low transfer fee, then that is probably your best choice.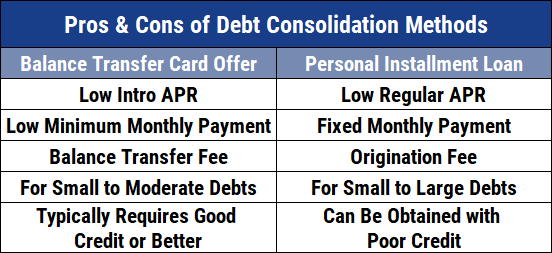 On the other hand, if your credit score is not high enough to get you the best terms on a balance transfer card, then it may be worth checking into the type of personal loan you can qualify for. This may also be the case if you have too much debt to consolidate with a balance transfer.
Personal loans have the advantage of having lower regular interest rates — that intro-APR offer will run out eventually — as well as a longer payback period, with a fixed payment amount. And, perhaps most importantly for some, you can't use them to run up any more debt.
3. How Do You Consolidate with a Personal Installment Loan?
Using a personal installment loan to consolidate your debt is easier than you might think, once you qualify for the loan. The proceeds from the loan are typically transferred into your bank account, for you to use as you wish. At this points, the funds are essentially cash that can be used just like any other money in your bank account.
Of course, since we're talking about debt consolidation, that money will be used to pay off your debts according to your debt repayment plan. Simply make payments to your credit card issuer or lenders as you normally would, be it via check, by phone, or online.
4. How Does a Credit Card Balance Transfer Work?
As you've likely gathered from the previous answer, a credit card balance transfer requires getting the issuer of your new balance transfer card involved. This can occur in a few ways, the simplest of which is to disclose any desired balance transfers during application. Most online credit card applications will have a dedicated section for this purpose.
Alternatively, once you've been approved for the card, you can call the new card company and give them the card number and amount you want to pay toward your old card. They'll then issue the payment, and transfer the amount (plus balance transfer fee) to the new card. Be sure to follow up with the issuer of your old card by phone or through your online banking account to make sure payment has been credited.
5. Can You Transfer Part of a Balance on a Credit Card?
In a word, yes. You can transfer any amount, partial or full, to a new balance transfer card — as long as it doesn't exceed your available credit limit. Of course, this is something you should carefully consider when making your debt consolidation plans.
The card you choose should have an available credit limit that allows you to make all of the balance transfers you have planned. Keep in mind that the balance transfer fee can reduce the total amount you can transfer, so include that in your calculations.
Simplify Your Credit Card Payments with Consolidation
If you're considering debt consolidation, the goal should be to lower the amount of money you're paying in interest, and to simplify your credit card payments. Having fewer card payments, even if the amount you're paying is the same, can be reason enough to consolidate. But when used wisely and effectively, debt consolidation can accomplish much more than that.
By lowering the amount you're paying in interest and paying more toward the principal amount you owe, your debt will be paid off sooner. When used as part of a disciplined and well thought-out plan, you could find yourself free of credit card debt before you know it. And that means having a chance to save more of your hard-earned money each month. It will also potentially provide a nice boost to your credit score, which will give you more and better opportunities for lines of credit in the future.
Advertiser Disclosure
CardRates.com is a free online resource that offers valuable content and comparison services to users. To keep this resource 100% free, we receive compensation for referrals for many of the offers listed on the site. Along with key review factors, this compensation may impact how and where products appear across CardRates.com (including, for example, the order in which they appear). CardRates.com does not include the entire universe of available offers. Editorial opinions expressed on the site are strictly our own and are not provided, endorsed, or approved by advertisers.