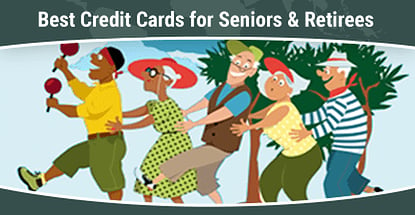 With so many options available these days, it may seem impossible to know where to begin when searching for the best credit cards for seniors and retirees. Well, we've done some research for you — keep reading for some of our top choices.
It's estimated that by 2030, a full 18% of the US population will be 65 and older, with a projected 10,000 people retiring each day. For most folks, aging and retirement come with many major lifestyle changes, including a number of shifts in their financial needs.
As you set out on new adventures, it makes sense to re-evaluate your current credit cards to determine whether they still merit a place in your wallet. You may also want to take a look at the options to see if there are replacements that will better suit your new lifestyle.
Travel Rewards | No Foreign Transaction Fees | Cash Back | 0% Intro APR | Low Ongoing APR
Best "Travel Rewards" Cards for Seniors
While the average Baby Boomer may spend around $6,300 on travel in a single year, those who use the right travel rewards credit card for their expenses may be able to cut that number down by an appreciable amount.
Travel rewards credit cards offer points or miles on every purchase, which can generally be redeemed for travel-related expenses like flights and hotel stays. Many of our favorite travel cards even come with nice signup bonuses to get you traveling faster.
+See More Cards with Travel Rewards
In your research, you'll come across two main types of travel rewards credit cards: co-branded and bank-branded.
Co-branded credit cards are typically aligned with a single airline or hotel brand and earn loyalty points for that brand (i.e., an American Airlines co-branded credit card earns American Airlines miles). While the rewards are generally limited to redemption on branded purchases, co-branded cards can often provide additional perks and benefits.
Travel cards issued directly by the bank tend to reward generic points or miles that can be redeemed toward travel purchases through the issuer's own redemption system. This usually means no blackout dates or brand restrictions. Some travel cards will also allow you to transfer your points to partner airline or hotel brands for direct redemption.
Best "No Foreign Transaction Fee" Cards for Seniors
Of the millions of seniors planning trips in the next year, nearly half intend to travel internationally. With their security and convenience, credit cards can make traveling abroad much easier — but that ease isn't always free.
For example, making purchases in foreign currencies is simple with a credit card that automatically converts it, but the 2% to 4% foreign transaction fees can get costly. To avoid these fees, you should choose a card that won't charge foreign transaction fees, like our picks below.
+See More Cards with No Foreign Transaction Fees
Some foreign merchants may offer you dynamic currency conversion (DCC), which basically means they'll convert their prices to US dollars for you before running your credit card.
DCC can seem like a convenient way to avoid foreign transaction fees, but it's rarely the best way to get a good conversion rate since the merchant can choose the rate. What's more, your issuer may still consider the transaction to be foreign and charge you a fee anyway.
Best "Cash Back" Cards for Seniors
Those who see the articles on complicated schemes to maximize rewards for free travel may be intimidated into thinking credit card rewards are too complicated. But not all rewards credit cards come with convoluted transfers and three-digit annual fees.
For many, the simplest form of credit card rewards is cash back, with straightforward, flat-rate redemption that won't require a spreadsheet to master. Some of our favorite cash back cards can provide up to 5% cash back on eligible purchases, with rewards redeemable as a statement credit.
+See More Cards with Cash Back
By far, the easiest and most hands-off form of credit card rewards can be had from an unlimited cash back card that offers a single earning rate — typically between 1% and 2% — for every purchase.
If you want to take your cash back to the next level, you can try a card that offers bonus cash back for specific category purchases, like gas or restaurants.
You can choose between a card that offers the same bonus categories year-round, or a card that provides rotating categories throughout the year for seasonal savings. These cards often provide 3% to 5% cash back for category purchases, but they may have yearly or quarterly bonus rewards earnings caps.
Best "0% Intro APR" Cards for Seniors
Whether you're actively retired or simply planning to be, paying for large purchases on a set budget can put a dent in your savings. And charging it to a typical credit card can mean hundreds in interest fees depending on your card's APR.
Credit cards with 0% introductory APR offers can be a useful way of financing large purchases that you want to pay off over a period of months. Some of the best intro-APR offers, like our top-rated picks below, can offer 12 months or more of 0% interest on new purchases.
+See More Cards with 0% Intro APR Offers
The most important thing to remember about intro-APR offers is that they are, by nature, temporary. Your new purchase APR will increase to the default rate once your promotional period expires, and any remaining balance will be charged the higher rate.
Furthermore, be cognizant of the exact terms of your offer. While many intro-APR offers will apply to both new purchases and balance transfers, some offers may only apply to transactions of one type or the other.
Best "Low Ongoing APR" Cards for Seniors
Depending on the source of your retirement income, you may receive sporadic payments or be required to withdraw funds in certain increments or at specific times of the year. This inconsistent income can mean you may need to carry a balance from time to time as you await funds to hit your account.
While introductory low-interest offers can be a good stop-gap for a specific occasion, they don't last forever. A better option for those who may need to periodically carry a balance is a credit card with a low ongoing APR, like our picks below, that can provide year-round savings.
+See More Cards with Low Ongoing APRs
Most credit cards will have a specific range of potential APRs, i.e. 14.99% to 19.99%. Those who are approved for a given card will be offered an APR from within the set range, with the specific APR dependent upon the cardholder's credit profile.
Although improving your credit is the best way to ensure a low APR, you can reduce the chances of receiving a high APR by choosing a card with a low APR range. Keep in mind that most credit cards have variable APRs, so your APR can change with the US Prime Rate over time.
Spend Wisely in Your Retirement
For those of us still chugging along through our working lives, retirement is the proverbial light at the end of the 9-to-5 tunnel, the ultimate vacation. And for some retirees, that can certainly be true — but many others will be on tighter budgets than we often imagine.
If you can use them responsibly, credit cards can be a useful way of making your retirement a little less expensive, helping pay for travel or simply saving you a little on every purchase.
Of course, always remember that credit card rewards can't make up for poor credit card management. Interest fees allowed to grow can quickly outpace even the best rewards, and late payments or delinquencies can ruin the credit you've spent a lifetime building.
While tried-and-true methods of keeping track of your finances, like tracking receipts and balancing your check book, can still have their place, don't forget to embrace some new tools to stay on top of everything. For example, setting up automatic bill payments can make sure you never forget a due date, giving you one less thing to worry about as you set off on new adventures.
Final Notes on "5 Best Credit Cards for Seniors & Retirees (Sep. 2023)"
We hope this guide "5 Best Credit Cards for Seniors & Retirees (Sep. 2023)" has been a helpful resource for you in learning more about your financial options. In this guide, we've covered:
Best "Travel Rewards" Cards for Seniors
Best "No Foreign Transaction Fee" Cards for Seniors
Best "Cash Back" Cards for Seniors
Best "0% Intro APR" Cards for Seniors
Best "Low Ongoing APR" Cards for Seniors
Spend Wisely in Your Retirement
To learn more about options not mentioned here, be sure to check out other popular reviews from our team of experts:
We also encourage you to check back at this URL regularly, as we update the offers listed in "5 Best Credit Cards for Seniors & Retirees (Sep. 2023)" and other guides on a daily basis.
Advertiser Disclosure
CardRates.com is a free online resource that offers valuable content and comparison services to users. To keep this resource 100% free, we receive compensation for referrals for many of the offers listed on the site. Along with key review factors, this compensation may impact how and where products appear across CardRates.com (including, for example, the order in which they appear). CardRates.com does not include the entire universe of available offers. Editorial opinions expressed on the site are strictly our own and are not provided, endorsed, or approved by advertisers.