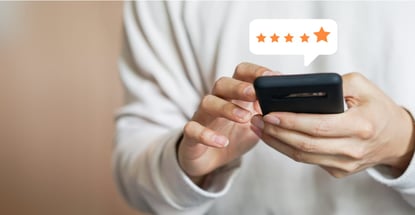 Surge Mastercard reviews across the web are mixed. The issuer offers the card in secured and unsecured versions for consumers with a limited or poor credit history. 
While the unsecured version is a reasonable choice thanks to its generous credit limit, the secured credit card is the real standout. It offers cash back rewards and a fairly low APR to anyone willing to make a deposit at account opening.
Surge® Platinum Mastercard® Reviews Around the Web
These Surge credit card review excerpts represent a cross-section of professional and consumer opinions.
Trustpilot
Trustpilot is one of the oldest and most respected review sites. Open to all, it publishes reviews chronologically without moderation. The site encourages constructive feedback and fights fake reviews.
Trustpilot's Surge Mastercard review gives it an excellent rating of 4.9 out of 5. It states: 
"A highly rated financial services company, Continental Finance Company is one of America's leading marketers and servicers of credit cards for consumers with less-than-perfect credit. The Surge Mastercard® comes with a host of features designed to help customers build or re-establish credit, including $0 Fraud Liability, a Free Monthly Credit Score, and a possible Credit Limit Increase after just 6 months."
Credit card review comments about Surge's customer service are particularly favorable.
"I called for personal assistance. It was a little time consuming but, I finally reached an operator who was very kind and listened to my issue. The operator was very professional and was able to correct the issue at hand quickly and efficiently. I was happy to talk with her. Thank you Surge card."
A few reviewers complained about the time it takes for payments to post:
"You make a payment and it takes over a week for your payment to post. Yet it's immediately deducted from your checking account. Aren't we living in a "real-time" tech world. Why does it take them so long to post your payment ????"
Surge seems to respond to every comment, good or bad, with a thank-you note or an offer to work out the problem.
BadCredit.org
BadCredit.org publishes independent reviews from credit experts. Editorial opinions expressed on the site are strictly its own, and advertisers do not provide or endorse them.
The site gives the Surge® Platinum Mastercard® credit card a 4.7 rating out of 5. It likes the card's no-nonsense features but balks at high costs:
"For those willing to overlook the high rates and fees (or who have no lower-cost choices), the Surge Mastercard® can be an effective way to rebuild your payment history, improve your credit utilization rate, and start treating your bad-credit ills. Once you've raised your credit score enough to eliminate the stigma, however, you should strongly consider trading in your Surge Mastercard® for a more affordable alternative."
Experian
Experian is a credit bureau, one of the industry's Big Three. It employs 20,000 people in 44 countries who gather, analyze, and process data and is a major consumer credit report provider. 
One of the company's priorities is to educate consumers about credit and finance. Its review of the Surge Mastercard credit card states:
"The Surge Mastercard® can help you achieve your goal of building or rebuilding your credit history, but the cost of having the card may not be worth it versus other cards that can do the same. For starters, the card charges an annual fee… While an annual fee on a credit card for bad credit isn't unusual, this one is a bit steep, and there are plenty of other options that charge no annual fee at all."
MyFICO.com
FICO is the leading system for scoring consumer credit. It licenses its various products to creditors, credit bureaus, and other interested parties. Consumers can subscribe to its myFICO plan and receive credit scores, reports, and alerts from each major credit bureau. Note that you can receive a free credit report from each major bureau through AnnualCreditReport.com.
MyFICO sponsors a lively forum covering a wide range of topics. Here are two forum comments regarding the Surge® Platinum Mastercard®:
"I have this card, had it for about six months or so, [the] spending limit was $750 no annual or starting fee for me and jut received a credit limit increase on it about a week and half ago for $300 bringing my limit to $1,050. My scores were low then but I haven o problem with them or this card."
"Not sure why so [many] high fees. I am sending that [preapproval] email to my trash bin."
The consensus among multiple reviewers is that the Surge® Platinum Mastercard® is an average card for bad credit but with higher-than-average costs. Approach with caution, as this is not the best credit card for subprime consumers.
The reviews for the secured card are more favorable. In the words of Toby Sembower, founder of CardRates.com, the Surge® Platinum Secured Mastercard® is:
"An extremely popular choice for those with limited credit history, this card comes with attractive introductory rates, fees, and cardholder perks. It's a must-have in your credit-building arsenal."
How Do I Apply For a Surge Mastercard?
You can apply for a Surge Mastercard online, by phone, or by responding to an acceptance certificate that you received in the mail. 
at Celtic Bank'ssecure website
Up to $1,000 credit limit doubles up to $2,000! (Simply make your first 6 monthly minimum payments on time)
All credit types welcome to apply!
Monthly Credit Score – Sign up for electronic statements, and get your Vantage 3.0 Score Credit Score From Experian
Initial Credit Limit of $300 – $1,000* (subject to available credit)
Monthly reporting to the three major credit bureaus
See if you're Pre-Qualified without impacting your credit score
Celtic Bank's Surge® Platinum Mastercard® defends you from bogus charges with Mastercard Zero Liability Protection. You can access its mobile app to view statements, check due dates, pay bills, and verify direct deposits. 
The unsecured credit card provides free Experian VantageScore tracking. Your annual fee may be lower in the first year, and the card may waive the monthly maintenance fee that begins in the second year of ownership. 
You can avoid the premium card fee by selecting the standard design. Some cardowners qualify for no foreign transaction fees. You can get a cash advance at the purchase interest rate plus a fee. 
Prequalifying
You can see whether you prequalify for the Surge® Platinum Mastercard® before you officially apply. The issuer does not perform a hard credit check during prequalification but will do so when you officially apply.
The prequalification form takes only a minute to complete. You must supply the following information:
Name
Address
Date of birth
Social Security Number
Total monthly income
Primary source of monthly income
Phone number
Whether you own an active checking account or debit card
Whether you intend to use the card for cash advances
Whether you'll want an additional card
Certification that you are a US resident at least 18 years of age (19 in Alabama)
Prequalification does not guarantee final account approval, and you must submit a complete application for any prequalified offers. 
Once preapproved, you can establish a Surge credit card login ID and password. You can use the Surge credit card login if you decide to wait to apply. 
Normally, your application will receive an immediate decision, although the process may drag out for up to 30 days if the issuer requires additional information. You can e-sign the credit agreement online once you receive approval. 
Does the Surge Credit Card Give Credit Limit Increases?
One of the best features of the Surge® Platinum Mastercard® is its Double Your Credit Limit feature. The issuer will double your initial credit limit (between $300 and $1,000) to a maximum of $2,000 when you make at least your minimum credit card payment on time for six consecutive months following account opening. 
If you'd like additional credit limit increases, the issuer suggests you:
Continue to pay your bill on time
Try to pay the entire balance each month
Do not use your total credit limit
Report any changes to your income
Pay down your current debts
Surge does a hard credit check when deciding whether to approve your request for a credit limit increase. If you own a Surge® Platinum Secured Mastercard®, you can increase your credit limit by adding to your security deposit.
What Is the Maximum Credit Limit on the Surge Mastercard?
You can get a credit line of up to $2,000 on the Surge® Platinum Mastercard®. This amount is about the same available to personal loan borrowers with bad credit. 
Whether the issuer will reward creditworthy behavior with an unsolicited credit increase is unclear. 
How Long Does It Take to Get a Surge Mastercard?
The issuer will mail the card within three business days after you sign the credit agreement. Unlike a gift card, you must activate a credit card (online or by phone) before using it. Surge will cancel the agreement if you don't activate the card within 30 days of receipt.
Does Surge Mastercard Have an App?
Yes, you can download the Continental Finance app from the Apple Store or Google Play. The app allows you to manage your credit card account from any mobile device. You can:
Make a credit card payment
Receive online statements 
View recent transactions
View previous statements
View payment history
View your balance and other important credit information
You can perform the same actions on the Surge website.
Is Surge a Legitimate Credit Card?
Yes, Surge is a legitimate credit card from Celtic Bank. Continental Finance, which markets and services the credit card, has an A+ rating from the Better Business Bureau and services several other popular subprime credit cards.
Verve Mastercard
Matrix Card
Cerulean Credit Card
Most of these cards share a similar cost structure that includes relatively high APRs, annual fees, setup fees, monthly maintenance fees, and initial credit limits of between $300 and $750. 
Continental Finance, founded in 2005, specializes in credit products for consumers with bad or limited credit. The company garners a mix of positive and negative customer reviews. It offers customers online educational resources on a handful of credit topics.
How Do I Cancel My Surge Credit Card?
You can close your Surge credit card account by calling 866 449-4514 or by writing to the address on your monthly credit card statement. 
Pay off any remaining balance before closing the account to avoid additional interest charges. Also, if you have the secured version of the card, be sure to redeem any outstanding cash back rewards before canceling it.
Canceling a card does not remove the account from your credit reports, where it remains for 10 years. But it can hurt your score by reducing the average age of your credit accounts and the amount of credit you have available to you. 
Nevertheless, it makes sense to cancel this card if you no longer use it so that you don't have to pay the annual and monthly maintenance fees. When you cancel the secured version, the issuer will refund your security deposit after ensuring payment of all balances and fees. 
Surge Mastercard Gets Generally Mixed Reviews
On the plus side, Surge® Platinum Mastercard® receives praise for helping creditworthy cardholders build credit and double their spending limits. But the card's costs trigger scathing comments. Whether it's the best credit card for building credit is up to you.
If you are interested in building credit and want a Surge card, always pay your bill on time to help boost your score over time.
Final Notes on "Surge® Platinum Mastercard® Review & Alternatives (Sep. 2023)"
We hope this guide "Surge® Platinum Mastercard® Review & Alternatives (Sep. 2023)" has been a helpful resource for you in learning more about your financial options. In this guide, we've covered:
Surge® Platinum Mastercard® Reviews Around the Web
How Do I Apply For a Surge Mastercard?
Does the Surge Credit Card Give Credit Limit Increases?
What Is the Maximum Credit Limit on the Surge Mastercard?
How Long Does It Take to Get a Surge Mastercard?
Does Surge Mastercard Have an App?
Is Surge a Legitimate Credit Card?
How Do I Cancel My Surge Credit Card?
Surge Mastercard Gets Generally Mixed Reviews
To learn more about options not mentioned here, be sure to check out other popular reviews from our team of experts:
We also encourage you to check back at this URL regularly, as we update the offers listed in "Surge® Platinum Mastercard® Review & Alternatives (Sep. 2023)" and other guides on a daily basis.
Advertiser Disclosure
CardRates.com is a free online resource that offers valuable content and comparison services to users. To keep this resource 100% free, we receive compensation for referrals for many of the offers listed on the site. Along with key review factors, this compensation may impact how and where products appear across CardRates.com (including, for example, the order in which they appear). CardRates.com does not include the entire universe of available offers. Editorial opinions expressed on the site are strictly our own and are not provided, endorsed, or approved by advertisers.