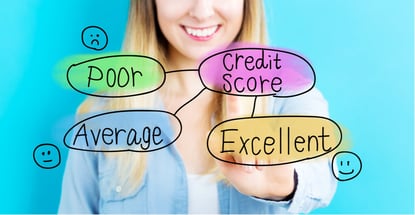 In the article below, we'll take a look at the Capital One Venture Rewards Credit Card score requirements for approval and a few other considerations. Being rejected is never any fun, but some types of rejection have more consequences than others. A rejected credit card application will leave a hard inquiry on your credit report that can cause a dip in your credit score for up to two years.
Given the potentially long-lasting impacts, it's generally a good idea to apply for credit cards for which you have a good chance of being approved. This is especially true with rewards cards with high signup bonuses, like the Capital One Venture Rewards Credit Card, which requires good to excellent credit to qualify.
Average Score | Pre-Qualify Online | Alternatives | Reconsideration
Average Score for Approval is Around 725
Since all credit scoring models tend to have their own credit score ranges, the requirement of "good to excellent credit" can be quite vague. Instead, you need to know which scoring model will be used. For the Capital One Venture Rewards Credit Card, it seems that Capital One uses the FICO Score 4, rather than the newer and more popular FICO Score 8.
Given some context, we now know that most approved applicants for the Capital One Venture Rewards Credit Card will likely have scores above 670 (the bottom of the "Good" credit range for FICO). But that isn't the whole story; looking at reviews, it seems the average score is a much higher 725, just short of the "Very Good" range, and the highest credit limits are reserved for applicants with scores in the "Excellent" range.
And those high average scores make perfect sense for the Capital One Venture Rewards Credit Card, particularly in light of the fact that it is a Visa Signature® card, a tier higher on the Visa benefits ladder than the basic Visa Traditional card. Basically, most Visa Signature® products come with a minimum credit limit of $5,000, so you'll need to qualify for at least that amount to be approved for the card.
If the Capital One Venture Rewards Credit Card's high average score is a bit too rich for your reports, you may find success with the issuer's lower-tier travel card, the Capital One VentureOne Rewards Credit Card. While theCapital One VentureOne Rewards Credit Card is still marketed to the "good to excellent credit" crowd, reports indicate its average credit score is closer to the 670 mark than its sibling.
The main difference between the two cards is a lower base earnings rate for rewards and a smaller signup bonus (though the spending requirement is also lower, which may be a boon for some). Additionally, credit limits tend to be lower.
Another thing to keep in mind when applying is that, while all credit card applications (or applications for any credit product, for that matter) result in a credit check to determine your credit risk, Capital One takes it a step further. Where most issuers check your credit report from one or two bureaus, Capital One apparently checks all three credit reports when you apply.
You Can Check for Pre-Qualification Offers Online
Although knowing your personal credit score can help you find which card you have the best chances of qualifying for, your credit score isn't always the deciding factor. Other aspects of your credit risk, like your current utilization and credit history length, can also play big roles in whether your credit card application is approved.
If you're at all unsure of your chances of being approved for the Capital One Venture Rewards Credit Card, you may want to consider checking for pre-qualification offers before you officially apply. Pre-qualification uses a soft credit inquiry that won't hurt your credit score to match you with the best-fitting card.
Being pre-qualified for a specific card won't guarantee your approval but it can indicate that the odds of approval are good. Similarly, not being pre-qualified doesn't mean you're certain to be rejected — but it's a strong sign you should prepare for the possibility. If you fill out the pre-qualification form and don't see a Capital One Venture Rewards Credit Card, for example, you may want to look at the Capital One VentureOne Rewards Credit Card card instead.
Another way you may be pre-qualified for a Capital One credit card is through a direct mailer from Capital One itself. As with other issuers, Capital One periodically sends unsolicited pre-qualification offers through the mail to select customers. To reply to the offer, you can simply enter the reservation number and access code from your offer into the online form.
Fair-Credit Alternatives for Middling Scores
In the event that both the Capital One Venture Rewards Credit Card and the Capital One VentureOne Rewards Credit Card are out of your credit score's reach, you may be better off investigating alternatives with more flexible credit requirements. Cards specifically designed for those with fair credit are much more likely to approve a lower credit score than those targeting good-credit consumers.
While the credit limits will typically be lower — and the interest rates higher — with fair-credit cards than other options, you can still find some decent cards, even some that offer purchase rewards. Our top-rated list of cards for fair credit has both prime and subprime issuers, including several alternative Capital One options.
+See More Cards for Fair Credit
Capital One No Longer Offers Credit Reconsideration
Being turned down for a credit card can be a hard rejection to take, and the resulting hard inquiry is a reminder of that rejection that no amount of french fries can fix. And if you're thinking that reconsideration might be the path to having that rejection reversed, well, think again; Capital One seems to be out of the recon game.
According to reports from card forums and cardholders, Capital One no longer reconsiders any applications unless there was a mistake on the application or an error occurred on Capital One's part. Even previously successful reconsideration methods, such as emailing the Executive Office (EO), seem to fail to result in a reconsideration of any kind.
All in all, if you're rejected for the Capital One Venture Rewards Credit Card, your best bet is likely to analyze your credit report for any possible red flags and work on cleaning up any questionable accounts. Once you've cleaned up your credit, check for pre-qualification offers to help prevent a second rejection.
Otherwise, you may be better off finding a card with more flexible credit requirements. The current credit card market is full of quality travel rewards cards, making it easy to find a good alternative.
Advertiser Disclosure
CardRates.com is a free online resource that offers valuable content and comparison services to users. To keep this resource 100% free, we receive compensation for referrals for many of the offers listed on the site. Along with key review factors, this compensation may impact how and where products appear across CardRates.com (including, for example, the order in which they appear). CardRates.com does not include the entire universe of available offers. Editorial opinions expressed on the site are strictly our own and are not provided, endorsed, or approved by advertisers.