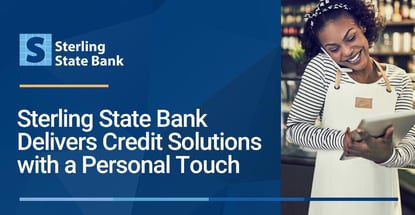 In a Nutshell: Sterling State Bank has taken a personalized approach to delivering financial services in southern Minnesota for more than 60 years. Since the day they opened their doors in 1958, they have been locally owned and operated and now manages seven branches with more than $350 million in assets. The institution offers individual and business credit solutions that provide financial options to everyone in the communities it serves. And with more corporate banks treating customers as data sets, people in Minnesota increasingly turn to Sterling as a full-service financial provider where they're known by name.
Sterling State Bank is a family-owned financial institution that has built its business on relationships. In an environment where big banks increasingly base their decisions on data, Sterling cultivates a flexible approach that takes individual circumstances into account.
That approach works because Sterling State Bank's ownership family lives and works in southern Minnesota alongside the people it serves. The bank, founded in 1958, takes pride in its local status and shared interest in community success and now operates seven branches and manages more than $350 million in assets.
For Sterling State Bank Vice President Tyler Coleman, that's what distinguishes the institution from its competitors.
The benefit of local ownership for Minnesotans is that banking with Sterling State Bank provides a vital community link, according to Coleman. Credit, loan, and financial decisions at larger banks, on the other hand, are more about checking off boxes than working with people.
"With us, you have the opportunity to speak directly with leadership in your community," Coleman said. "We know who our borrowers are, and we know all of the small businesses that come in."
Pulling Together to Bring a Positive Outlook to 2020
Sterling State Bank is a full-service institution that offers personal and business banking and credit solutions in addition to insurance and investment services. On the business side, the bank bolsters its equipment, construction, homebuilder, and commercial real estate financing activity with a line of credit cards that carry flexible rewards.
While those areas are typically growth centers for Sterling, 2020 had something else in store. As the weather was beginning to turn warmer in Minnesota, the onset of the COVID-19 pandemic shutdowns began to affect the local economy.
Sterling stepped up to help its neighbors by taking on a disproportionate share of the responsibility for dispensing loan support through the U.S. Small Business Administration Paycheck Protection Program (PPP).
Watch on
After the program went into effect in late March, the Sterling State Bank team sprang into action to establish a PPP funding conduit and a command center for processing customer applications. Team members gathered in shifts on short notice — and even on the weekends — to get needed funds out to businesses.
For more than a week, employees worked through the night before handing things off to a daytime crew.
"I can't say enough about this team, and all our employees and their commitment to our customers and our communities," Sterling State Bank President Justin McNeilus said in a letter posted on the bank's website. "The speed with which we were able to process applications and fund these emergency loans for our customers was truly remarkable."
Coleman echoed that sentiment, saying the bank's proactive approach helped people in the area.
"For a bank our size, we did a lot, comparatively — around $60 million in loans," Coleman said. "We took off right away and got ahead of the curve, which helped our customers a lot."
Optimized Credit Solutions Protect Businesses from Hidden Costs
Sterling concentrates on leveraging its personalized service approach in more conventional ways. Although stories of entrepreneurs building businesses on the backs of their own personal credit cards are compelling, it's not typically a great idea to put family and other obligations on the line that way.
Sterling works to ensure its customers avoid counterproductive use of business card products, focusing on commercial real estate and small businesses.
"Businesses might not always realize it, but there could be significant fees associated with using business debit cards," Coleman said. "There might be a transactional fee, so when business customers have been using a debit card significantly, they accrue all those fees. That's when you can steer them toward one of our credit cards," he said.
Typically, the best recourse in that situation is a conversation with a bank professional, but with many institutions, that's easier said than done. Fortunately for Sterling State Bank business customers, upper management is readily available and based in a recently built 30,000-square-foot headquarters in Rochester.
And with Sterling's robust rewards program, the bank ensures that credit cards can work for businesses.
"If they would use their credit card like a debit card and pay at the end of the month, they'll avoid most of those fees," Coleman said. "Coupled with the rewards we give, you're getting money back as opposed to paying 5, 10, or 50 cents per transaction."
Sterling: Where Bankers are Also Community Members
Coleman tells members of his church that they could fund multiple additional youth mission trips simply by paying for the mission program with its rewards cards. And Sterling business chip cards offer convenient payment via mobile app and no extra fees for additional employee cards.
The bank also offers an array of Visa® cards that offer cash back, points for purchases, and travel perks and rewards.
"Your choice depends on what you're trying to accomplish or what kind of benefits you'd like," Coleman said.
Whether it's credit cards or business loans, area businesses know that they'll receive the personal attention they need when they approach Sterling.
"Getting a small business loan at a big bank is a matter of checking off all the boxes, and your flexibility is pretty limited," Coleman said. "But even though we're a pretty conservative bank, with us, you're talking to a person."
If a loan applicant recently experienced personal challenges that led to a lower credit score, for example, it's that community connection that can make all the difference.
"We can have a conversation, take those things under consideration, and then make a decision based more on personal circumstances than on checkboxes. That's what a small bank like ours can do," Coleman said. "Small banks give small businesses more and better opportunities."
Advertiser Disclosure
CardRates.com is a free online resource that offers valuable content and comparison services to users. To keep this resource 100% free, we receive compensation for referrals for many of the offers listed on the site. Along with key review factors, this compensation may impact how and where products appear across CardRates.com (including, for example, the order in which they appear). CardRates.com does not include the entire universe of available offers. Editorial opinions expressed on the site are strictly our own and are not provided, endorsed, or approved by advertisers.