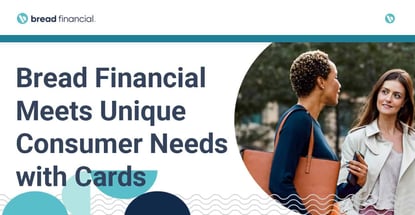 Our experts and industry insiders blog the latest news, studies and current events from inside the credit card industry. Our articles follow strict editorial guidelines.
In a Nutshell: In 2022, Alliance Data rebranded as Bread Financial, positioning itself as a forward-thinking fintech with the know-how of a trusted financial institution. Today, Bread Financial offers a range of products from branded cards that drive customer loyalty to pay-over-time Bread Pay™ products that offer consumers options about when and how they pay. The Bread Cashback™ American Express Credit Card also gives consumers 2% cash back on everything they purchase.
Thirty years ago, Bread Financial started off as Alliance Data, a retail-focused S&P MidCap 400 company in Columbus, Ohio. Over the years, the company has altered its operations and objectives to meet customer demands.
For instance, the company recently saw that shoppers wanted more ways to pay in the channels of their choice. But the financial and retail industries lacked the flexibility to give customers payment options.
In response, the financial firm developed tools to meet this problem directly. During its transformation into Bread Financial, the company expanded beyond traditional private label and co-brand credit products to include flexible Bread Pay™ products.
These offerings let company partners offer their customers SplitPay, which allows them to divide purchases of up to $1,000 into four equal payments. Another Bread Financial product, Installments, allows customers to pay for purchases over time from anywhere between three to 48 months.
New products also included proprietary products like the Bread Cashback™ American Express® Credit Card and Bread Savings™.

"This broadened suite of solutions allows us to not only reach more shoppers and merchants, but provides consumers with more options as their needs change," a Bread Financial spokesperson said.
To signal these changes, Alliance Data officially changed its name to Bread Financial in March of 2022. The "Bread" part of the name signals the hustle of a fintech, while the "Finance" aspect demonstrates the discipline of a well-established bank.
"Combining the heart and hustle of a fintech with the discipline and stability of a well-established bank, Bread Financial will remain laser focused on delivering the innovative, omnichannel payment, lending and saving solutions that consumers now demand at every stage along their financial journeys," said Ralph Andretta, the company's president and chief executive officer.
Card Options Offer Many Promising Alternatives
Bread Financial's card offerings fall under two categories – proprietary and white-label.
The company's direct card offering is the Bread Cashback™ American Express Credit Card, which enables users to earn 2% unlimited cash back and receive exclusive American Express benefits.
"Unlike other cards on the market, there are no rewards caps, opt-ins or annual fees. Customers have the power to choose whether they want to redeem cash back through direct deposit or as a credit on their statement," Bread Financial's spokesperson told us.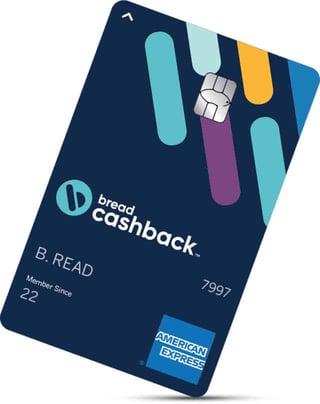 This feature also removes the guesswork in determining which card to use at which store: consumers earn cash back wherever they shop and don't have spending limits.
Bread Financial also has a suite of branded card products. The fintech's card programs are rooted in creating seamless solutions that keep partner brands at the forefront while earning consumers cash back and rewards.
For instance, the company's Ultamate Rewards® Mastercard Credit Card or Ultamate Rewards® Credit Card — a partnership with beauty retailer Ulta Beauty — gives consumers 20% off products and services on their first purchase with the card at Ulta. After that, they earn two points on every dollar they spend at the retailer; after they earn a specific number of points, they will receive money back on their subsequent purchases.
Another branded card, the NFL Extra Points Visa® Credit Card, offers cardholders early stadium access on game days, meet-and-greet events, special financing on NFL tickets, and other NFL lovers' perks.
Bread Financial has partnered with more than 150 card partners to create individualized programs and value propositions that meet the needs of both the partner and their unique customer base. A few more examples include the Sephora Credit Card and the Victoria's Secret Credit Card.
Flexible Payment Options Build Financial Wellness
Many consumers are concerned about inflation prices and the burden of navigating a volatile market. One of Bread Financial's recent studies found that nine out of 10 shoppers reported being challenged by inflation. As consumers search for creative ways to offset the challenge of rising prices, they are increasingly turning to Bread Financial's buy now, pay later options.
"These are especially popular among millennial and Gen-Z customers, as it enables younger shoppers to get thrifty amid rising prices," said the spokesperson.
The first option, SplitPay, lets customers divide their payments into up to four installments, paid every two weeks. Retailers appreciate this option because Bread Financial pays them immediately when a customer makes a purchase. Customers also like SplitPay because the option won't affect their credit scores.
Installments are another alternative retailers can offer. Customers can prequalify for installment plans through a company's website, and companies can choose APR levels depending on the length of the installment plan's terms.
"Our flexible payment options stand out amongst other fintechs, and we know our customers share our excitement about these tools. Our mission is driven by financial wellness, and a key part of this commitment means broadening options for our customers so they feel confident and secure in their finances," said the spokesperson.
These options serve as consumer stepping stones toward financial wellness and more traditional credit products. For instance, if a customer can't qualify for a credit card, they can instead opt for a SplitPay payment schedule. Consumers can focus on paying down their high interest loan products instead of paying for necessary purchases, like school supplies, in one lump sum. This can eventually boost their credit score.
Bread Financial Works with 600 Merchant Partners
Bread Financial currently has more than 600 merchant partners that use one or more of the company's payment products. The company develops these relationships by broadening its definition of service to include aspects like customer care, marketing strategy and delivery, program performance, field engagement, and data analytics, among other benefits.
These personalized partnerships reap rewards for companies. In particular, Bread Pay considerably boosted consumer sales with companies that used this option reporting a 15% increase. The same companies also reported a 61% increase in average order value (AOV) and 25% fewer abandoned cards.
"We know that our success is dependent on the success of our partners, and we are fully committed to ensuring that our products and capabilities are continually evolving with changes in the retail industry so our partners can meet their customers where they are," said the spokesperson.
Bread Financial will continue to innovate. Over the last several years, the company's transformation has been driven by the goal of giving shoppers payment alternatives and creating smart, simple financial solutions.
At the moment, the company is again innovating. It's partnering with Marqueta, a card issuing platform to develop its Bread Pay™ One-Time Use Card, which lets customers apply for the buy now, pay later options in physical stores.
"[T]his relationship is a continuation of our dedication to create tech-forward and industry changing solutions that give shoppers more flexibility and choice. We are proud to partner with Marqeta to offer new flexible payment options that will keep the merchant's brand at the forefront of the path to purchase and deliver a more seamless experience for the end user," said Val Greer, EVP and Chief Commercial Officer at Bread Financial.