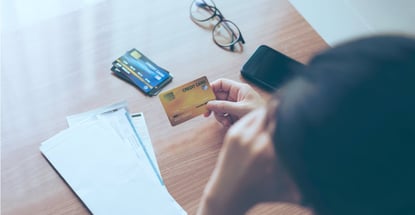 You may be frustrated if you're looking for credit card approval with old charge off records lingering on your credit history — but you don't have to be. Charged-off accounts can hurt your credit score significantly, but that doesn't mean you can't qualify for a credit card after a default.
When it comes time to choose which card you want to apply for, you should first calculate how old your charge-off is. A new charge-off will put you in bad credit territory, but an older charge-off that's still lingering on your credit report may put you into fair credit territory. That's why we put together a list of the best cards in both categories.
If you know where your credit score stands, click the link below that best describes your situation and check out the cards that you may qualify for.
Bad Credit | Fair Credit | FAQs
Best Credit Cards for Bad Credit (Sub 600 FICO Score)
A charge-off can initially drop your credit score by as many as 110 points but its impact on your credit score will lessen over time.
If you have a recent charge-off, you may be feeling the impact of that sudden credit score drop. As a result, your best bet is to look for credit cards designed for consumers who have bad credit.
Below is a mix of unsecured credit card and secured credit card options that you may qualify for. Be aware that secured credit cards require a refundable security deposit for activation. The amount of your deposit will typically match your new card's credit limit.
No annual fee
Unlike a prepaid card, there is regular reporting to the 3 major credit bureaus
Accepted at millions of locations worldwide
Make the minimum required security deposit and you'll get an initial credit line of $200. Plus, deposit more money before your account opens to get a higher credit line
Access to an authorized bank account is required to make your $49, $99 or $200 refundable security deposit
Be automatically considered for a higher credit line in as little as 6 months with no additional deposit needed
The Secured Mastercard® from Capital One is a rare secured credit card that may not require a full deposit to match your credit limit. This card starts all new cardholders off at the same credit limit but uses your credit score to determine how much of a deposit you will need to activate your card.
Depending on your creditworthiness, you may be allowed to deposit an amount that is less than your initial credit limit. And Capital One will monitor your account periodically to determine if you qualify for a credit limit increase that will not require another deposit.
The Surge Mastercard® offers one of the largest potential initial credit limits on this list — but the card also sports one of the highest APRs as well. If you qualify for a large credit limit, be sure to pay your balance in full each month to avoid the high interest rate and accumulating excessive finance charges.
If you can stay ahead of the interest rate, this card has forgiving approval standards and offers generous lines of credit for new cardholders who have bad credit.
The Reflex Mastercard® is designed to help you rebuild your credit — for a price. This card offers a generous starting credit limit but can get very expensive when you start adding in the fees.
These fees include a higher-than-average interest rate and one of the largest annual fees of any card on this list. After your first card anniversary, the annual fee will be joined by a monthly fee that makes the card even more expensive. However, Celtic Bank, the card issuer, will waive your monthly fee if you maintain a credit limit of $750 or more.
The Applied Bank® Secured Visa® Gold Preferred® Credit Card has no minimum credit score requirement for approval. In fact, Applied Bank won't even check your credit history when you apply for this card. Once you activate your card, the bank will report your monthly payment and balance history to each credit bureau — Transunion, Equifax, and Experian — which can help you build — or rebuild — your credit history.
The lack of a credit check also brings with it an annual fee for membership and no grace period on new purchases. Still, this card has a low interest rate and can get you started with a security deposit of as low as $200.
The Indigo® Unsecured Mastercard® – Prior Bankruptcy is Okay is an unsecured credit card with a tiered annual fee structure that may not charge you an annual fee at all. This determination is based on your credit score.
Keep in mind that the starting credit limit on this card is low. But you can increase your spending limit over time with responsible use.
The Bank of America® Cash Rewards Secured credit card charges no annual fee and offers the easiest path to getting an unsecured card. After 12 months with the card, Bank of America will check your credit card account to see whether you qualify for a full refund of your security deposit. If you do, the bank will refund your deposit in the form of a statement credit and keep your credit card account open.
And you'll still earn the generous cash back rewards uncommon on secured credit cards as you continue your credit-building journey.
Best Credit Cards for Fair Credit (600+ FICO Score)
As your charge-off account ages and you replace it with positive information on your credit file, its impact on your credit score lessens.
If your charge-off account is more than two years old and you've maintained a clean credit history since the mishap, you may qualify for a credit card for fair credit. These unsecured credit card offerings tend to charge fewer fees than the cards for bad credit listed above — and you won't need a security deposit for approval.
Pay no annual fee
Be automatically considered for a higher credit line in as little as 6 months
Fraud coverage if your card is lost or stolen
Use online banking to access your account, even from your smartphone, with our mobile app
Check out quickly and securely with a contactless card, without touching a terminal or handing your card to a cashier. Just hover your card over a contactless reader, wait for the confirmation, and you're all set
Pay by check, online or at a local branch, all with no fee - and pick the monthly due date that works best for you
The Capital One Platinum Credit Card is a great starter card for consumers who are building their credit history the right way. This card has forgiving approval standards and will not charge an annual fee or other hidden fees after you sign up.
And, as part of Capital One's automatic credit limit increase program, the bank will monitor your account to see whether you qualify for a higher credit line after six months of responsible use.
The Capital One QuicksilverOne Cash Rewards Credit Card lets you earn cash back rewards on every purchase you make with the card. Just be sure to pay your balance in full each month to avoid interest charges that can eat away at your rewards earnings.
As with its Platinum Card sibling above, the QuicksilverOne card may offer an automatic credit limit increase after your first six months with the card.
The Credit One Bank® Platinum Visa® card offers cash back rewards and, depending on your creditworthiness, may charge no annual fee.
This card also has a lower-than-average interest rate, but it charges a steep late payment fee if you miss your monthly payment.
The Bank of America® Cash Rewards Credit Card for Students offers a way for young adults to build credit history while enrolled in school. Along the way, cardholders can earn cash back they can redeem for a statement credit, a check, or an electronic deposit into a Bank of America checking account or savings account.
Be sure to submit all of your payments on time to avoid the late payment fee and to help build a positive payment history.
The Wells Fargo Cash Back College℠ Card offers great rewards and interest rate breaks — but only for a limited time.
Still, Wells Fargo is a good bank to begin your credit-building journey, as you may eventually qualify for a card upgrade once your student days are over.
Every new Credit One Bank® Visa® Credit Card with Cash Back Rewards member starts with the same credit limit, but you may qualify for a credit limit increase in time and with responsible credit use.
Just be aware that your annual fee will eat up nearly one-third of your available credit when you first activate this card. If you have fair credit and are in the market for an unsecured credit card, you can find less expensive options on this list.
What is a Charge-Off?
A charge-off is a delinquent debt that can potentially drop your credit score by hundreds of points.
A charge-off occurs when you stop paying on a loan or credit account and the lender removes the loan from its active status and claims it as a loss. This may sound like simply bookkeeping, but it has dire consequences for your credit report.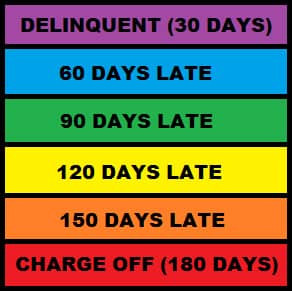 Many personal loan lenders will charge off an account after the loan payment is 120 days late. Some credit cards will wait until the borrower is 180 days late.
You can still make payments on a loan or credit card after the account reaches charge-off status. But while catching up on your payments or paying the old debt off altogether will lessen the charge-off's impact on your credit report, you will still have the late payment notations on your credit file — which will hold your score down for up to seven years.
If you do not make a payment or fail to make payment arrangements with the lender, you will likely find your unpaid debt sold to a collection agency or debt buyer. This is the last step the lender takes — as the loan or credit card debt is usually sold for pennies on the dollar, which represents a great loss to the lender.
At this stage, the collection agency now owns the old debt and can take action to collect the money. This can mean regular phone calls, letters in the mail, emails, or other actions to get in touch with you.
When a debt buyer takes over your unpaid debt, the cycle restarts for how long it can live on your credit report. That means a seven-year window begins again from day one.
In many cases, you can contact your lender and set up a payment plan to get back on track with your payments. This may help avoid a charged-off account being reported to a credit bureau and a debt collector calling you at all hours.
Can You Get a Credit Card After a Charge-Off?
Your best bet is to look for a secured credit card shortly after a charge-off appears on your credit report. If your charge-off is older (about a year or longer) and you have only made on-time payments with other debts since the charge off was reported, you may qualify for an unsecured credit card.
When a lender sees a credit card or loan application from someone who recently burned another lender and did not repay a loan or credit card debt, the lender is far less likely to approve that person.
And since a credit card is essentially a revolving loan, you will have trouble being approved for new credit shortly after a charge-off appears on your credit reports.
You can begin to rebuild your credit history with a credit card by budgeting your credit spending and making on-time payments. Your positive payment history — coupled with your charge-off getting older — will help your credit score improve.

Once you've made enough progress in your credit rebuilding journey to qualify for an unsecured card, you can cancel your secured account. If you do not have any outstanding debt on that card, the credit card company will refund your deposit and close your account in good standing. Or it may automatically upgrade your account to an unsecured credit card.
Is a Charge-Off Worse Than a Collections Account?
While one isn't any worse than the other, you cannot have a collections account without first having a charge-off account.
If you have not made a payment on an account for more than 120 days, the lender may decide to charge off your account. This essentially removes the account from active status and marks it as a loss for the lender, and usually means you can never do business with this lender again.
A charge-off doesn't only apply to credit card debt. A lender can charge off any sort of debt — including a car loan, mortgage loan, student loan, or personal loan.
With secured debt, such as a mortgage loan or car loan, the mortgage lender or auto lender can also take the step to repossess the items tied to the loan — your car or home — and resell them to recoup the lost money.
At this point, the account changes on your credit report from being delinquent debt to being bad debt. That alone can cause a very large drop in your credit score.
Once the original creditor charges off an account, it tends to want nothing to do with the account. There's little chance of recouping any money from the loan or credit card and the time it would take to try to get the money isn't worth the creditor's effort.
That's when the lender will likely sell your debt to a collection agency — making your account a collections account.
Collection agencies purchase bad debt for a small fraction of the amount owed. The collection agency then attempts to collect as much of the debt as possible.
A charge-off will live on your credit report for up to seven years or until it's beyond the statute of limitations in your state and removed from your credit report. But once the original creditor sells your debt to a collection agency, the seven-year clock can reset, and your seven-year wait will go back to day one.
On some occasions, one collection agency may sell the debt to another collections agency, which can restart the clock all over again — even if your current account is six years and 364 days old.
But that's not the only way the statute of limitations can restart on your debt. You may restart the clock without realizing it if you:
Talk to the lender and acknowledge the debt: This allows the lender to reset the statute of limitations on your loan.
Make a payment on the debt: Even a small change in your payment history is considered an acknowledgment of debt and will restart the clock.
Create a debt repayment plan: The lender may seem sympathetic to your situation and allow you to make small payments toward the loan. But those payments are resetting the clock to zero and the lender can continue to contact you about the debt.
To avoid resetting the seven-year rule on your debt, avoid admitting fault in your debt or acknowledging having not paid the debt.
You can request a debt validation letter from the lender or collection agency. This will identify and explain the debt without restarting the statute of limitations.
Under the Federal Fair Debt Collection Practices Act (FDCPA), a debt collector must follow certain ethical rules regarding credit reporting, contacting a debtor, and collecting a debt. This includes providing a debt validation letter upon request.
Can Credit Repair Companies Remove Charge-Offs?
Some credit repair agencies can remove a charge-off from your account by negotiating with the lender to accept payment in exchange for removing the notation on your file with each credit reporting agency. Most credit repair companies offer free consultations to help you get an idea of whether employing their services would be beneficial to you.
If you have a collections account, you may be able to make a partial payment to remove the charge-off. This is not a guaranteed method of removal, but it sometimes works if a debt is old and the lender just wants it off its books.
Should I Pay Charged-Off Accounts?
Some lenders will accept full or partial payment on an old debt, even after it's charged off. You can negotiate a complete removal of the charged-off debt with some collection agencies if you make a full or partial payment.
Just be aware that acknowledging the debt with the lender, or making any payments toward the debt, will restart the statute of limitations and can keep the debt on your credit report for another seven years.
Unfortunately, paying off the charged-off debt won't help your credit score unless the charge-off is completely removed from your credit reports. It will, however, show future lenders that you at least paid the debt. Get the agreement in writing before making a pay-for-delete deal with a lender.
Find Credit Card Approval With an Old Charge-Off Online
A charge-off is not guaranteed to kill your chances of credit card or loan approval. While it may be more difficult to find a lender that wants to work with you, you can still find credit card approval with old charge-off accounts.
Any loan or credit card you receive may charge a higher interest rate or other finance charges, but this may be the price you have to pay to rebuild your credit and once again qualify for affordable, unsecured debt.
Just be sure to make on-time payments and use your available credit responsibly after a charge-off. If you do, you can start to add positive data to your credit report to push that charge-off further down your credit report.
Advertiser Disclosure
CardRates.com is a free online resource that offers valuable content and comparison services to users. To keep this resource 100% free, we receive compensation from many of the offers listed on the site. Along with key review factors, this compensation may impact how and where products appear across the site (including, for example, the order in which they appear). CardRates.com does not include the entire universe of available offers. Editorial opinions expressed on the site are strictly our own and are not provided, endorsed, or approved by advertisers.