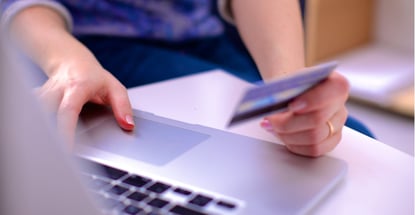 Waiting to learn how much your new Capital One Quicksilver Cash Rewards Credit Card credit limit will be can add even more anxiety to the general nervousness that can accompany submitting a credit card application for approval.
The 60 seconds it often takes for the computer page to refresh with your answer can seem like an eternity as you impatiently wait (and hope) for those magic words: "Congratulations, you've been approved!"
But simply being approved isn't always enough to ease the anxiety for some applicants. When you need your new credit card for a specific purpose, such as making an important purchase, the $64,000 question can become less about finding out whether you'll be approved, but, rather, for how much you'll be approved.
In general, the amount of credit you are offered will depend on factors such as your personal credit history, your yearly income, and the individual credit card for which you are applying. For example, reviewers of the Capital One Quicksilver Cash Rewards Credit Card (regular 14.99% - 24.99% (Variable) APR) have reported credit limits up to $30,000.
Credit Limit Range | Credit Limit Increases | Pre-Qualifying
Reviews Suggest Credit Limits Range From $300 to $30,000
Because every applicant's financial situation is unique, there is no hard-and-fast rule for determining a potential credit limit. That said, there are some general trends in the credit limits reported by Credit Karma reviewers, including a strong correlation between an applicant's credit history and his or her credit limit at approval.
According to one Credit Karma review, "I applied June 2016 and got approved for a credit line of $300. I was excited because I didn't want to get the secured card. I'm in the process of rebuilding my credit and at the time of applying for this card I believe my credit score was 650."
Although reported by several reviewers, that $300 credit limit is the minimum limit received by those approved for the card. At the other end of the spectrum, at least one reviewer reports being given an initial $30,000 credit limit, which is the highest recorded credit limit; however, limits over $20,000 seem to be extremely rare.
One-time $200 cash bonus after you spend $500 on purchases within 3 months from account opening
Earn unlimited 1.5% cash back on every purchase, every day
No rotating categories or sign-ups needed to earn cash rewards; plus, cash back won't expire for the life of the account and there's no limit to how much you can earn
0% intro APR on purchases and balance transfers for 15 months; 14.99%-24.99% variable APR after that
$0 annual fee and no foreign transaction fees
| | | | | |
| --- | --- | --- | --- | --- |
| | | 14.99% - 24.99% (Variable) | | |
In fact, the majority (35%) of reviewers approved for the Capital One Quicksilver Cash Rewards Credit Card tended to receive a credit limit between $1,000 and $3,000. Additionally, more than a quarter of applicants were approved for limits between $5,000 and $10,000 — and almost 10% of applicants were approved for credit limits greater than $10,000.
One particularly interesting trend is the relationship between a Capital One Quicksilver Cash Rewards Credit Card applicant's age and his or her credit limit. Reviewer reports show that those ages 18 to 24 generally received the lowest credit limits, while those 55 and up typically received the highest credit limits at approval. This likely indicates a strong correlation between the length of your credit history and your likelihood of being granted a high credit limit.
You Have Two Ways to Obtain a Credit Limit Increase
While some of the anxiety over a credit card limit can be driven by the need to meet a specific financial goal, your credit limit can be important even if you're using your credit card solely for the perks, like the flat-rate 1.5% cash back rewards of the Capital One Quicksilver Cash Rewards Credit Card. The amount of credit you have available to you is the "credit" part of your debt-to-credit ratio, which is an important factor in credit score calculations.
Regardless of your reason for wanting a larger credit limit, you can relax knowing you may not be stuck with the limit you received when the card was approved especially if you're willing to put in a little time. In particular, unsecured Capital One cards that are at least three months old may be eligible for a credit line increase, so long as they're in good standing.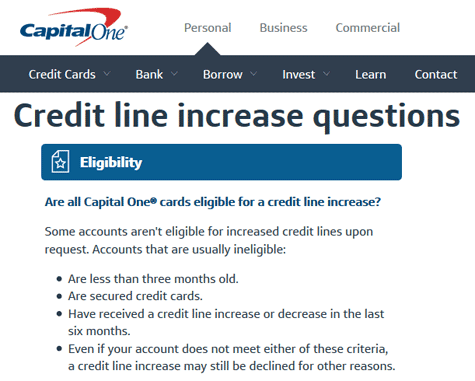 That means the best way to improve your chances of qualifying for a credit limit increase on your Capital One card is to regularly use your card and maintain healthy credit card habits. Cardholders who make their payments on time every month and maintain low card balances are more likely to receive a credit limit increase, often without needing to show an increase in income.
On the other hand, you will likely be denied an increase if your card is too new, your balances are too high, or you have recently been past due on your account. A single late payment can ruin your chances of being approved for a credit limit increase, even if you would otherwise be a prime candidate, so always be cognizant of due dates. Also, note that you can only have one increase every six months, so you'll be denied if you've recently received an increase.
Those who don't use the card very often or only use a small portion of their existing credit limit may also be denied an increase. According to the Capital One site, "Customers who are most often approved for credit line increases tend to use more of their credit line, either by spending and paying off the card each month or by keeping a balance on the account and paying it over a period of time."
1. Contact Capital One
The most proactive way to obtain an increase on your Capital One Quicksilver Cash Rewards Credit Card is to ask for one from Capital One. This can be done either online through your Capital One credit card account, or over the phone by calling customer service at 1-800-955-7070 (select "More Options" for credit limit services).
Online requests for credit limit increases can be granted immediately in some cases, but it is not uncommon for requests to take two to three business days for review. Users will receive an email to check the Online Document Center for the outcome of their request, though those not signed up for paperless documents will also receive a letter in the mail.
For some credit card issuers, credit limit increase requests may result in a hard credit pull, but reviews in the myFICO forums suggest Capital One credit limit requests involve a soft credit inquiry. This means your credit score may not be negatively affected by requesting an increase from Capital One.
2. Pay On Time & Be Patient
The easiest way to obtain an increase in your Capital One Quicksilver Cash Rewards Credit Card limit may actually be to let the increase come to you. A large number of Credit Karma reviewers report receiving unsolicited credit limit increases on a regular basis after opening their accounts.
In one reviewer's words, "Applied for this card as a first credit card and was approved right away. I started with a low balance ($300). I was excited to have any line of credit as I was building my credit score. Used the Capital One Quicksilver Cash Rewards Credit Card for about three months and paid off the balance as soon as I could. On the fourth month, my credit line increased to $2,800."
You Can See If You're Pre-Qualified Online
The Capital One Quicksilver Cash Rewards Credit Card is generally considered to be for those with good to excellent credit — think FICO scores around 700 and up — many reviewers were approved with lower credit scores.
If you're worried about your chances of being approved for the Capital One Quicksilver Cash Rewards Credit Card due to poor or limited credit, you may want to consider the Capital One QuicksilverOne Cash Rewards Credit Card. It offers the same great 1.5% cash back rewards but is designed for those with average, fair, or limited credit.
Earn unlimited 1.5% cash back on every purchase, every day
Earn cash rewards without signing up for rotating categories
Be automatically considered for a higher credit line in as little as 6 months
Monitor your credit profile with the CreditWise® app, free for everyone
$0 fraud liability if your card is ever lost or stolen
No limit to how much cash back you can earn, and cash back doesn't expire for the life of the account
Whichever Capital One credit card you're interested in, you can get an idea of your odds of approval by checking for pre-qualification offers from Capital One. While they don't guarantee you'll be approved if you apply for the card, they can be a good indicator of your possible success.
Sometimes called pre-approved credit card offers, pre-qualified offers are based on a soft credit inquiry and don't impact your credit. Checking for pre-approved Capital One offers only takes a few minutes, and can be done through Capital One's online form or by asking a teller at your local Capital One branch.
Add a Capital One® Card to Your Wallet
It can be tough to apply for a credit card when you need a certain credit limit but are uncertain if you'll obtain it. Unfortunately, credit card limits depend on individual assessments and are hard to predict. Multiple factors, including your credit history, income, and score, all influence the credit limit for which you'll be approved.
For the most part, qualified applicants looking to add the Capital One Quicksilver Cash Rewards Credit Card to their wallets can likely expect to receive a credit limit between $1,000 and $10,000. A large number of reviewers also reported receiving regular, unsolicited credit limit increases, as well as success when requesting an increase, so long as their accounts remain in good standing. And everyone received unlimited cash back and a solid everyday rewards card.
Advertiser Disclosure
CardRates.com is a free online resource that offers valuable content and comparison services to users. To keep this resource 100% free, we receive compensation from many of the offers listed on the site. Along with key review factors, this compensation may impact how and where products appear across the site (including, for example, the order in which they appear). CardRates.com does not include the entire universe of available offers. Editorial opinions expressed on the site are strictly our own and are not provided, endorsed, or approved by advertisers.