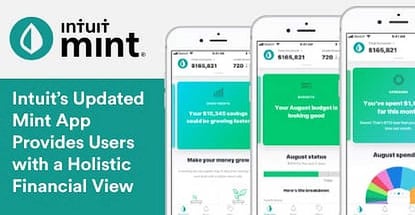 In a Nutshell: Backed by Intuit, Mint is the free personal finance application that lets users track their spending, monitor account balances, know when bills are due, and even check their credit score, all from their mobile devices. And thanks to a recent update, Mint users have more power at their fingertips with a refreshed app for iOS. The updated app provides more insights into spending habits through MintSights and shows users trends in their financial management. Mint can boost confidence by providing context around their spending, saving, and budgeting, with technology that can help anyone — no matter where they are on their financial journey.
Let's say you're away from home when you realize you have some bills due. No problem, in today's digital age, you can pay them from your mobile device. So you pull out your smartphone and log into your banking app. Now, where is your account number? And was it the electric or the cable bill that's due today?
Millions of people use their mobile devices to check bank balances, pay bills, view credit card transactions, and many more financial tasks, but individual apps may not provide the information you need in one place — much less help you make the most of your money.
Mint is the free personal finance app trusted by millions of users to help them keep track of spending, monitor balances, stay on top of bills, and even check their credit scores — all in one place. Mint's intuitive interface means you're never more than a click or swipe away from all of your critical financial data.
The Mint app is backed by Intuit, the company that brought us TurboTax and QuickBooks — two of the most trusted personal and business finance tools on the market. That trust is an important factor because Mint links to your other financial accounts, and Intuit has decades of proven experience in keeping user data safe.
"Mint is something that millions of people love. They use it to look at their everyday finances and to help them make spending decisions," said Ashwin Khurana, Senior Product Designer at Mint. "But we wanted to take the next step and put it in a context that helps people make even better decisions about their finances — with greater confidence."
Mint has also added features to make the app even more powerful. Now, iOS users have access to MintSights, which shows trends based on spending patterns. The new tool makes Mint even easier to use and provides actionable insights based on an in-depth look at a user's financial health.
MintSights Highlights Your Personal Spending Trends
The newest update to the Mint app is available on iOS devices but will soon be rolled out for both Android and web users. The most exciting feature of this version is MintSights, a component that provides customized insight into a user's financial trends over time. That gives Mint users a holistic picture of their spending habits, rather than a simple snapshot of where they are now.
"Instead of just showing the numbers, we're taking it to the next level. Now you can compare your spending from one month to the next and see trends in your spending that give you that next-level view into the behaviors around your finances," Khurana said.
Developers have made many improvements to both the interface and the data presentation over the 12 years since its initial release. Based on some of that user feedback, the team saw an unmet need in their otherwise well-regarded app.
Users were being educated on where and how they were spending their money, but not necessarily on what actions they could take to improve their financial health. This was the primary impetus behind MintSights, which uses contextual data to show users where they could be saving — and even earning — money.
"MintSights is the primary feature release in our latest refresh," Khurana said. "It's where we're finally taking data and contextualizing it for someone."
While MintSights was conceived as a way to give users a more comprehensive view of their finances, it also serves another valuable purpose — providing actionable advice.
Mint users might be alerted to a credit card offer that corresponds to certain spending habits and can save them money, or savings products that can earn higher interest rates on their otherwise dormant cash.
"Traditionally, much of the industry has just promoted credit card offers within their apps, and the great things about them," Khurana said. "MintSights takes it further by contextualizing how much spending users have on their credit cards, how they're using them, and what additional rewards they could potentially be earning."
Mint Instills Financial Confidence in its Users
Anyone who has tried using personal finance, budgeting, or money management apps knows they can often be difficult to set up and tedious to maintain. Many times, you have to enter your data manually, and the resulting output isn't always comprehensive. But Mint is different.
First off, Mint links to nearly every financial institution that has an online interface or an app. Enter your account information once, and Mint establishes a connection, produces records, and tracks activity for as long as you want. The more accounts, cards, and bills you link, the clearer your financial view becomes. That clarity can lead to financial confidence that only comes with understanding the bigger picture.
"What we've noticed is that, across demographics, whatever your level of wealth, everyone experiences some uncertainty or lack of confidence around their finances. So, this is something we've wanted to do for many years," Khurana said.
The knowledge users can gain from the Mint app can boost that confidence. It starts with having all of your banking, investment, loan, credit card, and even insurance information in one place. The graphical representation and comparison features let you see where you stand compared with where you want to be.
You can set up budgets and bill pay reminders, and Mint automatically updates and categorizes your information. Alerts notify you of activity on your accounts, and credit score monitoring shows you if your financial activities are paying off.
Another feature that many Mint users find helpful is the ability to set short and long-term goals for saving or for paying off debt. These can be customized and are displayed as bar graphs for easy tracking.
Technology Built to Evolve with You Across Your Life Cycle
Mint has been around for more than 12 years, and its list of features and tools has gradually expanded over that time. Many app users have come to rely on Mint for features like bill pay reminders or credit score tracking. And Khurana said that's just fine by him.
"We have features to help you understand your credit score, where your money is going, and the many different facets of your finances. All of those things are important to different users depending on where they are in their financial journey," he said.
Just as Intuit recognizes users of its accounting and tax preparation software have specific needs, Mint is set up to offer as much or as little as a user wants to get out of it. You don't have to add all of your financial accounts, for example. And the budgeting or goal-setting features can be used as stand-alone tools until you're ready to do more.
"Everyone's financial situation is unique, and Mint is our effort to solve these problems at an individual level," Khurana said.
That's an appropriate approach for a personal financial management app. Build a useful tool that can be as functional and inclusive as a user wants, and then let them choose what parts they want to apply to their financial situation.
Advertiser Disclosure
CardRates.com is a free online resource that offers valuable content and comparison services to users. To keep this resource 100% free, we receive compensation for referrals for many of the offers listed on the site. Along with key review factors, this compensation may impact how and where products appear across CardRates.com (including, for example, the order in which they appear). CardRates.com does not include the entire universe of available offers. Editorial opinions expressed on the site are strictly our own and are not provided, endorsed, or approved by advertisers.