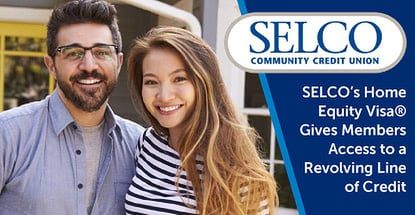 In a Nutshell: Traditional home equity loans pay out a percentage of a borrower's equity in one lump sum, and interest charges begin immediately on the full amount of the loan. Oregon-based SELCO Community Credit Union hopes to reimagine the home equity loan with its Home Equity Visa® card. Borrowers can access their approved home equity line of credit through the card over 15 years with a repayment period of 15 years. Homeowners pay interest only on the funds they use and can access the credit again when they pay the balance. The home equity line of credit works for single-family dwellings as well as non-traditional manufactured homes, condominiums, and investment properties. //
When I bought my first home, I received a piece of advice that stood out from the other congratulatory well wishes: Be prepared for the inevitable.
Busted pipes, rattling air conditioners, and backed-up toilets can happen at any time — and with no warning. Anyone who has ever had to call a repairman after hours knows how expensive these surprises can be.
Not every emergency fund can handle a bill that climbs to several thousand dollars. You can charge the bill on your credit card, but interest rates can make the expense much greater. And, while loans are an option, they can take time to be approved — and we all know that things tend to go wrong on bank holidays or over the weekend.
Oregon's SELCO Community Credit Union has a solution for when those unexpected rattles, hums, or leaks strain your bank account.
The institution hopes to revolutionize the traditional home equity loan with its Home Equity Visa® card.
Members can apply for a traditional home equity loan of between $5,000 and $250,000, and receive the approved amount in a 15-year revolving line of credit, which can be accessed via a Visa credit card.
Cardholders can use the Visa like any other credit card, up to the approved limit, and regain access to the loan when they pay the balance. SELCO only charges interest on the funds a borrower uses and not on the entire credit line.
"I love how flexible our home equity product is," said Kaydie Tanquary, Loan Center Assistant Manager at SELCO. "It offers so many different methods to use the funds, unlike a fixed home equity loan. Our Home Equity Line of Credit allows our members to use funds for different endeavors at times that are most convenient for them."
Members can use the line of credit for anything they'd like, including home repairs and renovations, purchasing a new property, or taking a dream vacation. The loans give members access to the equity they've built in their home without paying interest on the full value.
"We go up to 80% loan-to-value with our traditional, single-family residence home equity line of credit," Tanquary said.
"It's similar to an auto loan in that we may only go to a certain loan-to-value, depending on the credit risk of the member and condition of the collateral."
Tanquary noted that some applicants with platinum-tier credit — any credit score at or above 720 — may qualify for loan-to-value ratios as high as 95%. But, to do so, borrowers must meet qualifications that are contingent on the outside agency that insures the line of credit.
Current interest rates on the home equity lines of credit start at 4.75% and top out at 10% with the higher-end interest rates only applying to special cases.
"Our rates on the variable line of credit currently only go up to 10% — and the highest rate applies to our investment property line of credit for a home that isn't your primary residence," Tanquary said.
"15 Years to Play and Then 15 Years to Pay"
The home equity line of credit features a full loan term of 30 years with a balloon payment after 30 years. By the end of the 30-year term, borrowers must pay off or refinance the loan in full. Or, as Tanquary put it, the line of credit provides homeowners "15 years to play and then 15 years to pay."
To apply for a line of credit, homeowners only need to submit to a credit-score pull and provide typical personal information such as address and identification, financial information such as income verification, pay stubs, and W2s, and details on the home being used as collateral.
In some cases, an appraisal is required for collateral valuation, which can cost between $400 and $1,000.
"But we don't always require an appraisal," Tanquary said. "It depends on the loan amount and the collateral. We have different valuations that may be allowed. The member may not have any closing costs for the home equity line of credit as SELCO pays for many."
Tanquary said that most applicants receive a loan decision within 48 hours. Actual funding of the loan can take longer, depending on the location of the residence and the amount of work needed to verify its value.
"The time it takes to complete the home equity loan typically ranges between three to eight weeks," she said. "That may seem like a wide timespan, but that's mostly because appraisals can take a while to come back."
Tanquary said that homes in large cities and suburban areas often have faster turnarounds. Though, she noted, cities like Portland, Oregon, are experiencing a higher demand for appraisals in certain areas. If there are limited appraisers to cover the area, this can delay the process.
Line of Credit for Investment and Non-Traditional Properties
While many banks limit their home equity loans to traditional, single-family homes, the SELCO home equity line of credit works with manufactured homes and several other non-traditional properties.
"One feature that's great about our home equity line of credit is that you can use it for condominiums, planned urban development properties, manufactured homes, and single-family residences," Tanquary said. "You can use the money to purchase more land, complete home improvements, or fund your dream vacation."
Some types of homes have limitations on their loan terms. For example, most manufactured homes can only receive a loan up to 70% of its loan-to-value ratio.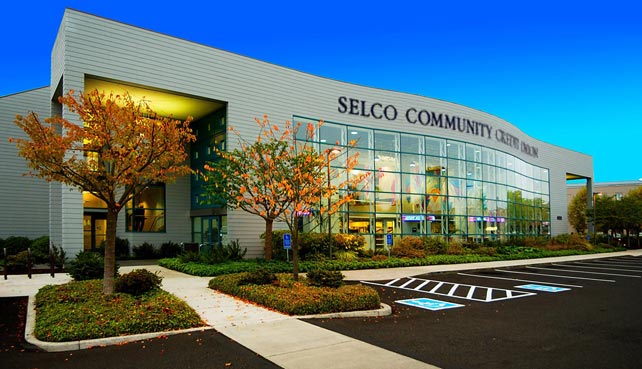 Borrowers cannot obtain a home equity loan for repairs on an investment property since the law requires financial institutions to consider those as business loans. But SELCO does provide home equity lines of credit on investment properties if the borrower intends to use the funds for any other purpose. SELCO also offers business loans.
Investment property loans can reach up to 65% of the loan-to-value ratio and feature current interest rates between 5.75% and 10%.
From Platinum to Subprime: Loans for Any Credit Score
Applicants for the SELCO home equity line of credit don't have to fall within the platinum tier that starts with a 720 credit score. The credit union provides options for nearly any consumer who meets the institution's criteria.
"We look at every single credit tier — even 300 to 579 — which is pretty incredible if you think about the possible risk involved," Tanquary said. "But if the collateral is a $200,000 or $300,000 home, and there isn't another mortgage on the property, it may be an approvable risk."
SELCO weighs all applications individually and takes into account their home value, loan-to-value ratio, and debt-to-income ratio to create a loan package that best fits the borrower's needs.
"Borrowers with platinum credit who have good equity in their home could get up to 80% of the equity in a home equity loan," Tanquary said. "If they have more than 50% equity, have low debt-to-income, and a platinum score, they're very likely to get approved."
For example, if a borrower owns a home worth $250,000 with a first mortgage loan of $120,000, the borrower may qualify for a loan up to $80,000.
Working to Improve Its Members' Socioeconomic Status
SELCO intentionally designed its home equity line of credit to stand out among other bank and credit union offerings. By allowing members to access their loan through a Visa-branded card, they can use whatever portion of the loan they need, which limits interest charges and increases consumer savings.
"Our members look for credit cards," Tanquary said. "We know most credit cards, because they're unsecured, tend to have significantly higher rates and lower limits. Our mission is to improve the social and economic status of every one of our members. If we can offer them a comparable or better product at a much lower rate, then we're accomplishing our mission."
Once the Combination LOC credit limit is established, borrowers may use the credit line like a traditional Equity LOC and exercise the option to take either fixed rate or five year variable rate installment loans on all or a portion of the available Line of Credit.
"If borrowers prefer a fixed rate, they can choose to lock in advanced amounts for up to 20 years," Tanquary said. "Borrowers love the versatility of fixing in large advances while leaving smaller purchases on the line of credit to pay down quicker. Our HELOC product provides security and flexibility. It's like several products in one for a fraction of the cost and time. You can open as many fixed loans as you want. You also don't have to advance the full amount that you think you're going to use all at once."
For example, a borrower with a $50,000 Home Equity Line of Credit may decide to do a fixed rate loan of $30,000 off the LOC for home repairs, leaving a limit of $20,000 on the line of credit portion to use for daily purchases and unexpected emergencies.
"What's really valuable to our members is that as they pay off their fixed loans, the paid off principle balance becomes available for them to use again on their line of credit portion. So, if they fix in a $10,000 installment loan and pay off $7,000, the $7,000 becomes available on the line of credit again. They may choose to fix it in again or leave the funds available on the line of credit. This allows them to have more security with regard to rates while not sacrificing their needs," she said.
"If rates go down or credit improves, and a borrower qualifies for a better rate tier, the borrower may elect to pay a reprice fee to lower their rate," Tanquary said. "That's a huge advantage and potential savings compared to refinancing the loan as a new mortgage loan when rates change."
While the SELCO Home Equity Visa® card may not be able to fix that leaky toilet, having the card handy when the inevitable happens makes owning a home a much more relaxing experience.
Advertiser Disclosure
CardRates.com is a free online resource that offers valuable content and comparison services to users. To keep this resource 100% free, we receive compensation for referrals for many of the offers listed on the site. Along with key review factors, this compensation may impact how and where products appear across CardRates.com (including, for example, the order in which they appear). CardRates.com does not include the entire universe of available offers. Editorial opinions expressed on the site are strictly our own and are not provided, endorsed, or approved by advertisers.