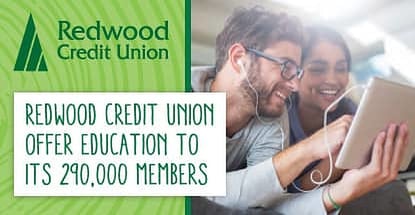 In a Nutshell: Bay Area-based Redwood Credit Union serves nearly 300,000 members and has strong roots in one of the nation's most competitive banking communities. While Redwood has all of the free and low-cost services you'd expect from a not-for-profit credit union, the institution also offers competitive rates and rewards on credit and debit cards. Financial education is a key component of Redwood's community service, as online interactive modules provide knowledge on less-approached financial topics like wage decreases, divorce, and parenting. //
When it comes to living costs, three of America's top seven most expensive cities fall inside California's Bay Area. With large populations and so much money in the local economy, it's hardly surprising that the Bay Area is a competitive market for banks and credit unions. For an institution to not just survive but thrive for more than 65 years among this level of competition indicates it must be doing something right.
Nearly 300,000 Californians are members at Santa Rosa-based Redwood Credit Union. The credit union, founded in 1950, serves residents and small businesses of the North Bay and San Francisco areas and has grown to more than $3.5 billion in combined assets.
"One advantage we have is that we're local — and that matters," said Robin McKenzie, SVP of Marketing & Communications at Redwood Credit Union. "We are right here in the community, and our headquarters are in the community that we're serving. People really feel strongly about that local connection."
Robin says Redwood's focus, like other member-owned credit unions, has always been on supporting the success of the community — not on profiting from member owners. To meet this goal, the institution hosts many free seminars, such as the one on September 12, in which Jean Chatzky of NBC's TODAY Show will share money management tips and advice for the third year in a row. All seminars are free and open to both members and the community.
Those not in the Bay Area can still benefit from Redwood's free online tools, including the Supervise Your Spending modules, which are easily digestible lessons that stand out among tools offered by banks and credit unions. While you'll find more common topics covered, like buying a home or car, or saving for retirement, RCU also provides real-world lessons on other topics important to many Americans consumers that may not be covered by competing financial literacy offerings. Some interesting examples include information on dealing with a reduced paycheck and how to protect your children from identity theft.
"We offer free financial education because our goal and focus is on helping people succeed," Robin said. "What that means for us, is we want to empower people to be able to have the tools, knowledge, resources, and information they need to make great financial decisions."
Redwood's commitment to empowering members also spills over into its rates and services. As with other credit unions, its earnings are distributed back to members in the form of better rates (lower loan rates and higher deposit yields), low or no fees, and expanded services. Robin said member satisfaction numbers have consistently been high and continue to climb. That's impressive, especially considering that out of approximately 6,100 credit unions across the nation, Glatt Consulting named RCU one of the nation's best in 2015.
"The credit union model is such that, because we're a financial cooperative, the earnings that we receive are returned back to the members who own us," she said. "That means that our rates are better, our fees are lower — we offer no-fee products and services — and we use those funds to expand and provide for services that our members want and need, like more technology and more locations."
Serving Members through Credit Cards, Loans, and Other Financial Products
Accessibility is crucial in the banking world, and RCU members have access to more than 30,000 ATMs nationwide through the CO-OP Network. That number nearly doubles the availability of big-bank ATM machines. Up to four times each month, members can also use out-of-network machines and have their accounts reimbursed for the surcharge.
Additionally, checking and savings accounts are free for members. And the institution launched an online person-to-person (P2P) payment application with which members can use to send money to anyone regardless of whether the recipient banks with RCU or not.
Members also rely on RCU for credit cards, and the institution has responded with a trio of Visa credit cards that offer generous reward programs and rates.
The Visa Credit Builder Card is designed for members looking to establish or rebuild their credit rating. Interest rates start at 8.99%, depending on creditworthiness, and the card has no annual fees or unexpected charges, as balance transfers and cash advances are free (at RCU locations). With higher credit requirements, RCU's Visa Platinum Rewards cards feature more expansive rewards and perks, while the Visa Signature goes even further, but with a slightly higher interest rate (starting at 11.74%).
The RCU Rewards program is free on any of the institution's cards, including the debit card (one point per $2 spent). Points accrue at a rate of one per dollar spent (1.25 points for the Signature) and can be redeemed for a host of rewards, including cash back and gift cards.
"All of our cards are offered at low rates compared to our competition, and we offer no annual fee on any of our credit cards and also no fee for our rewards program," Robin said. "Every credit card and our debit card comes with our free rewards program, and credit and debit points can be combined so rewards grow quickly. Points can be redeemed for cash back, merchandise, travel, or charity giving."
For non-revolving financing, RCU's loan program covers a vast array of personal and business needs, from typical auto and mortgage loans to loans for less common purchases such as recreational vehicles and solar energy home upgrades. The latter offers a special fixed rate that doesn't change, regardless of the loan term, to help promote the spread of sustainable energy.
Helping the Next Generation of Savers Get a Head Start on Fiscal Responsibility
As part of its community focus, RCU aims to support not only adult members, but their children and other young citizens in the Bay Area. Local high school students and youth group members are invited to take part in the credit union's Bite of Reality program to learn important financial skills. The unique idea puts participants through life situations where budgeting plays a major role in success.
"They're interactive events," Robin said. "Students get a scenario, like 'You are a carpenter, and you are married, and your disabled mother is living with you, and you have a baby.' They're told what their income is, and they have to go to every station of life and purchase something at each station. There are needs that every person has, so they may visit the childcare station and have to make choices, like if they're going to go cloth or plastic diapers."
Participants also make choices on vacations, cell phones (basic or high-tech), renting or buying a home, and buying a new or used vehicle. Students visit each station and create their budget based on the choices made.
"They learn about real-world expenses and consequences for overspending," Robin said. "Fortunately, the credit union is at the end of their journey and will help them sit down and re-budget, and they go back and swap out choices and make better decisions that they can afford."
The Bite of Reality program is just one example of how RCU is putting its revenue back into the community through outreach. Going beyond educational programs, Robin said that the institution donated more than 4,000 volunteer hours and $2.8 million to more than 350 community nonprofits in 2016.
Focusing on Total Member Experience has Boosted Customer Satisfaction Ratings
Few people go to a bank or credit union for fun. It's one errand among many most of the time — a quick deposit or withdrawal, or maybe a loan application for a new car. Robin says that RCU wants to take those brief moments you spend in a branch and make them memorable. To that end, RCU is constantly evolving its service structure to streamline operations.
"One of our core focuses is our 'Total Member Experience' — we call it TME," she said. "It's our intent to make our members' financial lives easier and simpler, so they can spend less time banking and more time doing the things they love."
RCU collects survey information online and over the phone from members, plus gathers feedback from employees in an online portal. Using the portal, employees can suggest areas of potential improvement, and other employees vote on the ideas. Those with the most votes are moved into implementation by a committee that oversees customer experience. Robin said that since the portal was introduced, customer satisfaction surveys have shown marked improvements.
With measures like these in place that prioritize members' needs, Redwood Credit Union is looking to keep its place among the nation's finest credit unions.
Advertiser Disclosure
CardRates.com is a free online resource that offers valuable content and comparison services to users. To keep this resource 100% free, we receive compensation for referrals for many of the offers listed on the site. Along with key review factors, this compensation may impact how and where products appear across CardRates.com (including, for example, the order in which they appear). CardRates.com does not include the entire universe of available offers. Editorial opinions expressed on the site are strictly our own and are not provided, endorsed, or approved by advertisers.