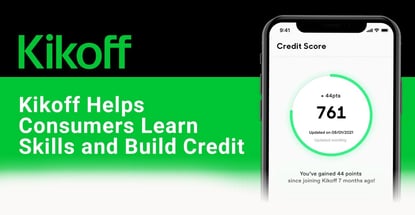 In a Nutshell: Credit scores are crucial to financial well-being in the modern world, but a significant number of Americans don't have a credit history and many with a credit history would like to improve it. Kikoff helps people establish and build their credit with a no-interest, no-fee revolving credit line. Customers use this card to purchase financial literacy materials that will prepare them to maintain their credit and manage their money. They also have access to resources to develop professional skills, which can help them increase their income. Together, Kikoff's revolving credit line and educational materials help customers improve their financial standings and qualify for other beneficial credit products at lower interest rates and help to expand economic opportunities in the future.
A credit score is one of the foundations of financial wellness in the United States. It affects our ability to get credit cards and loans with favorable rates. It affects our ability to qualify for loans for cars and homes. And it can even affect our ability to find employment in certain fields.
But all of these stepping stones to financial success are unavailable to those consumers who are credit invisible. They have no credit history, and so they have no credit score. Thus, they are unable to qualify for life-changing products that advance their financial well-being.
"There are almost 100 million Americans who have no credit," said Cynthia Chen, CEO of Kikoff. "Nobody will know that they exist from a credit perspective. Or they have a profile, but they have no score or very limited data so they can not be approved by many financial institutions because they do not have a credit score yet."
Financing options are available to these consumers, but many of these options carry extremely high interest rates and exorbitant fees. These make it very costly, if not downright unfeasible, for people to improve their credit scores through traditional means.
Kikoff is changing all that with its affordable credit-building tool. Consumers can easily raise their score with Kikoff while gaining a valuable financial knowledge base. As of August 2021, Kikoff is the App Store's number-one credit builder app with a 4.9 rating based on thousands of reviews.
"We are the most affordable credit builder in the market," Chen said. "When you really help consumers save money, and still help them achieve their goals that otherwise would have cost [them] a lot, they'll be very, very happy. We have a very positive user experience because of the financial literacy we provide and also the quality of customer service we provide."
Accessibility Based on Identity, Not Scores
Kikoff has no minimum credit score for eligibility. The only requirement is proof of identity in the form of the user's name, IP address, phone number, and Social Security number. Kikoff verifies these data through existing credit bureaus but does not conduct a hard credit pull, which can further hurt their credit.
"It is good for people who are new to the U.S. or young adults who just became eligible for entering the credit world. Also, so far, people who have limited credit history," Chen said.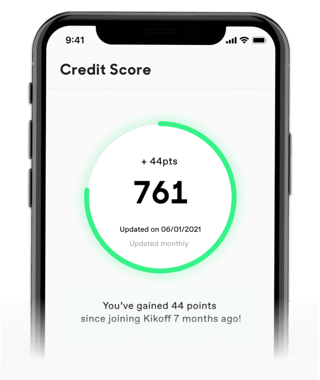 Once they've been onboarded, Kikoff helps its customers monitor their credit scores. They're able to regularly access their Equifax credit report at no additional charge. People who have no prior credit score can expect to see their first score within an average of two weeks.
For those who were previously credit invisible, this means that they can begin building credit quickly and establish their score in three to six months. This means that they'll quickly be able to qualify for beneficial products that will help them improve their financial standing.
But someone without a credit history may have a poor understanding of how credit works, and they may be at risk of damaging their newfound credit score. To help make sure this doesn't happen, Kikoff provides them with financial education resources to help them better manage their money and their credit.
Kikoff's Lines of Credit Carry No Interest or Fees
Kikoff provides its customers with a $500 unsecured line of credit they can use to make purchases within the Kikoff store. This product carries no fees and no interest. As account holders repay the balance, their payments are reported to the bureaus to build their credit quickly and easily.
"[Kikoff charges] no origination fee, maintenance fee, setup fee, or even late fees, and it doesn't charge any interest on your revolving balance," Chen said. "So unlike a credit card, where you will accrue interest on a daily basis, our outstanding balance will never change, because there's no interest. And we do that to avoid getting consumers into a debt trap."
Many consumers fall into that trap with traditional credit-building products. They charge their purchases, accrue a large balance, and find themselves unable to pay it off. If they're unable to make minimum payments, they incur harsh fees that put them further into debt. And even if they are able to make minimum payments, the balance continues to accrue interest — often very quickly — further ratcheting up the amount they owe.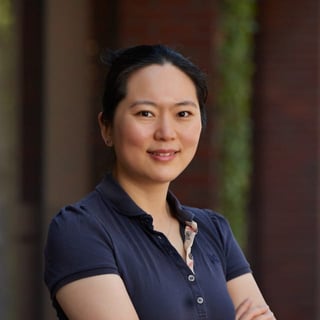 One may wonder how, without fees and interest, Kikoff is able to turn a profit and stay in business. That's where financial literacy comes in.
Kikoff customers are only able to spend their money on ebooks and ecourses furnished directly by Kikoff. By purchasing these resources, they're building their credit through repayments, and by educating themselves, they're accruing financial knowledge that will help them avoid debt and better manage their money.
"We purchase master resell rights from the instructors and all others. And then we sell copies of their work to our users," Chen said. "Consumers are not only building credit with us, but they are also getting smarter and more responsible financially. So that's why we have achieved so much traction so far and have gotten hundreds of thousands of active users."
Educational Resources Help Improve Financial Literacy
All of Kikoff's educational content is carefully curated. Its library offers a wide range of ebooks focused on financial literacy, all of which are chosen for their relevance to its customers.
"For example, the majority of our customers have active student debt on their credit report," Chen said. "So it's very helpful for them to learn how to manage student debt, especially multiple private student loans. And we have also curated content from some very reputable providers."
Kikoff actively seeks out educational content that is highly rated by its users; some is exclusive content not available through any other venue. It negotiates a purchase price with the publisher or copyright holder, acquires the rights, and then makes the content available to its customers.
In addition to managing student debt, educational content topics include successfully managing a budget and saving for down payments for a car or a home, which are goals for many of Kikoff's customers. The store also features content on skills-based training and courses that help customers make career changes and improve their incomes.
An increased income combined with a strong credit score and a solid basis in financial literacy will prepare Kikoff's customers for more positive financial futures. With those foundations in place, consumers can qualify for beneficial loans, increase their earnings, and gain better financial positions. 
Kikoff: Growing With Consumers On Their Credit Journeys
Getting into the position, though, will take time. As noted above, improving your credit score doesn't happen overnight, and neither does acquiring an understanding of how to manage personal finances that lead to building new professional skills. It takes time and effort, but Kikoff provides a much-needed helping hand for people just starting on that journey.
"[Credit building is] a process because, the way the credit scoring models work, [lenders] look for the length of your credit history," Chen said. "So it's not like you have a credit line and then you will become immediately eligible for something that you weren't eligible for a month ago. It is a process, and our customers will stay with us for a pretty significant period of time, and during that time, they will continue to build their credit history with this product, and to see their credit improve."

This allows Kikoff to build a strong relationship with its customers and learn more about what kinds of products they want. This has led to new offerings, including increased caps on credit lines, and others are in the works. In the future, Kikoff hopes to offer a traditional credit product as well as auto loans, mortgages, and student loan refinancing.
"We'd like to help them with their larger financial products, such as mortgages," Chen said. "Only 3% of our customers have a mortgage, but more than half of them want a mortgage eventually. It's going to be a long journey to get there. But step by step, we are helping them get closer and closer."
Advertiser Disclosure
CardRates.com is a free online resource that offers valuable content and comparison services to users. To keep this resource 100% free, we receive compensation for referrals for many of the offers listed on the site. Along with key review factors, this compensation may impact how and where products appear across CardRates.com (including, for example, the order in which they appear). CardRates.com does not include the entire universe of available offers. Editorial opinions expressed on the site are strictly our own and are not provided, endorsed, or approved by advertisers.