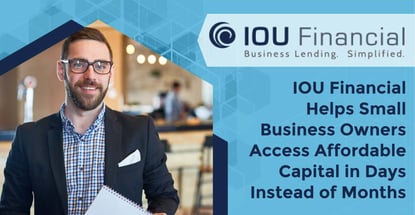 In a Nutshell: Entrepreneurs often need access to expedited loans to keep their operations running or to seize growth opportunities. That's why IOU Financial offers fast and affordable capital to small businesses in a wide array of industries. The proprietary platform works with borrowers from initial application through final payment, and IOU Financial provides decisions in seconds and can fund up to $100,000 within 48 hours.
The U.S. is home to more than 30.2 million small businesses, but 1 in 12 of them closes up shop each year. Many times that is due to a small business quickly running out of capital, which can hinder its ability to obtain needed inventory, pay employees, remodel a showroom, or purchase equipment. So when SMBs apply for loans, time matters.
But that doesn't line up with the process traditional banks typically follow with small-business loans which often take up to six months to close. In that time frame, some SMBs could fold. IOU Financial was founded to help those SMBs access capital quickly.
IOU is the brainchild of a group of lending and tech industry leaders who created a proprietary platform that processes small-business loans quickly. That results in faster decisions and quicker funding for owner-operators.
"We have 50 employees on staff doing over $150 million per year in volume," said Madeline Wade, VP of Operations at IOU Financial. "We mainly want the technology to do the heavy lifting while still having a professional, manual underwriting process."
Wade was part of the founding group that came over from a lending company that was a victim of the credit crisis. According to Wade, the lessons the group learned from the credit crisis paved the way for IOU Financial.
The final step came when the group met Phil Marleau at a banking conference in San Francisco. Marleau had already built the first peer-to-peer lending platform in Canada and brought the tech expertise the group needed.
"We noticed with the peer-to-peer market that many of the requests coming in were from businesses," Wade said. "We saw a huge void where small businesses didn't have access to capital, and most needed money fast."
Those borrowers can often receive loan decisions from IOU Financial within minutes — and approval for funding of up to $500,000 is possible within 48 hours.
Leveraging Technology to Provide Fast Lending Decisions
The IOU Financial team brings knowledge to the table, but it's the group's proprietary lending platform that provides the muscle.
That technology helps the company process most requests within minutes. And the system follows the borrower from application through final payment.
"We have an end-to-end platform, starting with the CRM and through loan origination system, servicing and payment processing with post-closing surveillance," Wade said. "We're lucky that we have one system that everything runs on. And since so many pieces are homegrown and proprietary, it remains very agile and can change with the times."
A speedy system that processes thousands of applications helps not only borrowers but also IOU Financial — even as the demand for affordable loans continues to increase.
"One of the most important things to us is to give a pre-approval or credit approval as fast as we can," Wade said. "Our system looks closely at the primary, high-level items that we've determined are our minimum criteria, and allow through only applications that meet our minimum requirements. Our platform has processed over 100,000 loan requests and we have funded over $700 million in loans to small businesses."
If a loan doesn't automatically validate, it moves to a separate system that queues for manual review. Wade compared the process to a loan assembly line, which she said allows applications to go through the system faster than they would with most lenders.
"We use a lot of cloud data, as well as our data connections with credit bureaus and business credit information," Wade said. "And then, through our technology, we have a decision matrix at different steps of the process. It can raise a flag if it sees certain data or pass it on if the data reaches the minimum requirements."
The proprietary algorithm also checks to see if a loan application meets the different requirements. And that all happens in a matter of seconds, with most applicants receiving near-instant loan decisions.
"But failing a stage doesn't necessarily mean a loan denial," Wade said. "It just means that, instead of manually looking at 15 different things, we just need to take a look at that one specific area. That speeds up the process."
IOU's system handles both loan funding and payment processing, which Wade said makes the entire process easier for borrowers who don't have time to deal with third-party systems.
Funding a Vast Array of SMBs in Many Industries
Banks often limit the industries they extend business loans to. And since many SMB owners need immediate funding, the traditional months-long application process won't work for them either.
That's why IOU focuses on businesses often underserved by mainstream banks. Many small businesses are thriving and can afford to repay their loans, but often struggle to obtain capital through traditional means.
"We have seen a lot of loans come through from the auto repair space," Wade said. "We also serve a lot of plumbers, HVAC, and smaller, owner-operated shops. In many cases, they need equipment for a job but won't get paid until they complete it. They need an up-front boost of capital to get the ball rolling."
IOU has also seen an increase in loan applications from restaurants — with many looking to expand patio space, buy new equipment, or remodel dining areas. Those projects will likely lead to increased revenue, and Wade said the loans often make sense for both parties. That makes them easier and faster to process.
"We also see a little bit of light construction and remodeling," Wade said. "Maybe it's an owner-operator business that installs new windows, siding, or remodels bathrooms. When they get larger jobs, they may need subcontractors or new workers to complete them."
IOU offers loan options curated to the needs of SMB owners. That helps decrease costs and increase the functionality of the loans.
Responsible Borrowing Helps Businesses Build Credit
SMB owners understand the importance of quick access to capital. And many are familiar with how difficult it is to build a credit profile. That's why it's essential to find a lender that ensures loan payments will help build business credit.
Many online lenders don't report payment history to Equifax or the Small Business Financial Exchange. So while that loan may help SMBs in the short term, it won't help them when it comes time to apply for future loans.
But IOU Financial reports to both of those institutions and thoughtfully works to help borrowers build their business credit profile.
"We go through a lot of things during our closing call, and the most common questions we get are 'Will this affect my business credit?' and 'How does this report for my business credit score?'," Wade said. "We report to the credit bureaus because we want to ensure we're helping the good payers show that they're in good standing."
Since IOU Financial processes so many loans, and services so many industries, it's no surprise that the company is in demand among SMB owners. But even though the lender is tech-driven, it still focuses on the human element.
"We have a lot of repeat customers who retain the name of the closer they worked with and call them to ask to work with them again," Wade said. "We have a lot of personal connections, which I think makes us stand out."
Those connections help IOU build long-term relationships with the merchants who borrow from them. It's also why many borrowers renew their loans once they have paid down at least 40% of the balance.
"It's rewarding when you look at a merchant who received a loan and can see how the capital has helped them grow their business," Wade said. "Those are things that our renewals and account management departments see all the time."
Advertiser Disclosure
CardRates.com is a free online resource that offers valuable content and comparison services to users. To keep this resource 100% free, we receive compensation for referrals for many of the offers listed on the site. Along with key review factors, this compensation may impact how and where products appear across CardRates.com (including, for example, the order in which they appear). CardRates.com does not include the entire universe of available offers. Editorial opinions expressed on the site are strictly our own and are not provided, endorsed, or approved by advertisers.