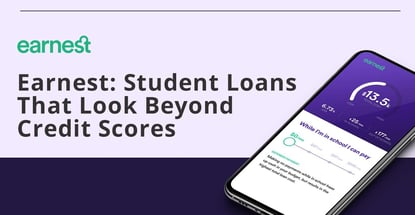 In a Nutshell: The student loan debt crisis may be more pressing than ever. While the U.S. government has paused repayment due to the COVID-19 pandemic, many questions remain about what will happen when repayments are active once again. Earnest identified the need for a new approach to student loans after seeing how antiquated the current system is. The company's primary goal is to help students finance their higher education in a sustainable way that aligns with their personal financial situations. Earnest looks beyond credit scores and makes it easy and convenient for students to gain access to student loan options that make sense for them.
In recent years, the student loan debt crisis has increasingly been a focus in the media and among some groups of politicians. That's because the amount of student loan debt in the U.S. has tripled since 2005.
Current students, college graduates, and former students owe an astounding $1.6 trillion in student loan debt. This number surpasses both auto loan debt and credit card debt in the U.S. and is only exceeded by mortgage debt.

If there are any silver linings to the COVID-19 pandemic, one may be that federal student loan repayment has been put on hold. This move by the federal government helped to free up cash during an unprecedented time in the U.S. economy. Millions are still struggling financially, but not having to pay student loans has given some of these folks a chance to stay ahead of debt and avoid racking up major credit card bills.
In the meantime, questions remain about whether President Joe Biden will forgive any portion of student loan debt. And financial experts are exploring how student loan debt reached such astronomical levels while others look at ways to alleviate the burden.
So, while there is current relief, the challenges continue for student loan borrowers.
The good news is that some companies, such as Earnest, have taken note of the challenges that lay in front of student loan borrowers and are working to create a new paradigm.
"Freedom of choice meets student loans," according to Earnest. "Get your student loan or refinance with a company that knows you're more than a credit score."
We recently had an opportunity to speak with Scarlett Li, General Manager of In-School Student Loans at Earnest, to learn more about the company's approach to student loans.
A Lending Product that Puts Students' Interests First
"We launched our private student loan origination product in 2019 because we saw a huge gap in the market," Li said. "The current student loan options on the market are incredibly outdated — they look like Windows 95 but are being used by students who weren't even born when Windows 95 was in use."
She said the Earnest team wanted to create a lending product that put the best interests of students front and center.
"Our team conducted over 300 hours of user research with students, cosigners, and financial aid officers to create a product that addresses real pain points in the market," Li said. "When you apply for an Earnest loan, we clearly explain the interest terms, define complex financial terms and outline how much you'll be paying back over the term of the loan."
She said the company wants to help students pay for their education in a way that makes sense and aligns with their unique financial situation.
"As an example of one of our key differentiators, our application makes it simple and easy to invite a co-signer to the process," Li said. "Most private student loans require a co-signer, but this can lead to awkward conversations about money for all involved."
When someone applies through Earnest, the company initiates the financial discussion, meaning the potential borrower no longer has to ask them directly how much money they make or what their credit score is, Li explained.
"We also found through talking with recent graduates that they wanted the flexibility of a longer grace period after graduation to get settled," she said. "Earnest offers a nine-month grace period, which is longer than the six-month industry standard."
When it comes to loan selection, Earnest also made its process extremely transparent in terms of the options one has and the respective repayment journey, Li said.
"Because this could be the student's first big financial decision in their life, we want to help make it right," she explained. "We had so many users telling us that 'I had no idea that paying $25 a month in school could save me this much money in total cost. This is totally affordable and I wish I knew this earlier.'"
The Importance of Being Able to Access Affordable Student Loans
Li said that being able to access affordable loans to help students invest in their future potential is extremely important.
"In the private student loan space, Earnest wants to be the market leader that provides transparent solutions to students and their families and helps them make the right financial decisions to fund their education at the lowest possible cost," she said.
The company's primary goal is to help students finance their education in a sustainable way that works for their financial situation.
"We're serious about making this process more accessible — the first day we launched our loan product, one student completed their application in a total of seven minutes," Li said. "We know that education plays a powerful role in setting up people for financial success and job stability."
Earnest also knows that higher education is incredibly expensive and many students need to take out loans. An estimated 1 in 5 adults in the U.S. carries student debt, Li said.
"With Earnest, we are helping students finance their education, and once they graduate we're also here to guide them on their payback journey," she said. "For many, that may include refinancing their student loans."
The company has refinanced more than $14 billion for 150,000 individuals with Earnest's refinancing product, Li said.
"By refinancing, many of our clients are able to shorten their payback period, consolidate multiple loans into one loan with a monthly payment, and lock in a lower interest rate, enabling them to save money over the life of the loan," she said. "At Earnest, we are working to build a world where paying for your education takes less time than earning your degree."
Collecting Feedback and Prioritizing the Customer Experience to Guide Future Developments
Of course, the backbone to the success of so many companies is providing a quality user experience and working to make sure customers are satisfied. Earnest understands this and strives to listen to clients and learn from them.
"Our client happiness team is in constant communication with our clients to better understand their experience and problem solve any pain points," Li said. "We also conduct regular research interviews with our clients to optimize the user experience and better understand which new features to prioritize and build."
For example, after feedback from users, Earnest introduced a new feature in 2020 to enable co-signers to start the student loan application process without having to wait for the student to start the application, she explained.
Watch on
"One user recently told us, 'Earnest takes what can be a very complicated process and streamlines it into an efficient, user-friendly process,'" Li said. "And another mentioned, 'Earnest was very prompt in giving us results of a private student loan. The college was late in completing financial aid and I wasn't sure how we could get the extra money needed for my senior year. Earnest came through with a quick decision with the funds needed!'"
Focusing on delivering a great experience also means being willing to change with the times, and Li said Earnest is constantly iterating.
She said the company is currently working on a new feature that would enable users to check their interest rate in two minutes without a hard credit hit.
"This is a popular feature we offer for our student loan refinancing product and we're excited to bring it to our private student loan offering," Li said.
Advertiser Disclosure
CardRates.com is a free online resource that offers valuable content and comparison services to users. To keep this resource 100% free, we receive compensation for referrals for many of the offers listed on the site. Along with key review factors, this compensation may impact how and where products appear across CardRates.com (including, for example, the order in which they appear). CardRates.com does not include the entire universe of available offers. Editorial opinions expressed on the site are strictly our own and are not provided, endorsed, or approved by advertisers.