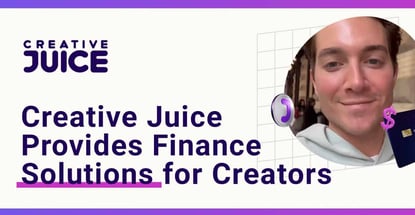 Our experts and industry insiders blog the latest news, studies and current events from inside the credit card industry. Our articles follow strict editorial guidelines.
In a Nutshell: Most people who earn a living through content creation, such as on YouTube and other online platforms, often find it difficult to organize their non-traditional cash flow. Traditional banks usually lack the expertise to deal with such entrepreneurs. Creative Juice is a startup provider of banking and financial services specifically for content creators. It provides useful tools and insights to help creators keep track of their finances. The company also offers funding for creators to develop their businesses.
When it comes to banking, most people use the same kinds of services and they don't need to have a banking experience geared to any specific profession. That is, unless you happen to work in a niche industry.
One of the downsides of being among the first to do something new is that society's traditional frameworks are ill-equipped to cooperate. Just look at cryptocurrencies, for example. Even after gaining broader appeal over time, it's still hard to find people who use cryptos for anything other than speculative investments.
Independent content creators often find themselves in a similar boat. It's not easy to find banking solutions that cater to their needs. Being a creator is not a standard job where one gets paid by an employer, and content creators are not typical entrepreneurs since they often get revenue through other parties like YouTube or TikTok.
And while creators are very good at marketing their talents and other products, a lot of them lack financial management skills, like balancing their books or knowing when and how much to pay in taxes.
To make life easier for creators, Creative Juice has designed an online banking platform that creators can use to manage their earnings, organize important financial analytics, and even receive funding to help grow their business.

The company was founded in 2021 by former Plaid executive Sima Gandhi and Night Media president Ezra Cooperstein. The idea sprang up after Gandhi noticed that, despite the growth of the industry, traditional banking institutions had a hard time grasping the business model behind content creators.
And the creator industry is certainly booming, not just from an introductory perspective, but also as a career path. Reports show that there are over 50 million creators worldwide, and the industry was valued at $13.8 billion as of late 2021.
The notion of becoming an influencer or YouTuber has taken on greater interest among today's youth. One survey found that one-third of children between the ages of eight and 12 are looking to be content creators in the future.
Jonathan Liu, Head of Product at Creative Juice, said these are very positive signs for the industry, overall, and there are many new opportunities and pain points to address.
"A lot of the financial services simply were not designed for the creator entrepreneur. And so that's the main pain point that we are looking to tackle," said Liu.
Liu mentioned that many creators just want to follow their passion and don't want to deal with the business side. "We're trying to make it so that we can help creators run their business well, so that they can focus more on doing what they want to do, which is creating."
Banking for a New Type of Entrepreneur
The Creative Juice platform provides all of the essential banking services its customers need as well as features that exclusively benefit content creators.
It also charges no monthly fee nor does it require a monthly minimum balance, and the service is Quickbooks compatible.
The company's specialized features include analytics on cash flow from user activity and platforms, income projection, automated invoicing, digital and physical debit cards, collaborative team features, rewards, and media kits to help creators brand themselves. It also offers YouTubers the ability to get advance access to their AdSense payouts.
Liu noted that the media kits can be particularly helpful. "What we're finding is that a lot of new creators need easy tools to market themselves to brands. And so our media kit automates a shareable page that says, 'Hey, this is where my user base is, this is the audience breakdown, this is the engagement rate.' So the media kit can help streamline conversations around the analytics."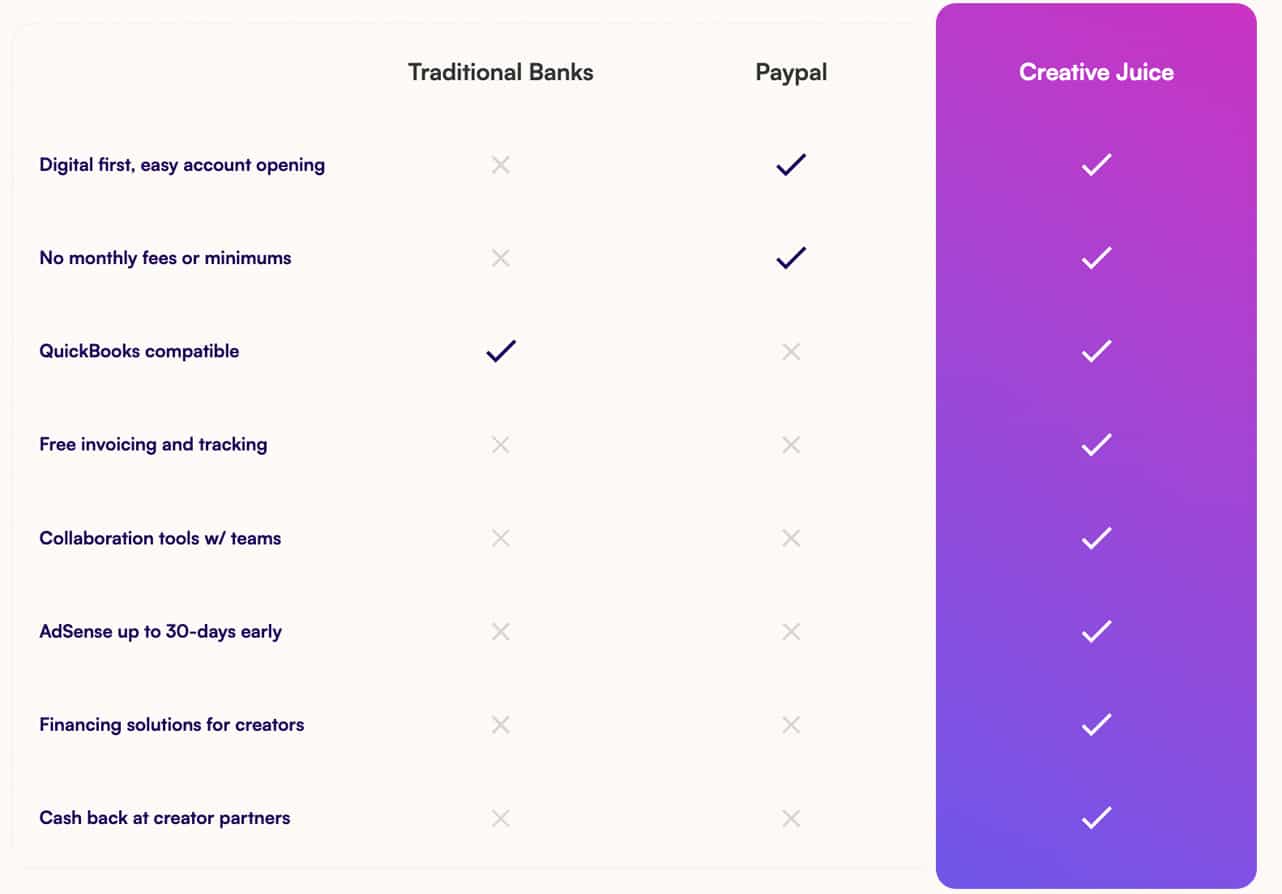 Many of these creators are not business or finance savvy, so having the type of services that Creative Juice provides has given them a lot of relief. "We're very focused on creators who are effectively solopreneurs," said Liu. "Many in large part are doing this by themselves or with one other person. We can provide a very unique offering to meet their pain points. And they do have a lot of pain points, but we're trying to simplify so that they could just focus on being creative first."
Liu said the company is also taking more steps into the tax arena and currently provides tax management services. He noted that some creators are quite wary of how to properly file taxes and would rather have someone simplify the process for them.
"They're really thankful that we have a business banking product and QuickBooks integration, because they're very overwhelmed during tax season. The trick is to separate your personal and business expenses. They have many concerns around estimated quarterly taxes. A good chunk of starting out creators don't even realize that you do need to pay quarterly," said Liu.
In fact, Creative Juice launched their first content series, In The Know. The series answers common creator challenges that 90% of Juice creators have asked, from how to take your creator business to the next level to how to control the chaos of your income and expenses. Through an informative, fun series, Creative Juice launched a self-serve content hub just for creators. Each course is short, digestible, and easy to understand. 
Creative Juice is currently listed in the Forbes Fintech 50 and is continuing to grow rapidly. "We have seen incredible growth. We've seen deposits increased by over 71% each quarter, sign-ups increased by over 50% each quarter," said Liu.
Business Growth Funding Campaigns
Part of Creative Juice's expanded business model involves providing Juice Funds for creators. That's where the company offers capital infusions of up to $2 million in exchange for a share of the creator's revenue.
In a sense, it operates like an investment in the success of the content creator.
Just to be clear, Creative Juice does not offer Juice Funds to anyone who asks. The company considers the measurable profitability of the creator and then decides whether to release funding. The reason for that stance is that, should the creator fail to capitalize on generating higher profits, Creative Juice would have to take the loss.
So the incentive is there to not only help the creators, but also ensure the company is making a wise business decision.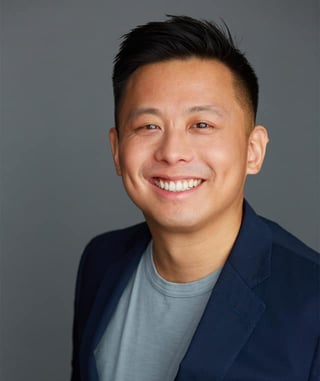 "It's kind of like a win-win situation. We grow as creators grow," said Liu.
"We have immense interest in making sure that they do well. So as part of the funding, we give them a suite of resources, we have events around creator wellness, avoiding creative burnout, and managing your finances, and we provide specialty referrals to creator-specific CPAs and attorneys," said Liu.
"It goes above and beyond just funding. It's like a funding program where creators can network with a community of creators just like them."
In one scenario, Liu described that there could be a creator who's making and editing video content by himself and that if he had an editor, the creator could literally double his income because he's now able to do double the amount of content.
"When they take that funding, that's pretty much what they do," said Liu. "There are a lot of use cases that involve hiring a team to expand the amount of content. And that's honestly the simplest use case where you can just multiply yourself even more."
Liu also mentioned that creators often feel isolated, but that having this type of support network gives creators a side benefit of a community as well.
Opportunities to Earn Discounts and Rewards
Creative Juice also has partnerships with various content resource brands that offer discounts and rewards to those who use their services and products.
These discounted services are selectively intended to fit the needs of creators, whether it be royalty-free music for videos, production equipment for the traveling vlogger, contractual or business consulting advice, or a number of other logistical support services.
"[They] deserve a cashback discount because we noticed a lot of them are spending money. So we have cash back programs of up to 25%. That's one of the unique perks that we can offer as a creator specific banking platform," said Liu.
The merchant partners themselves have also been very supportive of these incentives and would like to work with Creative Juice as much as possible to help content creators succeed professionally.
"The community is so helpful that even if we're coming up to them like, 'Hey, we noticed our creators spend a lot here'…they're really willing to help us and say, 'Yeah, we would totally love to offer you a big cash back program to support the creator industry,'" said Liu.
"We try to really hit [creator] spending where it hurts them. So wherever they spend a lot, we really try to target that and maximize value for them there."