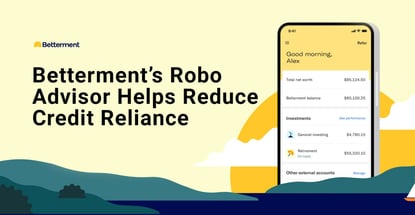 In a Nutshell: Every long-term financial plan should include investing, but not everyone has the tools to get started. Betterment aims to democratize investing through its robo-powered app and educational resources. Investors can use Betterment to set goals and receive personalized guidance on investments. It also helps clients prioritize their financial needs and ensure their goals are effective and realistic.
Investments are a crucial part of financial planning, and in challenging times, dividends or sales of investments can provide much-needed funds to meet unexpected expenses or weather market downturns.
In that way, investments can be seen as an alternative to credit. They're resources investors can draw on to reduce or eliminate reliance on cards and loans, which may negatively impact their financial standing and credit scores.
The Betterment app makes it easy for all investors to allocate money, even if it's their first experience with investing. It provides clients with support and guidance, primarily through automated tools. During the past decade, Betterment has helped 700,000 clients manage $32 billion in assets.
Betterment uses sophisticated AI, but that doesn't mean it neglects the human element. Professional advisors still provide personal guidance when clients need it.
"We talk with the clients that want to," said Nick Holeman, CFP, Head of Financial Planning at Betterment. "They love the automation, but they also want just that second set of eyes on things."
One of Betterment's key goals is the democratization of financial advice. A significant segment of the population — including those with student loans or credit card debt — can't make high-dollar investments to gain access to expert financial advice. Betterment's robo-advisors leverage artificial intelligence and data analysis to lower costs and enable broader investment access.
"We can lower the minimum balance requirements and fees, and that allows us to reach more people and a whole new audience," Holeman said. "It's been refreshing to work on new types of problems that are more common among the general population."
Investment Customization and Transparency Provide Flexible Portfolios
Holeman said consumers can find low-cost, index-based portfolios in the robo-investing space, and most of them will be globally diversified. Clients have access to those investments at relatively reasonable fees.
Betterment differentiates itself from competitors through its investment customization. Each investor is bound to have unique values, preferences, and tolerance for risk, all of which dictate the investment approach. Betterment can accommodate specific client needs by providing more flexibility alongside automation.

"You can choose the index fund that we've been implementing from day one," Holeman said. "Or, if you want to be socially responsible, you can choose a climate-focused portfolio or a diversity-focused portfolio."
Betterment's portfolio is a collection of different providers, and it selects them using a proprietary algorithm. Rather than offering its own ETFs (exchange traded funds), Betterment evaluates offerings on the market and chooses the best products to offer investors.
"It's super transparent," Holeman said. "If a provider scores highly on this, we will put them in. If not, we will not. No amount of dinners or schmoozing will allow you to get into our portfolio. That's important for investors to look at: how unbiased a particular robo-solution is when it comes to choosing the investments."
Goal-Based Investing Can Reduce Reliance on Credit
Betterment presents investing as a goal-based process. Clients establish their financial goals, and Betterment offers recommendations on how to reach them. Rather than simply providing generic advice, the platform gives specific recommendations and suggestions based on the client's goals.
Those goals may include retiring in 30 years, buying a house in five, sending a child to college in 15, or simply taking a vacation next summer. Each goal a client sets will help build a personalized investment plan, and they can pursue goals through dedicated portfolios. Avoiding consumer debt is an essential factor in setting goals and choosing investments.
"Avoiding debt and having a plan, or just thinking a little bit ahead, is the biggest key there," Holeman said. "The shorter-term goals are going to be upcoming holiday gifts, birthdays, a new car in three years, those types of things."
Watch on
Betterment clients can avoid dipping into credit card or loan debt by planning and automating savings toward those goals. That helps protect their credit score to apply for more beneficial products, including mortgages, while saving them money on interest in the long term.
Betterment can help new or existing clients balance their debt with investments. It's not unreasonable to invest and prepare for future expenses while paying off previous debt, but consumers should always approach it responsibly.
"We looked at debt-to-income ratios and interest rates versus expected investment returns. Then, we use that to say, 'This debt that you have, we should pay that off before investing another penny in Betterment; but this, we think that's reasonable,'" Holeman said.
Early Investing and Diversification Establish a Solid Financial Foundation
As the saying goes, the best time to invest was yesterday, and the second-best time is today. Betterment can help anyone take advantage of the second-best option to start investing.
"Time is one of the biggest factors," Holeman said. "When you are young, even if you're starting with small amounts, just get started. Compound interest is a snowball. It starts pretty slow. After a couple of years, you're going to see the dividends that you're earning might even exceed the amount that you're saving on a monthly basis."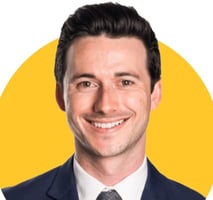 Many investors can also afford to invest more aggressively while they're young than they would when they're older. In some cases, the investor is starting on a shaky foundation. Perhaps they're carrying substantial credit card debt that they need to pay off, or they're starting to invest later in life. Those situations will dictate different investment paths and portfolios.
Holeman said diversification is crucial for a strong portfolio, no matter the situation. It may not yield the fastest results, but provides security over the long term.
"It's the least sexy side of investing," Holeman said. "Being diversified means always having to apologize to your clients because you're going to own some things that are up and some things that are down. And if your entire portfolio is up, that means you're probably not diversified. So that's a level of education that is important for newer investors to understand."
Beyond education, Betterment helps clients make diversification the core of their investment strategy. The app allows them to take advantage of automatic diversification, rebalancing, and dividend reinvestment. Not only does that provide solid long-term benefits, but it also creates a foundation for portfolio expansion in the future.
Betterment: Helping Consumers Understand and Prioritize Money
Betterment guidance is based on a financial order of operations. Each case is unique, but there are some universal concerns that every investor should understand.
"If you come to us and you've got a mix of different financial goals, and you have some debt that you're coming to the table with, having a priority order is important," Holeman said. "In an ideal world, you have enough money to accomplish all of your goals each month. But 90% of the time, that's not the case."
Prioritizing how to put money to work is the cornerstone of successful investing. Start by listing your goals in order of importance to organize your thoughts. The primary objectives are to maximize employer-matched retirement funding, pay down high-interest credit card debt, and build an emergency fund.
To help prospective investors identify, rank, and plan for their priorities, Betterment provides an archive of educational content that's free and open to the public. The articles can help investors establish a firm foundation for future success.
"If you're looking for a blueprint or an education on where to get started, use us," Holeman said. "It can be a good stepping stone for people who are a little bit nervous. They don't want to go to the financial advisor down the street and worry about getting sold some insurance product they don't really need. You can do all of this from your couch with little to no money and get a solid education."
Advertiser Disclosure
CardRates.com is a free online resource that offers valuable content and comparison services to users. To keep this resource 100% free, we receive compensation for referrals for many of the offers listed on the site. Along with key review factors, this compensation may impact how and where products appear across CardRates.com (including, for example, the order in which they appear). CardRates.com does not include the entire universe of available offers. Editorial opinions expressed on the site are strictly our own and are not provided, endorsed, or approved by advertisers.