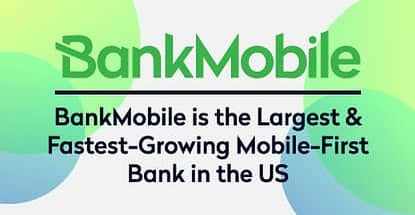 In a Nutshell: Banking has experienced major transformations in the last two decades with changes ranging from rapid branch expansion into urban and rural areas to the recent push for digital banking, which renders many physical locations obsolete. The evolution is expected to continue as younger workers enter the labor force and bring with them modern expectations of banks. Those needs are at the forefront of BankMobile's platform. BankMobile is the largest and fastest-growing mobile-first bank in the US, with 1.8 million customers who access their accounts through the company's mobile application. BankMobile savings accounts offer some of the best interest rates in the industry and the BOLD Checking Account features access to 55,000 surcharge-free ATMs. VIP Account Holders who deposit at least $500 monthly get surcharge-free access to every ATM in the US, more than 400,000 in all, and unlimited sessions with a BankMobile financial coach. //
One of my earliest impressions of banks is from trips with my parents to a bank branch, where I would regularly be given a sticker from the teller behind the big counter. I wasn't concerned with the business my mother or father conducted — I just wanted that sticker to add to my collection.
I can't remember the last time I saw a child leave a branch with a sticker, although my visits to those locations are more infrequent than they were for my parents. The next generation of workers may conduct a lifetime of banking transactions without ever needing to step foot in a branch.
At least that's the plan that institutions like BankMobile have for current and future generations of money earners. BankMobile, already the largest and fastest-growing bank of its kind in the US offers its 1.8 million customers a new wrinkle in banking technology — a completely mobile experience.
"We present an opportunity for those who want a completely digital experience, as well as those who are older and more savvy and comfortable with being able to do things digitally," said Luvleen Sidhu, a Co-Founder and Chief Strategy Officer at BankMobile. "This transcends generation."

BankMobile's average customer is 27 years old, but the company's offerings appeal to bank customers of all ages as an alternative to branch banking, which Sidhu said is slowly becoming obsolete.
"The basics of banking are changing," she said. "If you look at consumer behavior and needs, they are definitely shifting as well. We see consumers walking into a bank branch only once or twice each year, but interacting with the bank through mobile devices 20 to 30 times per month."
Sidhu said her company plans to leverage the rapid adoption of mobile banking to increase its already large customer base. To achieve that, the company offers mobile-based checking, savings, and personal loan accounts and plans to unveil a trio of credit cards in May and mortgage loans later in 2018. The steady growth plan is one Sidhu said traditional banks aren't prepared to undertake.
"Right now, on average, a bank branch is opening 52 net checking accounts a year," she said. "It's a very inefficient customer acquisition strategy that costs a lot of money, and a lot of that cost is being subsidized by overdraft fees and monthly fees that are hurting the consumer."
In all, Americans paid $33 billion in overdraft fees in 2017 alone — a number Sidhu pointed out is greater than the amount the country spent on vegetables in the same period.
Checking, Savings, and Personal Loans with More to Come
BankMobile's checking and savings accounts have no fees or minimum deposit requirements and include access to a mobile application that contains a variety of features, such as electronic check depositing and the company's Person-to-Person money transfer solution.
"All you need is the phone number or email address of the person you're sending money to and you can easily transfer funds to anyone in the country," Sidhu said. "You can also receive funds through the app."
BankMobile's savings account features a stellar 0.75% APY interest rate that is among the best in the space. The company guarantees that its rate will pay at least 0.25% higher than the non-promotional savings rates of Wells Fargo, Bank of America, JPMorgan Chase, and Citibank.
The institution's student-catered VIBE Account is offered through a relationship with more than 800 US campuses and provides mobile access to budgeting tools, bill pay features, and security options that allow a BankMobile debit card to be turned on or off with a single finger swipe.
All members are given access to 55,000 surcharge-free ATMs nationwide through the Allpoint network.
BOLD VIP Customers Receive Free Financial Coaching & Nationwide ATM Access
Any customer who deposits a paycheck or other income totaling $500 or more each month into their BankMobile BOLD Checking Account is automatically enrolled in the company's VIP program.
Those customers have surcharge-free access to any ATM in America and can schedule free one-on-one sessions with a BankMobile financial coach.
"Our coaches help develop financial plans, or develop better budgeting practices, and answer any other questions a customer may have in terms of getting a better financial footing," Sidhu said.
A customer can currently schedule an unlimited number of sessions with a financial coach, but BankMobile's website states that limits may be imposed as the service grows in popularity and demand.
Paradigm Money Educates Consumers on Money Matters
In February 2018, BankMobile launched a financial website, Paradigm Money, which it plans to keep separate from its institutional offerings. The site approaches current events and other financial news stories from a distinctly millennial angle and offers helpful advice for growing savings, developing a credit score, and building wealth.
"We're not cross-selling or pitching BankMobile there at all," Sidhu said. "It's totally focused on education and how we can better help people to understand their relationship with money."

Sidhu and BankMobile Director of Financial Education, Ash Exantus, created the website based on their belief that proper money management starts with a person's mindset. They said in a press release to announce the website's launch that they believe money should never be a source of stress but instead a source of empowerment for individuals, their family, and community.
"We want to help people understand credit and build credit so they can make better financial decisions and have a solid foundation to focus on their goals and dreams and not have to worry about the basics," Sidhu said.
Three Tiers of Credit Cards Will Make 2018 a Banner Year
BankMobile sees its status as an up-and-comer in the checking-and-savings banking space as a cue to start unveiling products that will take the company into the next phase of its evolution.
In May 2018, the institution plans to roll out a trio of credit card options designed to meet the needs of its diverse customer base. The move is the first of a series of product announcements that will also include a line of home equity, mortgage, and car loans later in the year.
"There will be three tiers of the credit card, each based on creditworthiness," Sidhu said. "There will be a secured credit card all the way up to a cash back rewards credit card."
Sidhu said BankMobile gives secured cardholders the option to build their credit profile with the product and eventually move toward the higher tiered cards that earn rewards and other perks.
"We're on a path this year to really expand our offerings," she said. "The plan is to continue to grow and bring our mobile brand of banking to as many people as possible."
Gone are the days when the children of bank customers left a branch with a sticker and a smile. Today's children are no longer amused by such trivial things, but maybe BankMobile will continue to innovate its space by introducing virtual stickers that kids will be more interested in collecting. Some traditions never die.
Advertiser Disclosure
CardRates.com is a free online resource that offers valuable content and comparison services to users. To keep this resource 100% free, we receive compensation for referrals for many of the offers listed on the site. Along with key review factors, this compensation may impact how and where products appear across CardRates.com (including, for example, the order in which they appear). CardRates.com does not include the entire universe of available offers. Editorial opinions expressed on the site are strictly our own and are not provided, endorsed, or approved by advertisers.