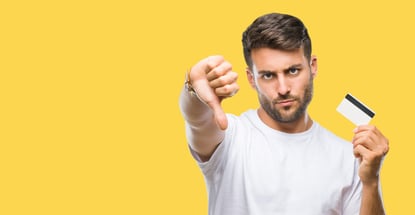 credit card advice
Opinions expressed here are ours alone, and are not provided, endorsed, or approved by any issuer. Our articles follow strict editorial guidelines and are updated regularly.
When looking for a credit card, you hear a lot of talk about the best, the cream of the crop, the offers you just can't live without — but what about those cards at the other end of the spectrum? What credit cards should be avoided like the proverbial plague?
There's a lot of credit card offers available, yet consumers still sometimes end up choosing a card with sub-standard benefits, fees, and interest rates. Not everyone has the time and energy to sift through all that fine print to figure out what's a good deal and what's a nightmare waiting to happen. But we do.
Our experts have done some research and put together a list of the 11 worst credit cards to have ever existed, some of which are (thankfully) no longer available, with fees and terms that are laughably bad. Avoid these sub-par credit cards at all costs!
10. David's Bridal Credit Card


Retailer-issued credit cards seldom offer the best deals. In the case of the
David's Bridal Credit Card
, this is especially true. The features that make this card terrible are:
APR of 28.49%
Retroactive interest fees apply if not paid on time
No rewards offered
This is one expensive card. The interest rate is a very high 28.49% even for the best credit scores. If that weren't bad enough, the 0% special financing is only for six months, and will incur retroactive interest fees to the date of purchase if you don't pay the balance off before the promotion expires.
With no rewards to be had and late payment fees of $39, this card is not a smart addition to your wallet.
9. UBS Preferred Visa Signature Card


This is a card aimed at business travelers who apparently don't care about paying a high cost for little reward points. Here are some of its more terrible burdens on cardholders:
$495 annual fee
3% balance transfer fee
Up to 13.49% balance transfer APR
22.24% cash advance rate
The UBS Preferred Visa Signature card comes with an unnecessarily high annual fee given its low level of rewards. This card only returns one point per dollar on anything other than air travel, gas, and groceries. Also, the relatively small 10,000 bonus points you get for spending $1,000 is really only worth around $100 in benefits. Outrageous.
For seasoned travelers who want access to the airport lounges and concierge services offered with this card, there are much better options.
8. Cortrust Bank Visa Business Card


When using credit cards for business purchases, small business owners often expect big rewards from their cards. Unfortunately, the
Cortrust Bank Visa Business Card
doesn't deliver. Here's why:
No rewards program
19.49% cash advance rate
1% foreign transaction fee
With no rewards program, no low introductory interest rates, and an annual fee of up to $19 per card, this is one business credit card to stay far away from.
7. Visa Black Card

While this card might evoke images of the legendary American Express Black Card, the
Visa Black Card
is not nearly as prestigious. In fact, when it comes to travel rewards cards, this is actually one of the worst.
 $495 annual fee
 1 point per dollar spent
Reward points are not transferable
25,000 point initial bonus doesn't even cover annual fee
The biggest problem is the $495 annual fee. That high price would be bad enough without the measly one point per dollar spent. Sure, you get access to airport lounges, but there are plenty of other cards offering that perk for far less money — and with a better rewards programs.
Note: The Visa Black Card is now called the Luxury Card™ Mastercard® Black Card™. See #2 on our list.
6. US Bank College Visa Card


For college students trying to build or establish their credit history, there are actually quite a few decent options. The
US Bank College Visa Card
isn't one of them. It has very little to offer cardholders. Take a look:
APR up to 20.99%
No rewards
No low introductory rate
First off, there are no reward points and no special promotions or offers for this card. What's worse, this card comes with one of the highest introductory APR fees out there.
5. Marathon Platinum Rewards Visa Card


Gas company credit cards can offer valuable savings on something we'd already be purchasing anyway. So why is the
Marathon Platinum Rewards Card
on our list of the worst cards? Because of the fees and limitations that go along with it. Reasons to stay away from this card include:
Balance transfer and cash advance APR of 26.24%
Maximum $270 per year gas earnings
APR up to 25.24%
To start with, the 5% cash back you get for filling up at a Marathon gas station comes with a limit of $270 per year. Also, the rewards are earned in $25 monthly increments, meaning that if you earn $49 in a month, you receive a $25 reward rebate. Finally, there's the 29.99% late payment APR for missing a single payment. Steer clear.
4. Surge Mastercard® from Continental Finance

This is a card marketed to people who are trying to rebuild their credit and improve their scores. Unfortunately, the
Surge Mastercard
® usually ends up doing the exact opposite of its supposed purpose. The following features make this card a thorn in any cardholder's side:
Zero rewards
Huge annual & monthly maintenance fees
Sky-high APR
Big cash advance fee
Between the high interest rate and huge fees, this card can quickly send even a good credit score down the tubes without constant diligence. Even if you do get approved for the top $500 credit line, the immediate deduction of the large annual fee means a much-reduced amount of initially available credit.
3. BP Credit Card


This is another of those gas station credit cards that seem like a really good deal, until you actually start using the card. The reward limitations make this card a bad one to have. I've highlighted the worst of it below:
All rewards earned can only be used for a single fill-up
Rebate rewards only apply to the first 20 gallons of gas
27.24% APR on purchases
29.99% APR on cash advances
The BP credit card isn't actually implemented by Chase Bank anymore, but rather by Synchrony Financial. While this may not matter to most people, the changes that took place during this ownership swap meant this card went from one of the best to one of the worst overnight.
2. Luxury Card™ Mastercard® Gold Card™

Issued by Barclay Card, this is the successor to the Visa Black Card, which was actually an even worse choice. The Luxury Card™ Mastercard® comes in Platinum, Black and Gold versions, and the Gold card made our list because of the following high costs to the cardholder:
$995 annual fee
Additional cardholder fee is $295 annually
Non-transferable points
15.24% APR
The Luxury Card Gold Mastercard® isn't doing anyone any favors with its hefty $995 annual fee. Even if you consider the $200 annual airline credit and the 2% cash back bonus, you'd have to do a whole lot of spending and flying to make this card worthwhile.
Also, unlike many other travel cards, the Luxury Card™ Mastercard® Gold Card™ has no travel rewards partners, and points can only be used for airline travel, not hotels or rental cars.
#1 Worst Card of All Time: Continental Finance Mastercard®


There are a lot of truly abominable credit cards out there vying for space in your wallet. However, one takes the cake, judged by our experts to be deserving of the title "Worst Credit Card of All Time," and that's the
Continental Finance Mastercard®
. Congratulations?
Here's what made this card so great at being so bad:
Up-front "finance fee" of $200
$50 annual fee
$12 per month account fee
$25 credit line increase fee
The fees associated with this card would be downright amusing if they weren't so egregious. Between the $200 up-front "finance fee," $50 annual fee, $12 per month account fee, and the $25 fee for credit limit increases, this card doesn't leave you with anything left to spend.
Luckily this card is no longer open for new applicants, but Continental Finance still offers other cards, so beware.
Choose Wisely & Pay Attention to Terms
We've had some fun going through the worst of the worst, and highlighting cards with high fees and few rewards, but there are just as many great credit cards out there that are deserving of a place in your wallet. So, what should you look for when choosing a card?
When looking through a card's terms and conditions, pay attention to the fees, rates, and rewards associated with it. Depending on your credit score and spending needs, there are plenty of cards that offer low fees, generous rewards, balance transfers, cash-back bonuses, and low interest rates. It just so happens that we've researched these cards as well, and we offer them up to you on our Credit Card Reviews page where we list the best rewards credit cards available each year!
As always, read the fine print, pay attention to terms, and choose wisely!