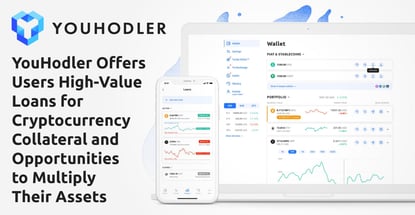 In a Nutshell: The key to successful cryptocurrency investing is having the discipline to hold on to assets through inevitable market fluctuations. But the strategy crypto insiders call holding on for dear life, or "hodling," isn't always practical, especially when investors need liquidity for other purposes. YouHodler launched in 2019 to give users a way to stay in crypto markets while maintaining access to funds. In addition to offering fiat loans to users who deposit cryptocurrency collateral on the platform, YouHodler allows investors to put their crypto to work in high-interest savings accounts. And the platform also offers novel products to earn returns on assets based on established financial strategies.
In 2013, a typographically challenged cryptocurrency investor posted to a popular online forum and declared his intention to weather a downturn in the market.
"I am hodling," he typed. "In a zero-sum game such as this, traders can only take your money if you sell."
The use of the term "hodl" quickly became common in the crypto community, and its meaning was expanded to "hold on for dear life." And hodling is often a smart strategy, but crypto assets can challenge the resolve of even the steeliest investors.
In late 2017, for example, Bitcoin rose to almost $20,000 after starting the year at a fraction of that price. The problem was that the volatile performance of the currency in 2016 led many to exit before that massive bull run materialized. They missed out on thousands in profits because they needed access to cash.
That type of FOMO (fear of missing out) now preoccupies many crypto investors — and it led to the launch of YouHodler, a platform that allows investors to hodl while leveraging their assets for loans.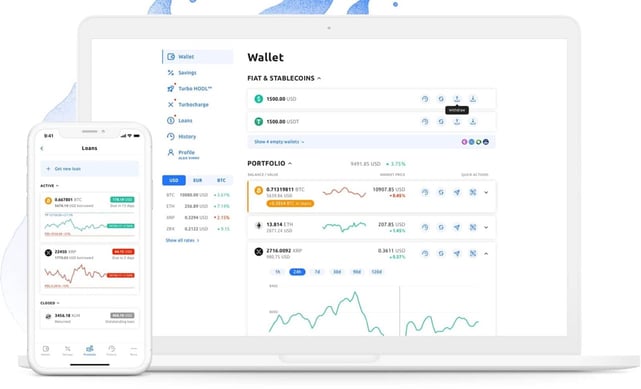 According to YouHodler CEO Ilya Volkov, investors want to be in a position to earn profits when the next spike occurs. They also may want — or need — to use their holdings to free up additional fiat liquidity.
And YouHodler provides them with the best of both worlds.
"We started in 2019 with a focus on providing an improved crypto-backed lending solution as an answer to the FOMO of crypto holders," Volkov said. "Now, users can store crypto as collateral on our platform and leverage our traditional fiat loans in their everyday lives without worrying about missing out."
Instant Crypto Loans with Flexible Repayment Dates and Loan-to-Value Options
Volkov came to the company with a background in factoring and commercial finance and more than 15 years in fintech. YouHodler's development team has created blockchain integration and back end solutions that many crypto exchanges use. The team has also built hundreds of unique smart contracts, the pieces of software that serve as value-exchange backbones on blockchain platforms.
YouHodler's crypto-backed lending solution allows users to deposit crypto assets as collateral and receive fiat in euros, dollars, or a variety of fiat-backed stablecoins. The platform charges no fees for crypto deposits or withdrawals on the platform.
Transactions are, essentially, temporary sales of cryptocurrency in which the user sells assets to YouHodler. After repaying the loan, users receive all their collateral back – even if the assets have increased in value.

Cash withdrawals can be made worldwide through SEPA and SWIFT bank wires. Credit card withdrawals via Mastercard and Visa are available in some countries.
YouHodler also functions as an everyday crypto exchange in which users hold their coins and currencies in secure wallets. And the platform allows users to purchase other popular currencies with euros or dollars and instantly convert between fiat and crypto funds. Users manage loan conditions and, within stipulated parameters, react to movements in the market through advanced features in its mobile app.
Users often select YouHodler for its industry-best potential loan-to-value (LTV) ratio of 90%. Increasing LTV affects price down limits and may cause faster loan closures when prices drop. But given the right conditions, Volkov said, "flexible LTV allows our clients to get the most value for their crypto collateral compared to any competing lending platforms."
Asset Multiplication Opportunities for a Variety of Risk Management Strategies
YouHodler has solutions for those who simply want to hold their crypto assets, too. The platform enables users to transform forms of "hodling" into revenue-generating opportunities.
"Our clients appreciate our high-yield stablecoin/cryptocurrency savings accounts with APRs of up to 12%," Volkov said.
To earn that 12%, users deposit fiat-backed stablecoins in their YouHodler wallets, with pure crypto deposits in Bitcoin earning 4.8% and in Binance Coin earning 3%. Deposits are protected via a YouHodler-administered security fund of $1 million, and interest is paid out monthly in stablecoins or crypto.
YouHodler also offers a pair of original asset-multiplication features — which Volkov said the platform's innovative clients truly appreciate.
On the lending side, Turbocharge allows users to obtain additional crypto using borrowed funds. The feature works on the established "cascade of loans" principle, also known as a waterfall payment structure.
"Turbocharge ignites a chain of loans with the result being a multiplied amount of crypto," Volkov said. "The platform automatically takes the fiat from the first loan to buy more crypto — with no conversion fees. That crypto is then used as collateral for the next loan in the chain, with interest fees for each additional loan decreasing by 0.1%, making each a more lucrative opportunity."
On the savings side, Multi HODL™ works on the barbell investment strategy to help users house the majority of their funds in risk-free saving accounts while using some percentage of those savings to make incremental "trades" on the platform.
"This is a unique feature that enables users to safely play with crypto market movements without risking their entire portfolios," Volkov said.
YouHodler: No More Fear of Missing Out for Cryptocurrency Investors
YouHodler allows crypto investors to stay in the market (hodl) while maintaining maximum flexibility by leveraging their crypto assets even as markets ebb and flow. YouHodler helps FOMO-obsessed investors play the long game and accept the inherent market volatility.
And it accomplishes that in a user-friendly manner. YouHodler offers many tutorials and FAQs in its Help Center, and customer support is available through integrated Intercom messaging.
"Clients can chat live with YouHodler employees 24/7 to ask for help or provide feedback," Volkov said. "At any given time, you could be chatting with a customer support rep — or even me."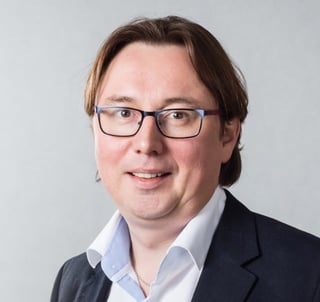 Meanwhile, the team also carefully analyzes client reviews posted on other platforms, including TrustPilot. Last year, the YouHodler team highlighted one active client who used the platform's tools "patiently and wisely" on its blog.
"This was a Twitter-based contest where users chimed in and shared their favorite YouHodler moments," Volkov said. "By committee, we decided this was the best story, and the winner was rewarded for sharing. We plan to do many more of these contests to collect more feedback and unite the community with their success."
Success breeds success and crypto loans help investors access the value of their assets without having to sell. That gives them more freedom and flexibility with their investments.
"From a trader's point of view, crypto loans are a strategic tool for hedging and leveraging on the market," Volkov said. "Our system allows crypto traders to act on market movements quickly, capitalize on bullish/bearish scenarios, and reach their full potential."
Advertiser Disclosure
CardRates.com is a free online resource that offers valuable content and comparison services to users. To keep this resource 100% free, we receive compensation for referrals for many of the offers listed on the site. Along with key review factors, this compensation may impact how and where products appear across CardRates.com (including, for example, the order in which they appear). CardRates.com does not include the entire universe of available offers. Editorial opinions expressed on the site are strictly our own and are not provided, endorsed, or approved by advertisers.