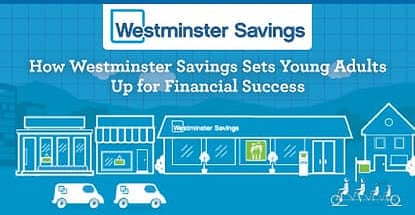 In a Nutshell: Westminster Savings is a nearly 75-year-old credit union serving the Metro Vancouver area. With four primary financial products targeted toward students and young adults, the credit union gives these members access to high-interest savings rates, revolving lines of credit, and other opportunities to build a credit profile before entering the workforce. As a unique offering, the credit union's student Visa credit card also adds $1,000 in mobile device coverage at no extra charge. Outside of helping people establish financial well-being, Westminster Savings is a designated Caring Company, an honor bestowed by an independent third party to recognize Canadian companies that invest in their communities. //
Inundated with papers, exams, and lectures, modern college students are more likely to be concerned with their test scores than their credit scores. But as future earners — and, hence, future spenders — they form a demographic that financial institutions must court to survive beyond the current generation of savers.
Westminster Savings has served the Metro Vancouver area for nearly 75 years. With 66,000 members and customers, around 400 employees, and $3.8 billion in assets under management, the credit union has grown steadily over that time. Fifteen branches currently offer consumer banking, commercial banking for small businesses, wealth management, and leasing of automobiles and equipment.
To continue that growth, Westminster Savings has developed four financial products designed to appeal to the student and young adult demographic. While many Canadian credit cards offer long-term travel or health insurance options, Westminster Savings knows that students don't often look for that sort of coverage. Instead, the institution offers a student Visa credit card that features $1,000 in mobile device coverage at no extra charge to the cardholder.

"A lot of students, when they initially get their phone, they're getting it at a severe discount when they sign up for a plan," said Chris Pragnell, Manager of Consumer Marketing for Westminster Savings. "I don't think they're aware of the full cost of buying a phone in the middle of a plan in the event that they damage it, or lose it and have to replace it entirely. This helps them with that financial burden."
4 Savings and Credit Products to Help Students Build and Maintain Credit History
To assist student members in creating a financial future, Westminster Savings has developed four main financial products focused on improving the daily lives of their young customers. Whether it's an everyday checking account or an emergency line of credit, members have access to what they need to keep their focus on textbooks, not on checkbooks.
1. High Interest Savings Account
Though available to students, enrollment in a college isn't required to open a high interest savings account with Westminster Savings. The account features a fluctuating interest rate that depends on the rates set by the Bank of Canada, the country's centralized bank. The current rate is at 0.6%, but the expectation is for the rate to rise again within the next six to 12 months.
"It's available to all of our customers, but students are definitely encouraged to use this for savings," he said. "It has a high interest rate with no minimum balance, which is effective for students. A lot of places have $1,000 or $2,500 minimum balances to earn any interest, but in the case of students, they rarely have that much. With our account, they start earning interest from the first dollar," Chris explained.
Opening a high interest savings account, or a student line of credit, gives new members access to a $200 sign-up bonus that is deposited directly into their accounts.
"That's something we've had for a while as a promotion for new customers," Chris said. "They open up an account through us and set up a pre-authorized debit, and as a bonus, we give them that $200. For a student, that's a good bonus for them to come and bank at Westminster Savings."
2. Student Line of Credit
The student line of credit is designed for members between the ages of 19 and 25, who are registered at a Canadian post-secondary institution in full-time or part-time studies. The application amount must be between $5,000 and $40,000, and annual proof of enrollment is required to keep the student rate. Interest rates are lower on this revolving line of credit during your time in school and up to a year after you're no longer enrolled. After that, any existing balance is rolled into the interest rate for a normal line of credit.
"It's like a loan, but I think the benefit of it being a line of credit is that it's reuseable," Chris said. "It's a little more manageable on repayments, because you're only paying interest on the portion that you're using. A lot of student loans, you have to pay them off or reapply before you can get the next one. This is a line of credit, so if a student needs money, or wants to pay it off, they can do either of those without any penalties or having to reapply."
3. Young Adult Checking Account
The last thing a student (or any young adult, for that matter) needs to worry about is paying additional fees, yet there are enough of those floating around to keep your bank account beyond busy. Westminster Savings took that into consideration when building its young adult checking account.
"This is targeted to our members from ages 19 to 25," Chris said. "It's a free account. They get up to 60 transactions a month, and it includes free mobile banking."
On top of the transactions, account holders also have access to:
Free in-branch withdrawals, deposits, transfers and bill payments
Free ATM withdrawals and deposits on more than 4,000 nationwide terminals
Free bill payments
Free checks and point of sale debit transactions
Free pre-authorized withdrawals and deposits
Free mobile banking from any device
Free balance and transaction history inquiries in online or automated telephone banking
4. Student Visa® Credit Card
One of the best ways for any young person to start developing a credit history is through responsible, regular use of a credit card. The ability to show a consistent payment history not only increases credit limits, but allows lenders to trust you with future lines of credit.

The Visa Desjardins Student credit card features many perks that cater to the needs of students, including a 19.9% annual interest rate, no annual fee, and three days of free travel insurance.
The card also features a unique offering of mobile device insurance at no charge. It's an uncommon add-on, but one that may become a selling point for many future issuers.
"This covers up to $1,000, in case your cellphone, tablet, or smartphone is damaged, stolen, or if there's a mechanical failure," Chris said. "It makes a ton of sense when you think about it. Just using my nephew as an example — he's 16 years old and breaks his phone about once every three months. It's got the full OtterBox on it and everything, but it goes through a lot of wear and tear. Particularly with younger adults, their mobile devices are pretty essential to their lives. Young adults are on these devices all the time, and they're often the user's primary means of internet access."
Giving Back to Communities as a Corporate Caring Member
As a credit union, Westminster Savings is a member-owned institution, which means its employees work for the members. Chris says this arrangement ensures the needs of our members always come first and that employees recommend only the products and services that will help meet those needs. It also increases the ties the company has to the Metro Vancouver community.
"We have a number of programs where we invest back in our community to support arts and active living," he said. "Our foundation is one of the largest for credit unions in Canada. From a charitable and community investment side, we do quite a bit.
"We also support financial literacy. We have close working relationships with many of the colleges and universities in the Metro Vancouver area. We hire a number of co-op students from those programs and schools, and we also send our staff to public schools to talk about financial literacy."
Westminster Savings is designated as a Caring Company Member in Canada, meaning it's recognized as an institution that annually contributes at least 1% of pre-tax profit in support of the communities where its employees and customers live and work.
The credit union also takes service and education to the next level by dedicating large chunks of time to members that need help in improving their financial focus.
"We have something called a Balance Check," Chris said. "When a member comes in, we sit down with them and spend probably an hour or more finding out what their needs and objectives are. Then, we help them build a plan and a budget for getting there. It's unbiased advice on the products that we think you should get or shouldn't get, how much should you be saving, and such."
66,000 Customers and Counting — Westminster Savings Invests in British Columbia
Westminster Savings' student-targeted financial and educational products are among the strongest offerings in Western Canada. Each gives young adults a chance to earn favorable interest rates, have access to revolving credit limits, and get a head start on establishing a credit history before going into the professional world.
As Westminster Savings grows beyond its current offerings, it looks toward the future. The credit union seeks out ways to help its members meet goals, while maintaining the type of exceptional service customers have come to expect.
"We're not the largest financial institution out there," Chris said. "We're big enough that we have a lot of resources behind us, but we're also small enough to give you that personal, intimate service. We say personal service instead of personalized service. We're not just sending you an email or a letter with your name customized on it. When we say personal service, it's actually a real person in the branch or in the contact center that's helping you out."
Advertiser Disclosure
CardRates.com is a free online resource that offers valuable content and comparison services to users. To keep this resource 100% free, we receive compensation for referrals for many of the offers listed on the site. Along with key review factors, this compensation may impact how and where products appear across CardRates.com (including, for example, the order in which they appear). CardRates.com does not include the entire universe of available offers. Editorial opinions expressed on the site are strictly our own and are not provided, endorsed, or approved by advertisers.