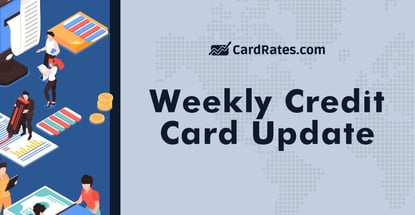 For media inquiries on these stories and more, contact credit card expert and industry analyst Bill Hardekopf at (205) 985-9725 or billh@cardrates.com.
1. The Pandemic Has Plunged Americans into Severe Credit Card Debt
As the pandemic stretches into a second year, global debt has reached record highs, even surpassing the devastation of World War II. Though experts say this debt is crucial for keeping people and businesses around the world afloat, they also caution that recovery could be rocky as payments eventually come due. 
Since March 2020, 45% of Americans have taken on more credit card debt. In particular, individuals who carry a credit card balance from month to month are 2.2x more likely to report having more debt now than before the pandemic. This is a reversal from the pandemic's earliest days, when widespread lockdowns slashed consumer spending. According to the CFPB, credit card debt steeply declined through May 2020 but began to creep up again in August as emergency financial assistance programs ran out. 
• Story By: Michelle Delgado, Inside 1031
2. Your Credit Score May Soon Depend on Your Web History

In the not-too-distant future, your internet habits could help determine how much house you can buy and the rate on your next auto loan. Lenders could soon use data from your browsing, search and shopping history to create a more accurate credit score.
Much of that information is publicly accessible, while some might need to be provided to credit bureaus. Taken together, that data forms your "digital footprint." The working paper cites other studies showing that combining credit information and your digital footprint "improves loan default predictions."
• Story By: Ethan Rotberg, Yahoo Finance
3. Shipt Announces Biggest Deal to Date with Visa

Shipt Announced a major deal, potentially opening the company up to millions more users through Visa. Visa consumer cardmembers now can access free Shipt memberships, for a limited time, with free delivery of groceries and other products on all Shipt marketplace orders over $35.
Visa Infinite users get up to three years of free Shipt membership. Visa Signature gets three months of free Shipt membership, then nine months of membership at 50% off. All other Visa consumer credit cards get one month of free membership, then three months at 50% off.
• Story By: William Thorton, AL.com
4. Buy Now, Pay Later Plans Not Shrinking Credit Card Loans

Borrowers who apply for "buy now, pay later" or other point-of-sale financing tend not to pay down their credit card debts as much as the general population, credit reporting company TransUnion said. The conclusion, from a new study, indicates that credit card lenders might not have lost as much business as suspected during the pandemic to the rise of "buy now, pay later" plans.
TransUnion found that a smaller portion of people who applied had reduced their card debt, 54%, compared with 60% of the general population. Some 20% increased their card debt by more than half. The study did not determine how much additional card lending banks lost to "buy now, pay later."
• Story By: David Henry, Reuters
5. Bank of America Books Low-Fee Checking Account Surge to Compete with Newcomers

Bank of America's fight against financial technology challengers appears to be making some headway, at least with its entry-level checking account. The bank said its Advantage SafeBalance Banking program now counts more than three million client accounts, up from 2.1 million at the start of September in 2020.
It's the bank's quickest-growing checking account program, aimed at younger prospective clients—such as college students as well as people from less lucrative professions—looking to open up their first bank account or repair their credit. All told, more than 1 million college students now use the account type as total students accounts at the bank rose 50% in the past year.
• Story By: Steve Gelsi, MarketWatch
6. Mobile Payments Lay Foundation for Digital Vaccine Passports

Like all restaurants in New York, 5 Napkin Burger's staff is responsible for ensuring guests are vaccinated against Covid-19. It doesn't have the right tools for the job, but it knows where it wants to get them: from its payments vendor. The pandemic changed a lot about how people make payments, and crucially, it changed when they pay.
Instead of waiting for a check at the end of a meal, many patrons pay up front through a mobile ordering app. In Australia, EML Payments this week introduced a vaccine verification process and incentive marketing program that instantly issues a digital prepaid card for use anywhere on Mastercard's merchant network. The vaccine verification is tied to EML's app. Mastercard has also partnered with the International Chamber of Commerce to integrate the two organizations' digital ID work to support vaccine passports and other health passes.
• Story By: John Adams, American Banker
7. Mastercard Rolls out Strive Initiative to Accelerate Economic Recovery

With a goal of supporting more than 5 million micro and small businesses worldwide struggling to transition to digital, Mastercard, through the Center for Inclusive Growth, announced the debut of Strive, a worldwide effort focused on bolstering small businesses and aiding their recovery and growth.
The effort will be funded with an initial benevolent contribution of $25 million from the Mastercard Impact Fund.
• Story By: Emily Sanders, PYMNTS
8. The Decline of In-Store Gift Cards

There was nearly a 7% decrease in in-store gift card loads in 2020. Consumers loaded $146.4 billion onto in-store gift cards in 2020, down from $156.8 billion in 2019. A smaller percentage of U.S. consumers purchased in-store gift cards in 2020 and yearly loads were less.
Mercator forecasts the total yearly load for a U.S. adult who purchases in-store gift cards to decrease by 1% into 2025. Mercator believes in-store gift card loads are stagnating because consumers are moving to digital channels. 
• Story In: Payments Journal
9. Bilt Mastercard Simplifies Earning on Rent Payment, Adds Dining and Travel Bonuses

Bilt Rewards introduced a revamped rewards program which now allows you to earn bonus points in new spending categories and simplifies earning points on the largest expense for many Americans, rent.
Cardholders will earn 1X points per dollar spent on rent payments (up to $50,000 each year); 2X point per dollar spent on travel; and 3X point per dollar spent on dining. In many cases, landlords will charge you a processing fee if you pay your rent with a credit card, making it costly to earn rewards. However, if you pay your rent through the Bilt app, Bilt will cover that fee (usually around 3%) in full and send your landlord a check on your behalf.
• Story By: Brett Holzhauer, CNBC
10. Regulators Racing Toward First Major Rules on Cryptocurrency

After largely standing aside for years as cryptocurrency grew from a digital curiosity into a volatile but widely embraced innovation, federal regulators are racing to address the potential risks for consumers and financial markets. Now the Treasury Department and other agencies are moving urgently on an initial target for tighter regulation: a fast-growing product called a stablecoin.
Issued by a variety of firms that are currently only lightly regulated through a patchwork of state rules, stablecoins serve as something of a bridge between cryptocurrency markets and the traditional economy.
• Story By: Eric Lipton, Ephrat Livni, and Jeanna Smialek, The New York Times
11. Learn to Embrace Your Digital Wallet. Here Are 8 Benefits to Love

Digital wallets, also known as mobile wallets, have grown in popularity over the years. But the freedom to leave all your cards at home isn't the only benefit users will enjoy. The top three digital wallets are Apple Pay, Google Pay and Samsung Pay. Venmo and PayPal can also function as digital wallets, both in stores and online.
A major digital wallet is typically already downloaded to your mobile device or can be downloaded from the app store free. Once set up, a digital wallet could offer bonus rewards, lower exposure to germs at the register and help you split payments with friends, among other options.
• Story By: Melissa Lambarena, MarketWatch
Advertiser Disclosure
CardRates.com is a free online resource that offers valuable content and comparison services to users. To keep this resource 100% free, we receive compensation for referrals for many of the offers listed on the site. Along with key review factors, this compensation may impact how and where products appear across CardRates.com (including, for example, the order in which they appear). CardRates.com does not include the entire universe of available offers. Editorial opinions expressed on the site are strictly our own and are not provided, endorsed, or approved by advertisers.