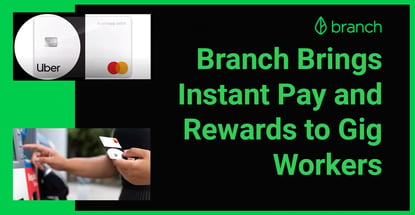 Our experts and industry insiders blog the latest news, studies and current events from inside the credit card industry. Our articles follow strict editorial guidelines.
In a Nutshell: When Uber needed a card and app solution to pay gig workers instantly, generate rewards, and offer a full banking suite, it turned to the team at Branch. Branch's Uber Pro Card helps drivers and couriers keep more of what they earn with free, automatic payments that go directly to the card after every trip. Users access a digital banking wallet to track earnings, transfer funds, manage savings, and earn exclusive perks, including up to 10% cash back on gas. The Branch platform enables free automatic cashouts, rewards, and full-service banking for gig workers at scale.
Digital transformation enables the more diversified living and working patterns established as the new normal after the pandemic. One way is streamlining payments and financial services access for gig workers, who provide labor as independent contractors.
Even as conventional employment opportunities abound in some industries, the economy supports more gig workers than ever because gig workers appreciate the flexibility of picking up shifts between family and school obligations while working as much as needed. Also, persistent inflation in 2022-23 motivates gig work as a side hustle or second income source.

Because gig workers can choose the companies they work for, providers naturally seek to encourage loyalty by offering a superior payment experience that keeps workers coming back to invest their time and labor.
Branch is at the forefront of that transformation with a card, app, and platform that provide instant payments with rewards and value-added banking services. When Uber wanted to revamp its instant payment solution, the company partnered with Branch to launch a new scalable, comprehensive payout solution Uber could customize to meet its workforce's unique needs.
Designed to enhance Uber's loyalty program, the Uber Pro Card is a debit card that engages and supports drivers and couriers with free automatic cashouts, discounts, rewards, and other perks.
"Uber was looking for a payments partner that could innovate and grow with them to solve some interesting driver challenges," said Atif Siddiqi, Branch's Founder and CEO. "Through the Uber Pro Card, Uber reinforces its commitment to help drivers save on gas, fees, and more."
Flexible Solutions for 1099 and W-2 Workers
Branch acquires users by partnering directly with employers or tech partners. Although the experience of getting paid is essentially the same whether a work receives a W-2 tax form as an employee or a 1099 form as an independent contractor, the regulatory frameworks and payment pathways are different. Branch caters to both markets and can help tech partners as a third-party solutions provider.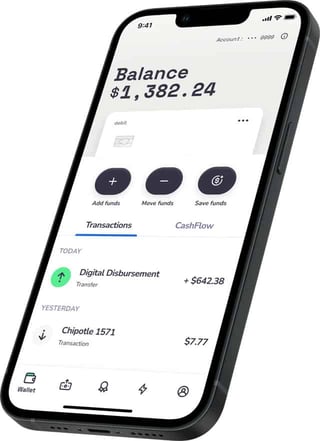 Branch built its platform on a wallet and debit card model, providing both physical and virtual cards. Branch's 1099 solution helps businesses stand out from the competition by offering the benefit contractors want most — faster access to pay.
The flexible and scalable solution offers companies multiple ways to get started, including file uploads, programming tools, and widgets. Businesses can make, manage, and track payments from one centralized hub, which reduces administrative time and errors.
Branch replaces traditional ACH-based payment infrastructure with an all-digital platform that can push payments without time constraints, deadlines, or fees. The platform banks and pays workers as soon as they complete the job.
"It's a full-fledged checking account," Siddiqi said. "Workers can have access to fee-free ATMs, and they can use the card to go out and spend."
Branch's W-2 solution allows employees to access up to 50% of their earned wages before payday, with no pre-funding or payroll changes required. It also streamlines tip disbursement and mileage reimbursement by transforming cumbersome traditional processes through digital transformation.
"There's no credit check required, and it doesn't have overdraft or minimum balance fees," Siddiqi said. "That means a lot when you're not holding a large balance."
Uber Pro Card Supports Drivers and Couriers
One of Branch's solutions for technology partners is a white-label version of its technology that integrates all the features of its 1099 and W-2 solutions, including faster access to payments and the full banking stack in the app.
Branch works with its tech partners to design a flexible, open experience for contractors and employees. Setup requires minimal client resources, and US-based support is always available.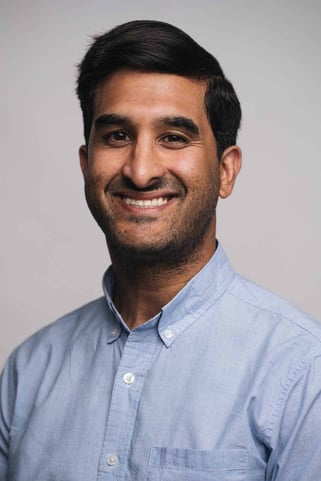 Branch's Uber Pro Card takes the solution to the next level with additional loyalty-building features that Uber sought to stand out more from its competition. Active Uber drivers and couriers in the US sign up for the card on their Uber driver app.
They receive Branch's instant payments and banking features, including fee-free financial services, ATM access, and additional rebate networks, such as MasterCard Easy Savings, Upside, Exxonmobil, and others. Banking services are provided by Evolve Bank & Trust, Member FDIC.
They also receive unique access to Uber cash back rewards, including up to 10% cash back on gas and 12% on EV charges when drivers pay with their Uber Pro Card. Users can stack rewards to earn even more.
"They considered Branch a company that could deliver unique features to their driver population and grow with them," Siddiqi said.
Rewards mount when drivers move up the Uber tier structure based on the mileage and trips they take with Uber. Benefits start at introductory blue and green status, but the best deals go to drivers and couriers at the diamond level.
Uber pays up to 15% cash back on purchases at Advance Auto Parts and up to 4% at select restaurants, including Jersey Mike's Subs, in addition to its gas and EV-charging rewards.
"The initial appeal is around getting paid faster, but the perks definitely help," Siddiqi said. "The gas perk is one of today's most generous cash back offerings."
Helping Working Americans Grow Financially
Drivers and couriers also don't experience a temporary gas hold at most gas stations when they pay with the Uber Pro Card because of Branch's digital payment technology.
"If you're a driver, you don't want to lock up your cash flow on a gas hold, but sometimes other cards do," Siddiqi said.
As Uber evolves its merchant relationships, other rewards may appear on the platform, which Branch built to handle such changes. Branch-engineered perks and features associated with the Uber Pro Card help Uber keep drivers and couriers returning to work toward that diamond tier. 
"We often hear Uber drivers say it's the best debit card they've ever had," Siddiqi said. "We also see them making the card their primary account and loading funds onto the platform from other income sources."
Working with Uber and responding to driver feedback, Branch continues to add features, including savings goals.
"They wanted a way to track and save for different goals," Siddiqi said. "We're looking to expand on things like that around financial wellness for drivers."
Meanwhile, the team at Branch continues to address financial challenges faced by today's working Americans to help them grow financially. Inclusive, workplace-led financial services by Branch positively impact the lives of those who use them.
Branch constantly collects cardholder feedback via focus groups, surveys, and review support, alongside and in tandem with Uber and other clients, to dictate the road map of the financial tools it provides.
"We're committed to helping workers grow financially and working with great partners like Uber to understand the needs of workers and continue to innovate," Siddiqi said.