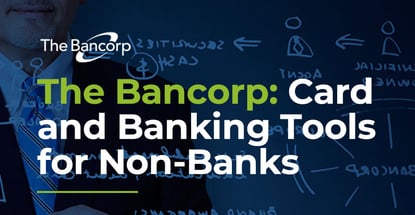 In a Nutshell: The Bancorp is a leading provider of private-label banking and technology solutions to non-bank companies. Top neobank operations rely on The Bancorp Bank, the wholly owned banking subsidiary of The Bancorp, Inc., to power innovative financial products. The Bancorp offers customer-focused guidance, creative thinking, and operational support that helps firms from the startup to the Fortune 500 level differentiate and thrive.
As technology introduces more capabilities to the financial sector, new types of businesses emerge to compete with traditional banks, lending institutions, investment managers, and payment processors.
In markets like the U.S. where traditional financial institutions are highly entrenched, those so-called neobanks and other fintech providers have become more relevant. They are built to leverage opportunities and partnerships to produce a more compelling consumer experience at a lower cost.
However, they're not doing it all on their own. Instead, neobanks, including Chime and SoFi along with dozens of other fintech partners lean on services provided by The Bancorp, a leading provider of private-label banking and technology solutions in the U.S.
As an example, Chime offers a true Demand Deposit Account (DDA) and companion Visa debit card that faces the consumer from a convenient, even revolutionary, branded mobile app. Consumers often set up a Chime account to save money on fees and take their entire banking experience online.
While the interface is intuitive, the technology that underpins it must be secure, robust, and compliant. The Bancorp provides the required oversight, compliance regime, and efficiencies necessary to make their platform work.

According to The Bancorp's Director of Business Development Steve Turza, what the company is doing with the country's top neobanks is the same thing it has done for many financial firms since its founding in 1999.
"Even back then, the premise was to enable non-banks to look and feel and act like banks without having to raise the capital and try to manage compliance and audit requirement," Turza said. "When we acquired a prepaid card business in 2007, having that epicenter allowed us to expand from basic white label DDAs to Custom DDAs, Prepaid and other payment solutions. Our clients use their brand to market and service the programs, but it's The Bancorp behind the scenes," Turza said.
That's when The Bancorp saw an explosion of growth and began to help innovative partners across the financial services spectrum.
Driving Growth in Card-Based Services
The Bancorp, already a leader in its space, stood at about $8 billion in total volume by 2009. By 2012, that number was $42 billion across all business lines.
"We saw massive growth in that period of time," Turza said.
"The infrastructure and procedures put in place during that time — including installing the Actimize cloud platform — confirmed The Bancorp's forward-facing trajectory. And that means safe and stable growth for customers," Turza said.
"You need to have people, processes, and systems in place to effectively know your customer, track, monitor, and report, and you can't simply automate all of it," he said. "The biggest advantage we bring to our clients is the ability to collaboratively set up a program in a way that meets regulatory expectations."
As of November 2020, The Bancorp was ranked number 28 on Fortune's 100 100 Fastest Growing Companies list. Fintech companies like PayPal and SoFi collectively serve as a large cornerstone of The Bancorp's Payments Solutions business.
In addition to their work with these well-known companies, The Bancorp continues to see growth across the spectrum of prepaid card product verticals.
"We look at what our clients want to do and find a way to enable it," Turza said. "As consumers grow more comfortable with using digital-first products, our ability to enable our clients' vision is why they stay with us — and why we keep growing."
Structured to Discern and Respond to Customer Needs
The Bancorp's dedication to customer support is another key to its growth and customer loyalty. Every client relationship presents unique challenges and opportunities. The Bancorp counts on its experienced team and the flexibility built into its communication and reporting structure to address the needs of more than 200 client programs, according to Patti Brands, Director of Client Services.
"If you look at our senior leadership team, and even the teams that Steve and I lead, we have a lot of longevity with the company," Brands said. "Our customers tell us they value our expertise because we've worked through some of these issues and have seen so many things."
That experience doesn't mean The Bancorp is set in its ways. In fact, recent organizational changes in the Payments business enable The Bancorp to serve its clients more effectively.
Its previous structure put a single manager in charge of each client relationship and arrayed operational support teams underneath. Now, The Bancorp has team members in a position to directly address macro-level concerns and operations.
"For every relationship, we've got a relationship manager who handles the day-to-day operations and a portfolio manager who assists more on the strategic level to enhance the customer's current products," Brands said.
That frees Turza's team of account execs to find ways to enable innovation for each client.
"It lets everyone focus on their strengths instead of having one person trying to do day-to-day management while helping with strategy," Brands said.
A Flexible Model that Helps Neobanks Succeed
Wherever Demand Deposit Account (DDA) debit and other bank-based cards are relevant in the financial space, The Bancorp is ready to help non-bank companies compete in those markets more effectively.
Business solutions enabled by The Bancorp have helped make the company the #1 issuer of prepaid card volume for eight straight years and the eighth-largest issuer of debit cards by purchase volume according to data from The Nilson Report. The company accounts for more than $7 billion in monthly card transaction volume. All this from a company that consumers may not know about but that many non-bank executives rely on to help their businesses thrive.
The Bancorp is also setting up more non-bank companies for success by perfecting what Turza calls a wholesale model for financial services.
"If you're coming to us to equip your banking product or financial service, you're going to own all the pieces and control the experience while we provide the oversight," Turza said.
With its DDA products, The Bancorp's role is to establish the account and issue the debit card or other access device. Operationally, it also facilitates payment settlement and handles other aspects of account-related transactions. The company also has the capacity to monitor a wider spectrum of activity, including the performance of downstream service providers who participate in the payment ecosystem.
"So that's our role. And although it may not appear big in terms of costs or even infrastructure, there's no argument that it's one of the most important pieces to the puzzle. That's because if you don't have a solid banking foundation, anything you build on top is a house of cards," Turza said. "We are the foundation that fintech builds on."
Advertiser Disclosure
CardRates.com is a free online resource that offers valuable content and comparison services to users. To keep this resource 100% free, we receive compensation for referrals for many of the offers listed on the site. Along with key review factors, this compensation may impact how and where products appear across CardRates.com (including, for example, the order in which they appear). CardRates.com does not include the entire universe of available offers. Editorial opinions expressed on the site are strictly our own and are not provided, endorsed, or approved by advertisers.