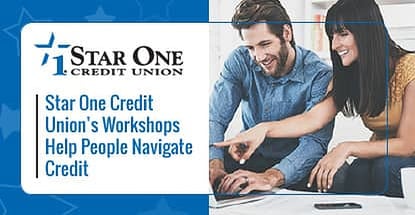 In a Nutshell: Credit cards are valuable tools in building your credit profile, however common traps exist that can allow these pieces of plastic to damage your financial reputation. To further the cause of financial literacy education among members and non-members alike, Silicon Valley-based Star One Credit Union partnered with nonprofit BALANCE in 2013 to offer a series of free workshops and podcasts that cover the essentials of personal finance and how to choose credit cards that fit individual needs. How to effectively use credit cards and avoid mistakes are central topics of the series, which has become an invaluable educational resource for anyone learning to manage credit. //
Falling into bad habits can be easy if you're not used to managing your finances in a credit card-friendly culture. While responsible credit card usage comes with incentives like sign-up bonuses and cash back rewards, this newly acquired buying power can also lead to the temptation of superfluous spending. Some novice credit card users spend outside of their means and fall into a cycle of consistently meeting just the minimum monthly payments — behaviors that can result in mounting debt and several months spent paying off your original purchases.
I fell prey to some of these same pitfalls when I first moved back to the US after a decade of living in Italy, which has more of a cash-based culture. Switching from my money-under-the-mattress mentality to the breezy ease of plastic felt liberating at first. Several soaring credit card balances later, reality set in and I had to actually figure out how to pay them off.
I might have learned the "dos and don'ts" of credit cards the hard way, but Silicon Valley-based Star One Credit Union wants its more than 100,000 members and others in the community to educate themselves about credit cards preemptively — in other words, before they find themselves in credit card debt. Because credit cards, after all, also exist to help people: both to pay for purchases gradually, and if used correctly, to develop a strong credit profile.

To this end, Star One began offering a series of free educational workshops and podcasts in 2013 called "Using Credit Cards Wisely." Its partner in the endeavor is BALANCE, a nonprofit financial coach with 45 years of experience. We recently spoke with Joe Fagenstrom, Vice President of Marketing at Star One, about the series.
"Our mission is to help members improve their lives by delivering valuable financial services," Joe said, adding that even people who are not Star One members can attend the workshops free of charge.
Key Concepts Covered Include Using Credit to Your Advantage and Avoiding Pitfalls
Education is a core focus for Star One, and is considered to be an integral piece of its commitment to providing well-rounded financial services and products to its members and Silicon Valley residents.
"Key concepts in the 'Using Credit Cards Wisely' series include: why using credit wisely matters, using credit to achieve financial goals, types of credit cards, how to compare credit card offers, how much debt is okay, warning signs of credit trouble, and ways out of a credit crisis," Joe said.
Star One's BalancePro program provides financial education and counseling services for credit report review and coaching in the following areas: student loan, homeownership, rental, and bankruptcy. Meanwhile, BalanceTrack covers the basics of personal finance through online videos and podcasts.
Additionally, Star One has partnered with EVERFI, a leading education-technology company, to provide a series of 24 online modules that cover similar concepts.
For example, the EVERFI credit card module walks users through the difference between debit and credit cards, and how to compare credit card offers — such as whether they have annual fees, rewards points that can be used toward airline miles, interest rates, late fees, and credit limits. The module also covers the basic components of the Credit CARD Act, or Credit Card Accountability, Responsibility, and Disclosure Act of 2009, which mandates transparency provisions to protect consumers.
Another module explains credit reports and scores, so consumers understand how certain habits affect their credit score. For instance, one module explains how paying off your credit card balance can actually raise your scores and how using more than 30% of your available credit or applying for too many cards at once will result in hard inquiries that can negatively impact your credit report.
Answering Consumers' Credit Questions and Learning to Compare Cards
A frequently asked question workshop attendees and listeners have is to which credit bureaus Star One reports credit scores. The answer, Joe said, is all three major bureaus: Experian, Equifax, and TransUnion. This is helpful to know because each of these bureaus has a separate credit report for each consumer, and the information on the reports isn't always the same.
Another common question, Joe said, is whether it's a good idea to close unused credit card accounts.
"The general answer is no," he said. "Credit scores are impacted by usage of revolving credit available. If closed, the total revolving available would be lowered, which could negatively impact the score. A credit card opened a while ago could positively impact a credit score, since length of time (a consumer has a credit account open) is one of the rated factors," he continued, while adding that the impact on a credit score of closing out a credit card can vary widely from one consumer to the next.
"Each score factor does not have the same weight as it's all relative to the consumer's entire credit history, including the number of tradelines [credit-related item, such as credit cards or mortgages] being rated," he said.
Joe also told us about how Star One's credit cards generally compare with other institutions' credit cards.
"Star One has highly competitive rates and no annual or transactional fees, which include no cash advance fee, balance transfer fee, or foreign transaction fees," he said, while adding that people should compare several cards from multiple card issuers side-by-side to see the differences in rates, fees, and benefits so they find a card that best fits their needs.
Among Star One's versatile credit card offerings are the Visa Signature Rewards card, which boasts a low interest rate and earns 1.5 points on every dollar spent for those with excellent credit; the Visa Platinum Rewards card, which earns one point per dollar spent and includes other perks, like no annual fees, balance-transfer fees, or foreign-transactions fees; and the Visa Platinum Best Rate card, which doesn't include a rewards program, but has the lowest interest rate of the three Star One offerings.
Education is Crucial to Star One's Complete Commitment to Financial Services
Star One offers about eight or nine workshop topics per year, and 14 to 15 workshop sessions. Each year, it adds a new, timely subject, which in 2017 was Cyber Security Awareness.
According to the website, the workshop was intended to "raise member awareness about the importance of cyber security while performing various activities on the internet." Topics covered in the workshop included recent cyber fraud trends and events, as well as the best tools, resources, and security practices for staying safe online.
Other workshop topics include Online Banking and Planning for Retirement, which deals with topics like how to use investments to reach long-term goals, how inflation and taxes impact retirement dollars, and how to use IRAs.
Through these educational resources, coaching services, and workshops, Star One is doing its part to ensure its members learn how to use credit wisely, and avoid the hard lessons I had to learn. After all, credit cards, when used responsibly, can do wonders for your credit score, which can earn you prime rates on big purchases, like homes and cars, and save you a lot of money over the life of those loans.
Advertiser Disclosure
CardRates.com is a free online resource that offers valuable content and comparison services to users. To keep this resource 100% free, we receive compensation for referrals for many of the offers listed on the site. Along with key review factors, this compensation may impact how and where products appear across CardRates.com (including, for example, the order in which they appear). CardRates.com does not include the entire universe of available offers. Editorial opinions expressed on the site are strictly our own and are not provided, endorsed, or approved by advertisers.