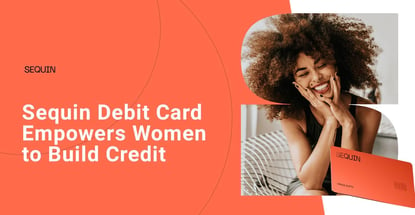 Our experts and industry insiders blog the latest news, studies and current events from inside the credit card industry. Our articles follow strict editorial guidelines.
In a Nutshell: Sequin is on a mission to help close the gender gap in finance with its card product that helps women develop their credit. The debit card can provide a crucial stepping stone to other products that help women build a financial profile and increase their credit score. Sequin also helps women understand the financial system and position themselves to capitalize on opportunities. Sequin focuses on helping younger women build credit, and it plans to launch additional credit products tailored to the financial needs of more women.
One day, Vrinda Gupta applied for a credit card but was quickly rejected. That isn't an unusual story, especially for young professional women. But Gupta had spent years as a product manager at Visa on its credit cards team.
She'd guided the design of a variety of popular cards, including the trillion-dollar Chase Sapphire Reserve. Gupta knew credit cards inside and out — and now she couldn't get one.
It prompted Gupta to stop and consider her own credit for the first time. She managed her money responsibly and had a secure job with a good income. But she realized that she hadn't been building credit in her name.
"The fact is that your income isn't taken into account when it comes to credit scoring," Gupta said. "I'd been using my debit card, and I'd been using my dad's credit card as an authorized user, none of which was building my credit."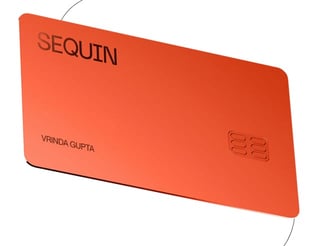 As a result, the card issuer rejected Gupta's application. That rejection negatively affected her score, which made it even harder for her to qualify for credit in the future. Gupta knew she was not the only woman in this position.
That experience led Gupta to help launch Sequin, a debit card designed to help women build credit and help lessen the financial gender gap.
She founded Sequin with women consumers in mind, and it's informed by the real experiences and needs they face each day in the financial sphere.
"Co-creation is something that is a differentiator on our product," Gupta said. "We want the voices and experiences of these women infused into this product because building the future of financial services for women can't just be my experience. It needs to be the experience of women in our communities."
Women Struggle to Build Credit in the Modern Economy
Gupta said 70% of women use non-credit-building products, similar to what she did with her debit card and her father's credit card. She said those habits start early with young women, and as they grow older, the credit gap only widens.
That means women are less likely to obtain preapproval for credit cards and are more likely to get rejected when they apply. They may receive lower credit limits and higher interest rates. And that extends beyond traditional credit products to mortgages and other loans.
"To me, that was a matter of gender equity," Gupta said. "If you don't have equal access to credit, especially in this country, you don't have equal access to opportunity."
Watch on
In addition to the credit gap between the sexes, Gupta saw an equity problem in credit card products. She said most products appeal to males in focusing rewards on categories like travel and dining.
Sequin membership rewards help women "take back the pink tax," versus traditional credit cards. Unlike traditional debit cards, Sequin offers 1% cash back on Sequin Purchases, and $25 statement credit on Pink Tax categories like retail, pharmacies/healthcare, and beauty services. Sequin also features workshops and discounts with women-founded companies across mental health, personal branding services, plant delivery, and other categories.
Ironically, Gupta said young women are estimated to control 75% of discretionary spending on retail, beauty, and charitable giving.
"I just felt there was a huge opportunity to help women build credit, and then also, once we're on credit, to build products that are more aligned with our lives and our values and reward our spending power as women," Gupta said.
A Debit Card That Helps Establish Credit Visibility
Many women prefer the security of a debit card over a credit card, according to research, because they can't overspend, and they don't accrue interest on purchases. But spending on a debit card doesn't contribute to building credit. That was the starting point for Gupta and her co-founder, Mark Thomas.
"We said, 'Is there a way that we can mimic the control and the comfort that women have with debit cards, but that help build credit?'" Gupta said. "Because that's where the problem starts."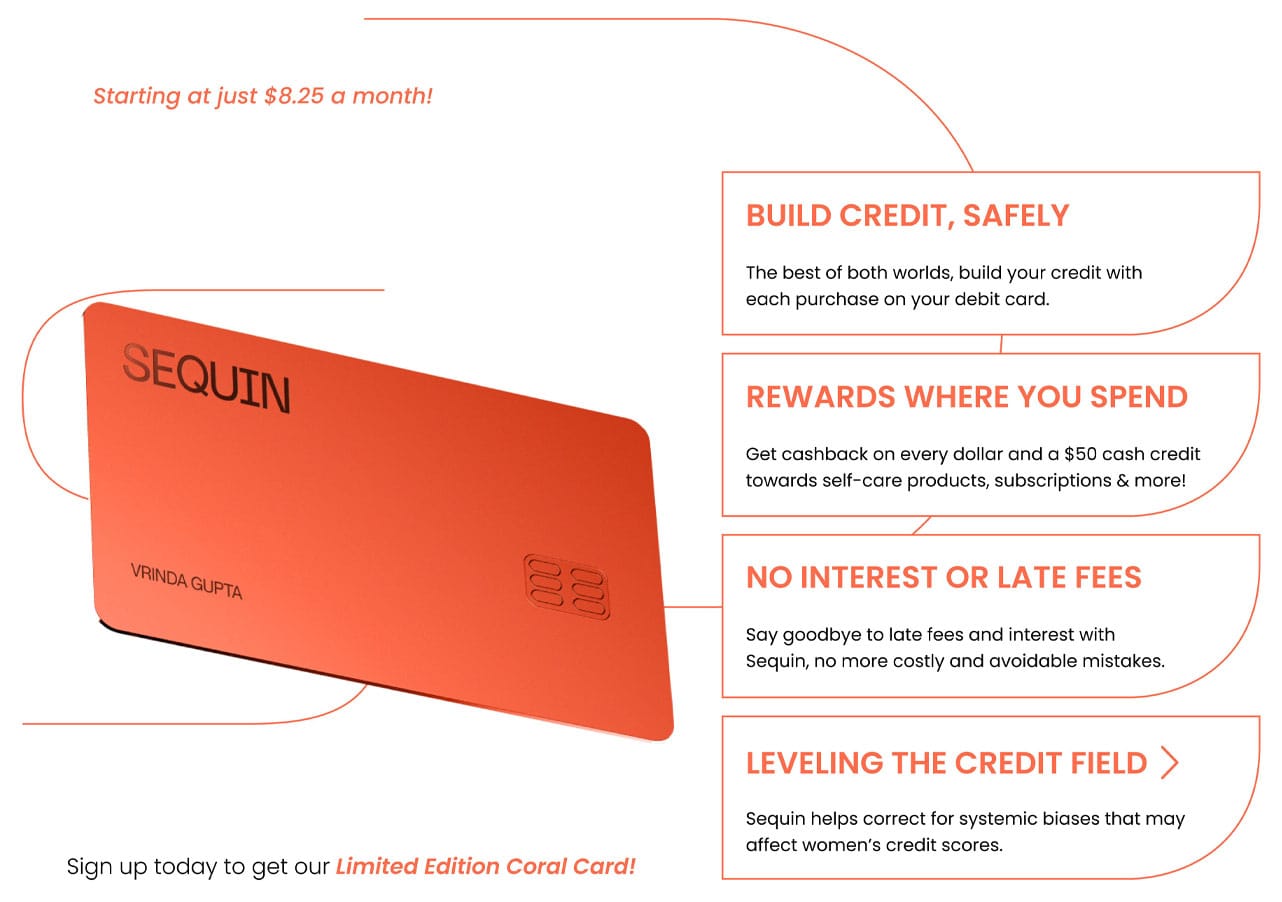 Sequin works as a debit card and connects directly to an existing bank account. When someone opens a Sequin account, a third-party institution establishes a line of credit in their name. Sequin reports spending and payments to its partner, which reports that to the credit bureaus.
In practice, the process amounts to a debit card that contributes to the cardholder's credit history. Sequin has no late fees, interest, hidden fees, or fine print that disproportionately affects women.
Like a traditional credit card, Sequin builds credit by first making women credit visible to credit bureaus. However, Sequin takes credit reporting one step further to correct for systemic biases that may affect women's credit scores.
Women generally are approved for lower credit lines than men. And so, even if women are using the same amount objectively as a man, then their credit utilization looks inflated. Thus, women's credit risk looks worse than it actually is, even though statistically, women are more likely to repay on time.
The Sequin Card addresses this bias in credit reporting by making automatic payments that reduce credit utilization on the monthly credit reporting date. The team has seen reducing credit utilization significantly to result in an average of a 20-point credit score increase in just one week.
"Your length of credit is a factor in your FICO score, but it's a pretty small factor," Gupta said. "It's about 10% to 15%. If you're looking at the biggest factor, it's repayment history. That needs to come from you and not someone else."
Younger Women Can Build Credit and Financial Literacy
Sequin also helps young women start building credit early, giving them an advantage before falling too far behind.
"The older you get, and the more into the system you get, the wider the credit gap becomes," Gupta said. "I wish I had a product like Sequin to build my credit history the entire time I was using a debit card, so when I went to seek my first credit card, I would have the credit history the issuing bank required."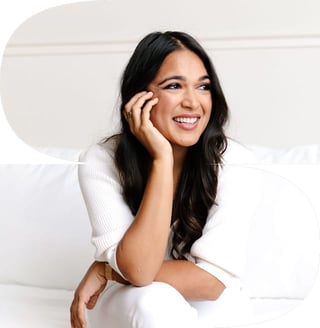 Sequin also helps young women understand the financial system so they can feel more confident navigating it. Through women expert-led community educational events, Sequin helps women learn how credit scores work and how they can set themselves up for future success.
Having a credit card in their own name is a crucial component. Many women are in the same situation Gupta found herself in before she launched the Sequin card. They're authorized users on another cardholder's account, often a father or a husband. That can leave them open to financial instability.
"We end up hearing these tragic stories about marriages ending and the woman being left in a vulnerable position because she doesn't have credit," Gupta said. "A lot of those situations come with financial hardship as well. That's the time where you need access to reasonably priced credit."
Sequin positions young women to build their credit knowledge and profile to become financially independent. That can put them in a stronger position to access other essential products throughout their lives.
Sequin: Products that Help Women Close the Gap
When the time comes for women to apply for a credit card, Sequin wants to meet that need, as well.
"Our broader vision is to have a whole suite of credit products throughout a woman's life," Gupta said.
Sequin's original concept was to develop a traditional credit card. The team was working on that when the COVID-19 pandemic hit in early 2020. Gupta and the Sequin team saw many women disproportionately affected by the pandemic's financial fallout due to lack of credit history.
They realized that starting with a traditional credit product wouldn't alleviate that problem — it would only add to it. If an applicant didn't have a credit history, Sequin may have to reject them or give them a lower credit limit — precisely the issues it set out to solve.
In its current form, Sequin provides an important tool that helps women advance their credit and financial journeys through learning and spending.
Its planned suite will offer traditional loan products, including a suite of premium credit cards and mortgages, which women are historically more likely to pay back despite their higher interest rates. Another is a maternity leave loan which is seldom seen on the market.
"How do we serve these women throughout their lives, given such wide gaps?" Gupta said. "That goes back to credit. Ultimately, women are outliving our male counterparts and may have to access credit later in life. We want to service a woman from the first time she gets a paycheck through her entire life, starting with our Sequin Card."