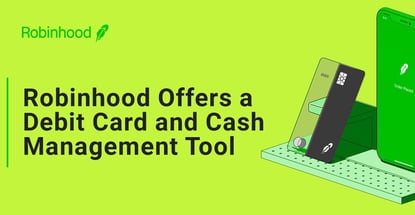 In a Nutshell: Investing in the stock market has traditionally been reserved for the wealthy. But the expansion of technology has heralded the democratization of finance. Robinhood has spearheaded those efforts by enabling fractional investing, placing a powerful wealth-building tool within everyone's reach. Robinhood also offers a Cash Management feature and debit card that provide convenience and support for all users. Consumers who use the Robinhood app can start investing affordably and build a solid financial foundation for the future.
Since the early 2010s, the wealth gap in the United States has been a significant focus. The Occupy movement brought the topic to the forefront in 2011 by emphasizing how, at the time, 1% of the U.S. population held more than 40% of the nation's total wealth.
One reason wealth distribution is so skewed is that people with the most money invest it, using it to earn even more. Earning money through labor can increase wealth incrementally, but investing those earnings can increase it exponentially.
And having funds to invest is only half the equation. The other half is access to the stock market to invest money and realize returns. The Robinhood app democratizes that access and provides everyone with the power to invest their money and participate in a proven wealth-building strategy.

"The U.S. stock market has been the greatest wealth generator in American history," said Jacqueline Ortiz Ramsay, Head of Public Policy Communications at Robinhood. "But there existed barriers to entry for many. It was very difficult for most to begin investing."
That is especially true amid inflation and wage stagnation. Many people can't afford traditional investments in profitable companies. Robinhood changed that by leveraging the reach and pervasiveness of technology.
"There's never been a better time than today to be an investor, and more people now have an opportunity to invest," Ramsay said. "Robinhood leverages technology — something millennials understand. My generation grew up with technology."
Robinhood users can access the stock market to help grow their wealth. And as they do, they can assert more control over their finances with Robinhood's debit card, cash management tools, and educational resources.
An App That Provides Easy Access to Investing
Robinhood's mission has developed directly from the wealth disparity in the United States, Ramsay said. Its founders believed that investing shouldn't be reserved for the wealthiest citizens.
"Pure brokerage firms who've been around for decades … were tailored to a certain kind of customer," Ramsay said. "My father gave me an example of a product in the 1980s that cost $10,000 to $25,000 just to start a portfolio. That wasn't feasible then for most, and still is not a feasible number for a majority of people today."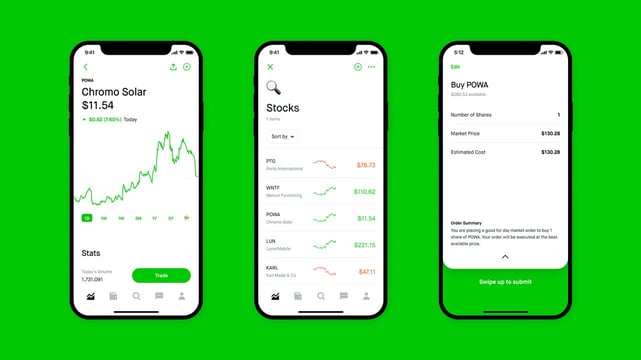 Robinhood doesn't place a dollar-value entry hurdle on investing. As long as users are 18 years old, they can sign up without any minimum account restrictions.
Investors can also purchase fractional shares instead of investing a large sum of money in a single share of stock.
"Essentially, someone can invest with as little as $1, and this is a self-directed platform," Ramsay said. "The no account minimum and fractional shares are ways in which Robinhood has worked to take away barriers to entry."
Of course, just because someone has access to investing doesn't mean they know how to get started. So, Robinhood supports users with its educational content, including a daily newsletter, blogs, and a podcast. Those channels allow novice investors to build the knowledge they need to navigate in the market.
Cash Management Tool and Debit Card Support Users
Once users start building wealth, they also need to manage it. Robinhood can help with that aspect of investing, as well.
"Our mission of democratizing finance for all goes beyond the platform," Ramsay said. "It goes beyond just securities, stocks, ETFs, and crypto assets. It's a whole financial journey."
Robinhood's debit card supports that bigger picture. It works like a typical debit card using the available cash in the user's brokerage account. Robinhood Gold users also have access to their enabled margin, which counts as available cash. The cardholder can make withdrawals from ATMs and get cash back at participating locations.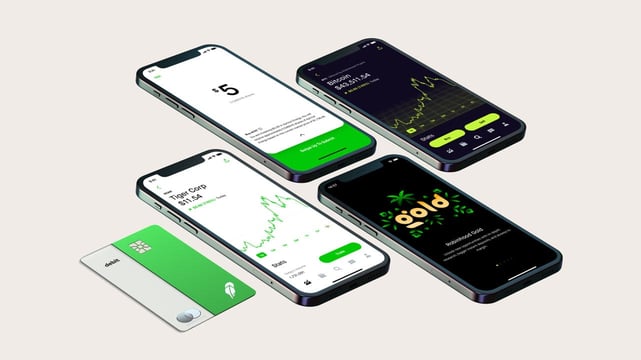 The debit card is part of Robinhood's more extensive Cash Management feature. It allows users to earn interest on swept cash in their accounts. Users can also add direct deposit and link a bank account to their brokerage account for funding.
The Cash Management and debit card are both controlled from within the Robinhood app. That means users can manage investments and cash directly from their mobile devices without hassles or exorbitant fees.
"As of September 30, 5.5 million people have Cash Management with Robinhood," Ramsay said. "It's not just investing. It helps with savings opportunities, practicing habits, and understanding how to manage money in general. So it makes sense to bring them together."
Investing Young is Critical for Growing Wealth
Investing is a fundamental tool for wealth creation, but investors should understand that it takes time. Stocks usually don't gain value overnight, nor do they pay out dividends right away. Bootstrapping one's wealth through investing is most often a long process that takes years and decades.
That's why starting on an investing path early is essential. This is especially true for anyone who's investing for retirement. Living off investments, whether dividends or capital gains, is a goal that takes a long time to achieve, and it isn't always a steady progression.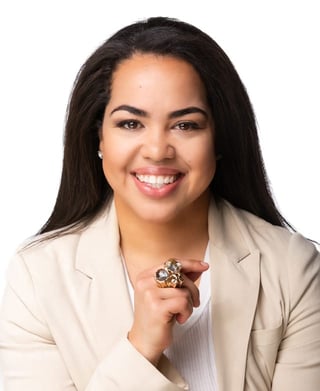 "It's proven that investing can be a powerful wealth creation tool over time," Ramsay said. "We all know that the market goes up, and it goes down, and it goes up, and it goes down."
No matter the circumstances, investing involves risk. According to Ramsay, people should never invest money they can't afford to lose. That's because there's a chance they might, just as there's a chance it could yield significant gains in the future.
Another benefit of investing early is that people can get a better understanding of the risks and rewards. The more normalized investing becomes, the more people will understand investing and the stock market.
"Access to the market is a good thing," Ramsay said. "If people don't invest, we're going to continue to see the wealth gap widen."
Robinhood: Using Education to Level the Playing Field
Democratizing finance for all is at the core of everything Robinhood does. That includes both its app and the educational resources it provides.
"We know technology is just one of the many ways that we can build a more democratized financial system," Ramsay said. "We believe everybody should have access to financial literacy resources so they can build for the future and achieve their financial goals."
Robinhood is committed to helping people build that financial literacy. Ramsay said as of September 30, Robinhood's Snacks newsletter had 23.3 million unique readers in Q3. Listeners had also downloaded episodes of its podcast about 10.8 million times in the quarter.
Those numbers extend financial knowledge far beyond the top 1% of Americans. It represents a wide swathe of the population that leverages Robinhood as a tool for investing and building wealth for themselves and their families.
That's also why Robinhood has partnered with two major educational initiatives. The first is Operation Hope, which calls on the financial industry to provide better financial literacy resources for everyone. The second is with the National Bankers Association, which aims to enfranchise people of color and help them leverage investments for greater prosperity.
"This is not a one-and-done thing," Ramsay said. "We're not just focusing on the moment. We're thinking about the future, how to close that wealth gap, how to make things better for people, and how to let people know that Robinhood is a tool they can use."
Advertiser Disclosure
CardRates.com is a free online resource that offers valuable content and comparison services to users. To keep this resource 100% free, we receive compensation for referrals for many of the offers listed on the site. Along with key review factors, this compensation may impact how and where products appear across CardRates.com (including, for example, the order in which they appear). CardRates.com does not include the entire universe of available offers. Editorial opinions expressed on the site are strictly our own and are not provided, endorsed, or approved by advertisers.