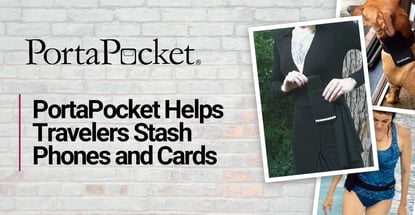 In a Nutshell: PortaPocket helps people carry their valuables discreetly and hands-free, whether they're at the gym, walking the dog, or traveling around the world. Its modular wearable pocket system fits everyone and holds credit cards, phones, and other personal items more securely than wallets or handbags. PortaPocket products are also flexible and comfortable enough for daily wear so people can focus on their lives or their adventures.
The last thing adventurers want to think about while gazing at the Parthenon in Greece or trekking through the Spanish countryside is whether their mobile device and credit cards are safe. And when they return home, they might also want to shop or hit the gym without having the same thought.
PortaPocket solves both of those problems with its modular, wearable pocket system. Its products put pockets discreetly where customers need them, and protect valuables so they can get on with their lives.
Users can wear PortaPocket pockets practically anywhere on their arm, waist, thigh, calf, or ankle and can configure them for a variety of activities. The lightweight wearables are also durable, moisture resistant, and comfortable. And they keep personal items secure and private.

That is why Kendra Kroll invented the PortaPocket system in the first place. Kroll said that one day, while she was working out at the gym, her spare tampon fell out of her too-small pants pocket and skipped across the floor in front of everyone.
At that moment, she decided to create a solution to stop embarrassments like that from happening to anyone else.
Kroll said she went home, found some material, and started cutting and stapling a prototype together. Three years, an issued patent, and several trademarks later, Kroll continues to innovate.
And in the process, she has discovered that use cases for portable pockets are nearly limitless.
"Women's clothing, in general, doesn't have adequate pockets to carry much, especially phones," Kroll said. "And even guys understand the problem with phones and pockets. But no matter who you are, I'm here to help you carry your stuff more effectively."
Making Secure On-Body Storage Available to All
The key to the PortaPocket system is that it's modular and interchangeable, and pieces can fit together in many different ways to create the solution that works best for the circumstance.
The basic setup consists of a pocket and a band. It comes in different sizes to fit phones, passports, credit cards, and even bulkier items, including EpiPens and insulin pumps. During the COVID-19 pandemic, people have also been using PortaPocket wearables to carry masks.
A 12- or 18-inch band fits around the arm or calf. Or users can pair a PortaPocket with a 36-inch waist and thigh band. Those who need extra length can even attach two bands at their ends.
Then find what works for you. "My suggestion for travelers is to always put things in unexpected places, separate valuables from everyday items, and move items around based on your daily needs," Kroll said.
People touring a destination frequented by pickpockets, for example, might choose to secure credit cards on their thigh, underneath one's clothing but just above the hem of a pair of shorts or maybe a dress or skirt, where PortaPocket pockets are discreetly accessible but completely tucked away.
Smaller PortaPocket pockets attach to the PortaPocket band using a hook-and-loop system. That makes it especially useful for travelers who want to conceal their items but also keep them handy. Pockets for heavier items, including phones, slide onto any PortaPocket band via belt loop mountings, which also allows the option for these larger pockets to thread onto regular belts.
"Sometimes it seems a little counterintuitive because who wants their credit card pocket to be removable," Kroll said. "But it's easy to engage it properly, so you have practically zero chance of losing it. You can have your money in your hand to do what you need to do and then stick it back on when you're done."
Poly-Coated Neoprene Protects Tech and Credentials
Kroll said she put a lot of thought into the material she used for the PortaPocket system. It needed to be durable, of course, but also comfortable enough for daily activity and impervious to moisture.
"One woman called me who was in a tour group in China in July, hiking around in the mountains and sweating like crazy," Kroll said. "Some of the folks in her group were hiding their passports in nylon wallets under their shirts. Well, they sweated so much that the nylon got damp, compromised the lamination on their passports, and ruined their photos. The entire 30-plus person group wasn't allowed to leave the country for like four or five days until it was all cleared up."
That's why PortaPockets modules are made out of a poly-coated neoprene that truly checks all the boxes.
"You get permanent imperviousness to the sweat factor," Kroll said. "Plus, it's very lightweight and comfortable. It contours against your body, so it's unobtrusive, and there are no buckles to dig into your skin. You can wear it all over the place."
They're also great for those who use walkers and wheelchairs and have all sorts of accessible storage needs.
"I've also seen people use them on strollers and all kinds of other things," Kroll said.
For extra security, optional RFID insert sleeves protect chip-equipped cards and passports from radio frequency hacking. And for the most dedicated adventurers, PortaPocket offers a completely watertight insert that protects phones and face masks and other items from complete immersion in water.
"Imagine visiting a water park but then also wanting to have a mask handy for walking around," Kroll said.
Ensuring Cards and Valuables are Available When Travelers Need Them
The PortaPocket system helps users keep their valuables secure and handy in both everyday and extreme situations. And the small investment people make in PortaPocket wearables for a travel journey can continue to pay off when they get back home.
One of the company's most popular products is the extra-large phone pocket with a long band.
"For travelers, that's going to cover all your bases," Kroll said. "I know because I travel a lot, and it works for me."
PortaPocket users can also show off their style, as they can personalize the wearable pocket for everything from routine trips to evenings out and professional events.
"My husband wears that same pocket on his belt to the office every day," Kroll said.
Kroll said she loves to receive feedback and new ideas from her loyal customers. That's how the EpiPen idea originated. One customer gave Kroll some old EpiPen casings to help her correctly size a pocket to fit that use case. The PortaPocket that works with insulin pumps also came about as a result of a customer request.
"It's not going to fit everything, but it will fit one's most important small essentials," she said. "So, ladies, carry whatever you want in your purse, but keep your valuables close. This way, you can facilitate your travel needs without sacrificing your convenience."
Advertiser Disclosure
CardRates.com is a free online resource that offers valuable content and comparison services to users. To keep this resource 100% free, we receive compensation for referrals for many of the offers listed on the site. Along with key review factors, this compensation may impact how and where products appear across CardRates.com (including, for example, the order in which they appear). CardRates.com does not include the entire universe of available offers. Editorial opinions expressed on the site are strictly our own and are not provided, endorsed, or approved by advertisers.