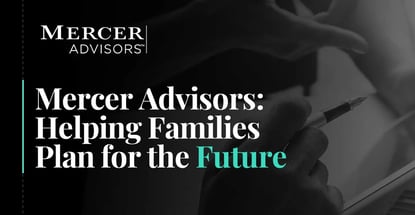 In a Nutshell: Mercer Advisors was one of the first fee-only financial planning firms in the U.S., and it continues to differentiate itself through its insurance, trustee, tax work, and estate planning. The firm prides itself on serving clients at all stages of the wealth-building process and even works with those at the beginning of their asset-building journeys. Comprehensive management services from Mercer Advisors help clients protect against financial compromises that can threaten their assets and credit standing.
Many factors come into play when individuals and families seek a wealth management relationship to grow their assets, enhance their credit, and build a sustainable future. Comprehensive financial planning and investment services from Mercer Advisors help clients achieve all of those goals, no matter where they are on the path to financial independence.
Mercer Advisors relationships are built on trust. Clients want to know that the advice they receive is in their own best interests, not just benefiting the firm. They also want to count on their advisors to be straightforward and research any avenue they believe will generate the best results.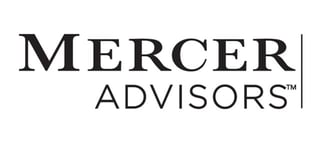 Wealth management clients count on consultations to be fundamentally sound, scientifically grounded, and in line with their unique objectives.
One of the most critical factors in exceptional customer experiences is cost transparency. Mercer Advisors' straightforward and reasonable fees go a long way to cement those long-term advisory relationships.
The firm aims to encompass all aspects of a well-balanced financial strategy, so customers save time and money. Mercer Advisors' commitment to diversity and social responsibility also ensure its values align with those of its customers.
Clients from all walks of life looking to make more out of what they have frequently seek assistance from Mercer Advisors.
"Our customers don't feel like they're shopping in multiple departments," CEO Dave Welling said. "We offer a complete solution that goes well beyond what a lot of other firms provide."
A Fiduciary Duty to Put Client Needs First
Mercer Advisors started as a financial planning firm in 1985 but has built its growth strategy around expanding its service offerings. Although financial planning remains its cornerstone, Mercer Advisors now offers a robust investment planning service, estate planning, insurance solutions, and performs tax and trustee work for both personal and business clients.
Another differentiator for Mercer Advisors is that it doesn't limit itself to serving the ultra-wealthy. Instead, Mercer Advisors can address the needs of clients along a broad spectrum in terms of wealth and credit status.
"We often refer to ourselves as a family office for real families," Welling said. "We provide an entry point for clients where they can work with us while they're still building."
One of the keys to Mercer Advisors serving so many types of clients is its fee-based structure. As a fiduciary, Mercer Advisors puts clients' needs and interests first.
"We're not a bank, we're not a brokerage firm, and we don't make money on spread or on commissions," Welling said. "The way we make money is when our clients pay us directly to act as their financial advisor."
That's a differentiator in the wealth management space. At Mercer Advisors, it's a standard that has served as the basis of the firm's approach since the beginning.
"You wouldn't go to a doctor who hadn't pledged the Hippocratic Oath, and you wouldn't go to a lawyer who hadn't passed the bar exam," Welling said. "We make a strong point that, particularly when a client is asking for guidance on their investments or their broader wealth situation, that they work with a fiduciary."
Long-Term Success Strategies Built on Proven Practices
Trust is important whenever families and individuals search for the right financial relationship. In times of change or uncertainty, working with a financial advisor who is dedicated to growing client assets and credit can make an even bigger difference.
Mercer Advisors' broad-based financial planning and wealth management offering encompasses retirement and education planning and other individual client priorities. The service acts as a road map to long-term economic well-being and also informs the investment management strategy.
"Our investment offering is effectively an output of the financial plan. It is based on the client's goals and risk tolerances, what resources they need to fund, and their current standard of living. All of those go into the investment plan," Welling said.
Mercer Advisors also helps clients concerned about potential volatility in financial markets and systemic fallout from the global COVID-19 pandemic. Its recommendations, combined with its commitment as a fiduciary, form a bedrock of certainty in an unpredictable world.
"It really grounds investors, and I think in times of crisis, that is important," Welling said.
Other parts of the Mercer Advisors offering are ready when the client needs them. Advisors can custom-fit their approach to build on existing outside relationships if necessary, but one thing that doesn't change is the firm's commitment to avoiding unnecessary risks.
"Investments and financial planning is a lot like fitness — the longer you keep good habits up, the better off you're going to be," Welling said. "A lot of people are looking for a quick fix, but the science behind our investing is tried and true. Otherwise, you're just chasing butterflies."
Attracting New Clients with Competitive Rates
Mercer Advisors reinforces the maxims that positive cash flow and healthy credit are integral to achieving sustainability and growth. The firm offers extensive educational resources on its website to teach clients, and the public, about responsible strategies.
"We're helping consumers understand the decisions that are best going to lead them to long-term positive outcomes," Welling said.
Given the challenges facing economies and markets during the COVID-19 pandemic, Mercer Advisors' restrained, informed approach is refreshing and responsible.
Based on a comprehensive benchmarking study, Mercer Advisors' fees are simple and affordable, especially for the wealth of services the firm provides. For clients above the $1 million asset level, estate planning is complimentary.
"We like to say that most attorneys and a lot of accountants charge by the hour, but with us, the meter's not running," Welling said.
Meanwhile, for all its moderation with its clients' money, Mercer Advisors is progressive when it comes to its makeup and social outreach.
The firm's InvestHERs program, for example, ensures its status as an employer of choice for female financial professionals.
"In a profession that is notoriously male, stale, and pale, we're very proud that close to half of our client-facing personnel are women," Welling said.
InvestHERs also ensures that Mercer Advisors remains attentive to the needs of its diverse clientele. The company also reaches out to same-sex couples and, as a signatory to the UN Principles for Responsible Investment, makes socially responsible investment options available.
"We want to resemble our clients in terms of our personnel and values. We also want to make sure we're providing everyone with good financial advice that helps them navigate their situations," Welling said.
Advertiser Disclosure
CardRates.com is a free online resource that offers valuable content and comparison services to users. To keep this resource 100% free, we receive compensation for referrals for many of the offers listed on the site. Along with key review factors, this compensation may impact how and where products appear across CardRates.com (including, for example, the order in which they appear). CardRates.com does not include the entire universe of available offers. Editorial opinions expressed on the site are strictly our own and are not provided, endorsed, or approved by advertisers.