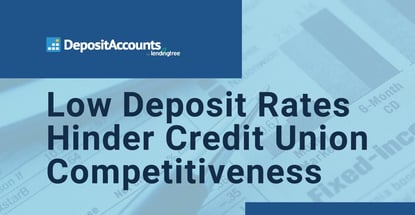 In a Nutshell: DepositAccounts is a digital platform that allows consumers to compare interest rates on deposit accounts from banks, credit unions, and fintech companies across the U.S. The site maintains its database through a combination of automated processes and human curation to ensure quality, updated content. Its data shows that partnerships with fintech companies can help credit unions compete with larger banks. That is especially important in the wake of the COVID-19 pandemic, as institutions are issuing fewer loans and consumers have deposited more money, driving rates down.
Ken Tumin began blogging about bank accounts in 2005, and by 2009, that side project grew into DepositAccounts, a platform that provides consumers with much more robust financial data. Consumers can visit the site to find reviews of accounts and a database of updated information about what banks and credit unions offer around the United States.
"For each bank and credit union, we compile various data and financial information about institutions, their branches, their policies, who's eligible to join, and the accounts they offer. Deposit accounts were initially our focus," Tumin said.
Those resources allow consumers to search for the best rates across all types of deposit accounts, including checking, savings, CDs, and money market accounts, among others. That helps financial consumers compare products and make choices that will have the greatest impact on their future.

The platform also ensures consumers receive unbiased information by keeping its editorial and advertising sides strictly separate.
"What we write about on the editorial side is purely based on our own reviews and my own opinions about the quality of the rates and the products," Tumin said. "We separate that from any of the advertising or relationships. And we do that in our rate tables, which are based on the rate — and the highest rate gets the highest level of visibility."
At the center of it all is Tumin, an expert on bank accounts and deposit rates. That puts him in a unique position to offer insights to consumers seeking the best financial products available from banks or credit unions.
Automation and Monitoring Ensure Accurate Coverage
DepositAccounts covers national and local banks and credit unions. While that is a tall task, it is crucial to the site's mission of helping consumers find the best rates possible.
"We find that a lot of the best rates are local, since the best offers are sometimes at community banks or credit unions," Tumin said. "And that depth is something you don't see at a lot of the other websites."
DepositAccounts manages all of that critical data through a combination of automation and human curation. The system pulls all the rate information from bank and credit union websites. That enables the site to stay up to date on the latest rates.

After aggregating the information, a team reviews all of the data to ensure its accuracy. The process requires constant monitoring, which takes more time and resources, but this two-pronged approach ensures the information is both current and accurate.
"Another category that we have is fintechs," Tumin said. "A lot of fintechs have partnerships with banks that hold the accounts. So we list many fintechs as separate entities that might partner with the same bank. Fintech bank accounts are becoming more prevalent with many features comparable to traditional bank accounts."
Consolidation Can Level the Playing Field
Readers will find a range of deposit rates across the selection of banks and credit unions listed on DepositAccounts. Many may wonder why that disparity exists.
"In general, smaller credit unions have to fund their loans, and they need to bring in deposits," Tumin said. "They do that with attractive rates because credit unions are at a disadvantage versus a lot of the major banks."
Major banks have vast resources and large teams they can leverage to offer benefits that credit unions can't. Those include more sophisticated and versatile online banking platforms, extensive networks, and other attractive user perks. Those benefits may outweigh the desire for slightly higher interest rates on deposits.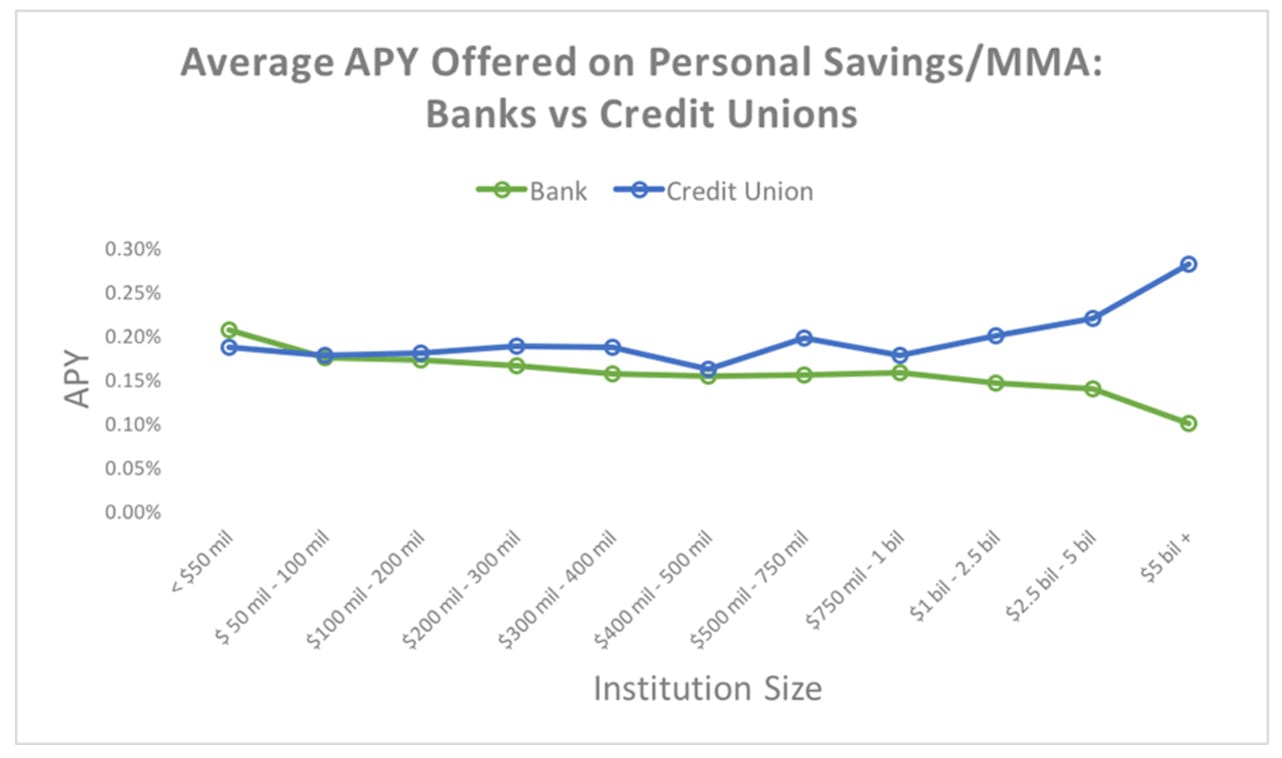 Smaller institutions rely on those attractive rates to compete with these larger ones. Credit unions are also governed by different tax laws than are banks, allowing them to give more back to their members in the form of higher interest rates on deposits.
Many credit unions still struggle to compete with flashier offerings from bigger banks. As a result, smaller credit unions are often acquired by larger institutions that are consolidating membership. While that reduces competition in the market, it expands the resources of larger credit unions and increases their competitiveness against large banks. As a result, member-focused institutions stand a chance of gaining ground against larger, profit-oriented ones.
"The largest one is Navy Federal Credit Union with over 100 billion in assets," Tumin said. "There are several large credit unions that have even acquired banks."
Fintech Helps Credit Unions Offer Competitive Rates
Another way credit unions can compete with bigger banks is through partnerships with fintech companies. Instead of spending resources developing their own solutions, smaller institutions can integrate ready-made products while investing less time and money.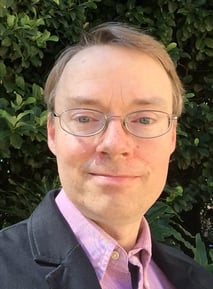 "One company that helps credit unions and community banks with the technology to offer more services to members is called Kasasa," Tumin said. "Kasasa is a Texas-based company that markets their brand of products, and the one we focus mostly on at DepositAccounts is their checking account line."
Its reward checking account offers a high interest rate if account holders use their debit cards a certain number of times per month and complete one or two other activity requirements. But these benefits aren't limited exclusively to Kasasa partner institutions. Tumin said that more than 500 banks and credit unions across the United States offer these types of rewards.
Kasasa also offers another option that gives the account holder cash back on debit card purchases — as much as 2% per month — instead of a high rate on a checking account. That provides an alternative incentive to consumers who want to use debit cards rather than credit cards but still want access to rewards that credit cards typically offer.
"It can be an appealing offer," Tumin said. "And so that's another way that a lot of credit unions and community banks can offer products to compete with online banks, big banks, and fintechs."
Pandemic Conditions Led to a Major Shift in Deposits
According to Tumin, deposit rates are currently in "record low territory." He compared the situation to the conditions he saw during the Great Recession in 2008.
"The Federal Reserve took rates down to zero way back in December of 2008 and kept them at zero for seven years," Tumin said. "In December 2015, we had the first fed rate hike. And fed rate hikes continued until late 2018. Rates peaked at a modest level during the first half of 2019, and then rates started to fall as the fed reversed some of its rate hikes. Then, of course, the pandemic forced the fed to return rates back to near zero."
Tumin said savings account rates have been at record low levels from the second half of 2020 and into 2021. That is the result of pandemic conditions, including lockdowns, public health precautions, and employment insecurity. All of those contributed to people spending less money, so the difference between income and basic expenses was directed into savings.
Another significant financial factor was direct government stimulus to consumers. People have used that money to pay their bills, but some have put the excess cash away in their bank accounts. That has contributed to record high deposit levels at banks.
Banks have also issued fewer loans, meaning loan balances have gone down, particularly on credit cards.
"That's created the perfect storm for deposit rates," Tumin said. "Banks are flush with deposits and their loan balances have fallen. So they don't need to bring in deposits. That means they offer lower rates. Even rates at online banks are at record lows right now. Nevertheless, you can still get better rates for savings accounts by going online."
Advertiser Disclosure
CardRates.com is a free online resource that offers valuable content and comparison services to users. To keep this resource 100% free, we receive compensation for referrals for many of the offers listed on the site. Along with key review factors, this compensation may impact how and where products appear across CardRates.com (including, for example, the order in which they appear). CardRates.com does not include the entire universe of available offers. Editorial opinions expressed on the site are strictly our own and are not provided, endorsed, or approved by advertisers.