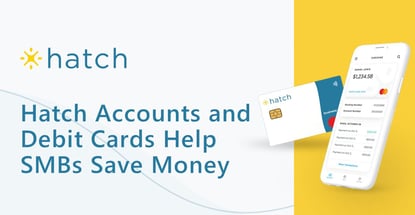 In a Nutshell: The last thing new or struggling businesses need is a chronic bank fee burden. That's why the Hatch business checking account and debit card dispense with minimum balance and overdraft fees that can chip away at cash flow for small businesses. The modern fintech, an emerging team player for SMBs, incorporates a 1% to 5% cash back rewards and discount program into its card products. That removes obstacles and can transform business checking from a cost center into a potential revenue-saving opportunity.
Entrepreneurs working to establish themselves and turn a good idea into a successful business find challenges from the outset.
One significant challenge is balancing the need to reach customers and achieve growth against the obstacles associated with traditional financial services. Owners who try to tackle barriers by entangling their personal finances with those of their business can negatively affect their personal credit and even disrupt their family lives.
Trying to secure a dedicated bank account for the business may not be a better option. Many conventional business checking products require high minimum balances, charge overdraft fees, and add loopholes that can hurt cash-strapped businesses.
Entrepreneurs need a business checking account that's simple and designed to work in their favor.

Hatch is on the horizon with a checking account and debit card product that will allow entrepreneurs to keep their personal and business finances separate while also saving them money.
Hatch launched in 2019 with a credit product that gained a dedicated following, but the onset of the COVID-19 pandemic prompted an accelerated expansion of their product roadmap as they were seeing more and more of their customers incur punitive overdraft fees. Now, a steadily growing list of entrepreneurs and SMBs are now able to access Hatch's business checking and debit card pilot.
"Our business checking accounts are a way for people to gain access to solid banking services without excessive fees," said Tim Wu, Head of Growth at Hatch. "Our mission at Hatch is to build a fully functional financial platform for small business owners as they grow and scale their business."
A Digital Bank Designed for Online Businesses
As an all-digital business, Hatch leverages its low overhead as part of its value proposition. It appeals to many retail and professional services providers that rely on the internet. Hatch has also built a solution that will address their financial services pain points — everywhere in the U.S.
"Think of us as a modern financial partner for small businesses," Wu said. "We're geared toward owners who don't want to go with the traditional options because they need to watch every dollar."
To start, that means no minimum monthly balance fees. That is a common sticking point with many other business checking products on the market. Banks often require businesses to maintain a minimum of up to $5,000 in their checking accounts to avoid incurring monthly fees.
"We're also doing away with other unnecessary fees like card replacement fees. It shouldn't cost somebody up to $20 to replace a lost or stolen card," Wu said.
One of the biggest hidden costs for new businesses is overdraft fees, which aren't a factor with Hatch. Hatch Cover fronts qualified businesses with up to $100 if they go negative on their account. Overdraft fees is a huge revenue source for the banking industry, costing Americans $14 billion annually, which is why it is not going away.
"There's been a lot of research done to show that, on average, people pay $34 every time they overdraw their accounts. " Wu said. "Doing away with overdraft fees is one of our biggest selling points because, as everybody knows, things happen, and getting hit with that fee per transaction can stack up."
Hatch plans to offer those services to businesses for a transparent fee of $10 a month.
Helping Entrepreneurs Preserve Personal Credit
Wu means it when he says that Hatch is targeting up-and-comers. In fact, the company's core mission is to help small businesses launch and grow.
"The retail customers who originally came on board when we launched the credit product were online sellers who were early on in their entrepreneurial journey," Wu said. "They might have had an Etsy or Facebook Marketplace store instead of a full website."
On the professional services side, the typical Hatch client does some form of contract work. Customers range from home repair services and other offline work to those who do marketing or who act as notaries or provide tax prep and similar online services.
"Maybe they had a side hustle and wanted to take it to the next level," Wu said. "We'll be carrying that appeal over to the business banking side as well."
What all clients have in common is an inclination to mix business and personal expenses that Hatch is designed to help them avoid. Using personal credit may initially seem to make sense because entrepreneurship begins with inspiration, and taking a bit of risk may seem admirable. However, according to Wu, it's a bad idea in the long run.
"When you're just getting started, you're just trying to find customers and solve stuff. You may think, 'I'm just trying to figure out how I can make this thing work,'" Wu said. "Arranging a separate business bank account almost tends to be an afterthought."
Ultimately, however, cash is king, and owners should never personally invest in products, or pay employees or contractors with credit.
"You've got to pay people with cash, and our business checking product is designed to preserve more of your cash so you can run your business more smoothly," Wu said.
Hatch: Platform and Partnerships Pay Off for Customers
Seemingly minor expenses can tend to add up for businesses on the smaller end of the entrepreneurial scale. Choosing the wrong bank and then incurring just a few unexpected or hidden expenses can lead to a string of negative consequences for small businesses.
That's why Hatch isn't resting on its laurels when it comes to passing on savings. Hatch's Business Checking product offers cash back rewards of up to 5% every time a debit card is used at participating gas stations, restaurants, hotels, or car rental agencies, among many other businesses. Hatch ups the ante by putting small businesses in a position to have a dedicated business checking account that can help their balance sheet.
"We're building a nationwide network of rewards partners so businesses can earn just by shopping at coffee shops and spending at retailers around their neighborhood," Wu said.
Hatch is leveraging technology to make it happen by partnering with providers that have already built rewards infrastructures, then layering those services onto its banking products — something that traditional financial providers would find challenging to implement quickly.
"That's the benefit of being a startup — we can take in customer feedback and move faster to implement new technology to improve our product," Wu said.
Hatch Perks carries that the perks and benefits concept even further in an even more straightforward way.
"We work directly with business software and solutions providers to offer coupons and discounts to our users," Wu said.
A partnership with Square yields discounts on card processing services, for example, and Yelp provides ad credits for restaurant owners who need to get the word out.
"If someone made use of every one of our perks, they could potentially save thousands of dollars in software and services fees" Wu said. "It's an important way for us to continually provide value to our customers."
Advertiser Disclosure
CardRates.com is a free online resource that offers valuable content and comparison services to users. To keep this resource 100% free, we receive compensation for referrals for many of the offers listed on the site. Along with key review factors, this compensation may impact how and where products appear across CardRates.com (including, for example, the order in which they appear). CardRates.com does not include the entire universe of available offers. Editorial opinions expressed on the site are strictly our own and are not provided, endorsed, or approved by advertisers.