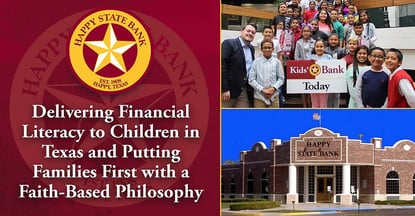 In a Nutshell: Happy State Bank is a faith-based, Christian bank based in Amarillo, Texas, that demonstrates a commitment to providing financial literacy to students in its service area. Its Kids' Bank program offers students the opportunity to open a savings account. Another component of the program — Kids' Bank days — takes the banking experience to local schools where students get to work as tellers, make cash deposits into their accounts, and receive a real-world education on personal finance. Because of its dedication to beginning financial education at an early age, we are recognizing Happy State Bank with our Editor's Choice™ Award. The bank bases its strong focus on customer service and family-first philosophy for employees on its Christian foundation. Happy State Bank's faith-based approach also forms the basis of its 20 core values, which inspired author Sam Silverstein to write a book about the bank.
In the United States, financial education has not historically been a significant part of curriculums for students in public schools. And more often than not, children do not receive lessons on financial literacy at home, either. Parents are either uncomfortable discussing money because of outdated cultural stigmas around talking about finances, or they simply feel unqualified for the task.
Either way, the unfortunate result of this situation is that many children in the U.S. have little to no financial education. They are left to navigate the world of budgeting, saving, and building and managing credit on their own. This may lead to financial missteps along the way that could have easily been avoided if they had been taught some basic lessons on personal finance.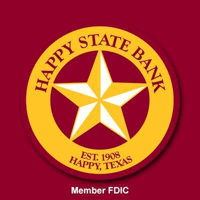 One bank is working to change this situation for children in northern Texas. Happy State Bank's Kids' Bank program brings a real-world banking experience to elementary school students across the bank's service area.
Happy State Bank Vice President Stacie Smith said students participating in the program have seen great success with particularly impressive at one elementary school.
"One of the best success stories we have is from a school in a low-income and generally underserved area," Smith said. "These kids face a number of challenges and their parents often are not in positions to help them a lot financially or in educating them on financial literacy."
Nevertheless, Smith said, the children have shown great initiative in participating in the Kids' Bank program and the Kids' Bank days at their school.
"They have a bank day every week, and they make over 90 deposits," she said. "That's a huge success story because they don't have a lot of money to begin with, and they're doing chores and working to earn this money they are depositing. And it shows you don't have to have a lot of money to start good savings habits."
With its Kids' Bank program, Happy State Bank has demonstrated an impressive dedication to bringing financial education to individuals at an early age, and we are recognizing that commitment with our Editor's Choice™ Award.
To learn more about the Kids' Bank program and Happy State Bank's unique employee culture, we spoke with Smith, as well as Rian Clinton, President of the bank's Virtual Branch, and Cindy Brown, Happy State Bank's Marketing Officer.
The Kids' Bank Program Gives Children a Head Start on Healthy Savings Habits
Smith said the Amarillo-based bank started its Kids' Bank program in 1997.
"We've actually seen students who participate as tellers in the Kids' Bank program when they are in elementary school come to work for us as a real teller after they graduate high school and are working through college," she said. "We're having an impact on them at a young age and influencing the direction of their lives."
The Kids' Bank program consists of two different components: the Happy State Bank Kids' Bank savings account and Kids' Bank days at schools around the region.
To sign up for the savings account, children must have a parent or other legal guardian sign up as the co-owner of the account. There are no service fees, there is no opening deposit required, and the account comes with access to free online banking.
Quarterly interest is compounded and credited to the account.
Clinton said it is important to reach children at an early age.
"Since a lot of schools aren't teaching financial literacy and the children are often not getting it at home either, we wanted to be able to change that," he said. "We wanted to be able to reach out to these children from the very beginning to teach them the basics of how to bank, what a check is, how a savings account works, and so on."
Happy State Bank employees go to the schools and collaborate with teachers on a financial literacy curriculum and essentially set up a mini virtual bank in the classroom.
Brown said the students will dress up and go through an interview process to become a Kids' Bank day teller.
"It's a really fun, neat environment to be in," she said. "We teach the kids how to correctly fill out deposit slips, make deposits, count money, and give receipts. We go through the whole banking experience."
The students set savings goals and work toward achieving them with their Kids' Bank account.
She said each month a student is selected for a special spotlight lunch to recognize his or her efforts at Kids' Bank days
Driven by a Faith-Based and Family-First Philosophy
Clinton said Happy State Bank stands apart from many other banks because of its strong focus on its customers and providing a high level of customer service. And because of the institution's emphasis on encouraging employees to focus on their families.
"If you've got a family event like a ballgame or something that your child is participating in, you're expected to be at that family event," he said.
It's also important to note that Happy State Bank is a faith-based, Christian bank, he said.
"It's in our mission statement to provide outstanding customer service while upholding the Golden Rule," Clinton said. "Those are some of the things we think make us look a little bit different than some of the other banks around town."
Brown said the bank and its employees adhere to a set of core values that complement the bank's mission.
"When an employee is hired, they go through our Happy Beginnings training, which I think is really powerful," she said. "A lot of new employees at other companies don't have this type of orientation into the culture."
She said if employees go into the training skeptical of how earnest the bank is about its Christianity-based philosophy or strong focus on customer service, they will see through the training that the bank really stands behind its values.
And Happy State Bank's values — established by CEO J. Pat Hickman — even inspired author Sam Silverstein to write a book about the bank and its success.
Clinton said "Non-Negotiable: The Story of Happy State Bank & The Power of Accountability" explores the bank's 20 values and how other businesses can apply similar values to achieve accountability in their own organizations.
From One Happy Location to Serving Amarillo and Beyond
Happy State Bank was founded under the name First State Bank in 1908 in the small town of Happy, Texas, which is located about 35 miles south of Amarillo. Happy might be more accurately described as an extremely small town. Since it was founded in 1907, the 1.1 square-mile municipality has had a population of between 600 and 700 residents.
For 81 years, First State Bank operated solely in the Happy community. Clinton said Hickman purchased the bank in 1990, and that's when the bank began a new trajectory that led it to where it is today.
"In 1990, the bank had six employees overseeing just over $10 million in total assets," according to the bank's website. "Out of the 880 banks in Texas, Happy ranked #812 in asset size. Today the $3.2 billion bank operates 35 branches, one loan production office, and the GoldStar Trust Co."
Happy State Bank officially changed its name in 2002 and today maintains a presence in 25 communities from the Texas panhandle region southeast to the Dallas/Fort Worth area. It has 700 employees and is the 18th largest bank in Texas.
It was named one of the best banks to work for in the U.S. by American Banker four years in a row, from 2014 to 2017. The bank has also been recognized multiple times by Bauer Financial, Inc. for its capital strength, loan quality, and profitability, according to the bank's website. It has also been recognized with numerous honors in the regions it serves for its financial literacy efforts and unique corporate culture.
Focusing on Further Educational Resources via Digital Means
Clinton said Happy State Bank is going strong with its Kids' Bank days, and it also has a group of employees who work with schools to promote financial literacy in other ways. The bank also encourages entrepreneurship with programs such as Lemonade Days, in which participating students run lemonade stands and are encouraged to think about the costs of running and marketing a business.
The bank currently includes a financial education section on its website as well, with sections focused on children, teens, young adults, newlyweds, parents, and more. But Clinton said in the near future, Happy State Bank hopes to deliver even more for educational resources digitally.
"We're really looking at how we can continue to appeal to kids in an increasingly digital world," he said.
Advertiser Disclosure
CardRates.com is a free online resource that offers valuable content and comparison services to users. To keep this resource 100% free, we receive compensation for referrals for many of the offers listed on the site. Along with key review factors, this compensation may impact how and where products appear across CardRates.com (including, for example, the order in which they appear). CardRates.com does not include the entire universe of available offers. Editorial opinions expressed on the site are strictly our own and are not provided, endorsed, or approved by advertisers.