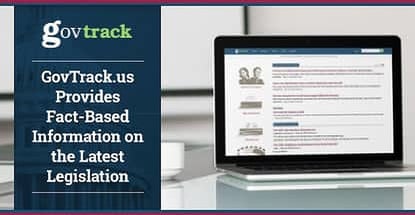 In a Nutshell: While lawyers generate many mixed emotions, most people can agree they have at least one important purpose: translating the combination of extinct Latin phrases and complex jargon known as "legalese" that makes up our congressional legislation. For those of us without a J.D. at the end of our names, we can rely on GovTrack.us, a research and tracking site for information on the latest legislation and goings-on of Congress. Started in 2004 by Joshua Tauberer, GovTrack was one of the first sources of open government information on the House and Senate, and the site (and its founder) continues to encourage congressional transparency. Today, GovTrack's goal is to help its millions of users obtain important legislative information — and actually understand it — by providing in-depth analysis of legislative members and legalese translations of important bills, all without relying on any biased, outside financial influences. For 10 million annual users, GovTrack is the best place to keep track of Congress. //
When it comes to trying to read your average legal document, well, unless you have a translator nearby — good luck. Chock-full of obscure technical words and otherwise-extinct Latin phrases, the "legalese" that makes up most official documents can be downright impossible to decipher for anyone short of a J.D. (and even they sometimes struggle).
In my opinion, nowhere is this best illustrated than in the pages of our legislation. Not only is each bill encrypted in nonsensical legalese, but the language is cobbled together by a large number of different hands. In fact, a bill's path from start to finish is so convoluted that the final document usually bears little resemblance to its original text — or even its title.
"You might have a bill with an official title of 'Fixing an Issue with Firefighter Retirement Pensions,'" described Joshua Tauberer, the mind behind GovTrack.us, a research and information site for congressional legislation."But, in the end, the bill itself is actually about the Trans-Atlantic Partnership trade deal or something."
According to Joshua, the problem isn't intentional. Rather, it is a simple side effect of the fact that government is a process — and a hard one, at that.
"It happens quite often," he explained. "Not because Congress is trying to mislead anyone — they honestly don't care if anyone can understand the titles of bills — but, because they have complicated procedural things that happen that cause the title of a bill, and its content, to become out of sync."
To make matters worse, most of the information available on those bills was, until recently, as scattered as their content (and as difficult to piece together) even well into the digital era. Enter Joshua, who built GovTrack as a source of open information on what Congress is actually up to — then shared all of his data with the world. And the whole thing is funded by the public, not politics.
"The site has always tried to be two things; one is just the site you see, a regular American interest in government," said Joshua. "The second has been to be a provider of open data. I'm not doing this so I can have the best website, but so other people can take the data that I'm bringing together on and reuse it to shine a light on Congress in a different way."
Track the Latest Updates on Important Legislation
When he started working on GovTrack in 2001, obtaining comprehensive information on the latest legislation required the full use of Joshua's software development background. Since the powers that be were… disinclined to share their core data, Joshua built a system of programs to pull data from the outdated congressional information site, THOMAS.gov.
"I ran 'screen scrapers' — little programs to reverse-engineer the content on the pages of the THOMAS website to figure out the legislative metadata in THOMAS's database  —  to assemble the legislative data that GovTrack used and made open," he explained.
The site officially launched in 2004, offering a way for people to see what Congress was up to, including the status of specific legislation, as well as easy ways to find information on their own representatives. A few years after developing the site, Joshua went on to build a full API and data suite for other people to use, which was infinitely better — and more popular — than any officially provided tools. Over time, GovTrack became (and still is) one of the main sources for legislative data.
"GovTrack became as widely used as Congress's own website," he described, "and even Members of Congress began using GovTrack for its congressional district maps and for its open data."
The site's success is likely due to the fact that Joshua has made all of GovTrack's carefully curated data completely accessible, providing it in a variety of formats for ease of use. Visitors can quickly find everything from comprehensive district maps and voting records, to tracking the progress — and inevitable changes — of important bills or influential committees.
"I usually refer to it as a research and tracking tool for legislation in Congress," said Joshua. "On the tracking side, you can get email updates for specific bills or individual members of Congress. On the research side, you can read an entire bill and see where it is in the process of becoming a law."
Though much of GovTrack could run itself — Joshua's programs could "scrape" on their own — that didn't mean Joshua sat idle. While the site had become a popular information resource, he was now keen on tackling the issue of comprehension.
"Although a lot of the stuff on GovTrack can continue without a full-time staffer, the usefulness of it to users is limited if you don't have someone actually trying to decipher and explain what's going on," he said. "These bills are written in legalese, and you need someone to translate. You need a human to look through these things and ask, 'Do these things need an explanation?'"
A Site for the People, Funded by the People
Perhaps one of the most remarkable parts of the GovTrack story (though perhaps we're biased here) could be the fact that Joshua has never taken outside funding to keep the site going. In a political landscape sometimes appearing to be run more by money than democracy, the lack of outside financial influence on the site's content is most refreshing.
Joshua said that the advertising revenue from the site has usually been enough to cover basic operating costs — such as the servers that host the site — but not significantly more.
Now that Joshua was focused on expanding his writing "staff," it became clear he needed to find additional funding. As with the site itself, though, Joshua's soon-to-be staff wouldn't be paid by outside financial influences.
"A year ago, I got an email from a college student asking to be my intern," described Joshua. "He was kind of my first writer. Then, the question was, 'How do pay someone to keep doing that sort of work?'"
The answer turned out to be the Internet's own sort of democracy — crowdfunding. Joshua started a Kickstarter campaign last year, and dabbled with a Patreon account to find the financing he needed to expand his staff and explore new content.
"I think it was my intern who was the one to convince me to start the Kickstarter," Joshua admitted. "I might have been too pessimistic to do it, but I had this eager 20-year-old intern telling me to try crowdfunding — so I said OK. It worked better than I expected."
Better, indeed; despite Joshua's pessimism, the Kickstarter campaign raised $36,063, going beyond his goal of $35,000, allowing him to hire a researcher and writer for at least six months.
Helping Americans Understand Congress Since 2004
While GovTrack has been successful for a good chunk of its 12-year life, Joshua, and like-minded compatriots, have still been working to address the problem that encouraged him in 2004 to launch GovTrack in the first place: the availability of open data on legislation.
Though little can likely be done about the legalese and cryptic titles inherent in every bill, Joshua and his colleagues wanted Congress to essentially make GovTrack's original purpose obsolete by making Congressional data readily accessible — and actually usable.
In mid-2016, the group finally got its wish.
"Staff from the House's Office of the Clerk, counterparts in the Senate, staff from the U.S. Government Publishing Office and the Library of Congress worked together," Joshua explained in an article on GovTrack, "in a remarkable cross-agency collaboration, to publicly publish comprehensive information on the status of legislation pending before Congress."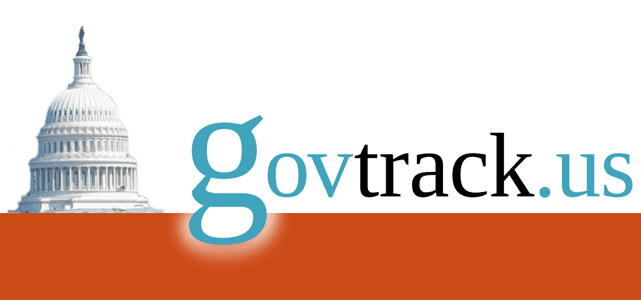 Today, any user can hop onto Congress.gov and easily find the raw information powering sites like GovTrack. Even the method by which GovTrack gets its own information has changed, as the new site brought about THOMAS.gov's retirement while making it much simpler to access the bulk data in other ways.
All that said, GovTrack is still the best place to access much of the information — as well as the necessary legalese translations — in a usable, engaging format. In fact, for more than 10 million users a year, GovTrack is the best resource for keeping track of Congress.
Advertiser Disclosure
CardRates.com is a free online resource that offers valuable content and comparison services to users. To keep this resource 100% free, we receive compensation for referrals for many of the offers listed on the site. Along with key review factors, this compensation may impact how and where products appear across CardRates.com (including, for example, the order in which they appear). CardRates.com does not include the entire universe of available offers. Editorial opinions expressed on the site are strictly our own and are not provided, endorsed, or approved by advertisers.