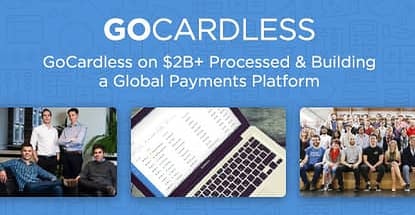 In a Nutshell: For decades, the credit card has reigned supreme in the payments world, but there are several ambitious fintech companies looking to change leaders — companies like GoCardless, the Direct Debit payments processor making waves all over Europe. GoCardless makes it easy for a business of any size to augment or supplant their credit card payments with the lower transaction cost and greater recurring payments reliability of Direct Debit payments. With more than 20,000 companies using GoCardless, and around $2 billion in Direct Debit payments processed in just the first half of 2016, the company looks primed to successfully execute its plans to expand into almost a dozen new countries, including the U.S., over the next two years. //
My first attempt at proper gardening was, in the kindest terms possible, an utter disaster. Suddenly inspired to grow all of my own produce, I set about it that very weekend, planting dozens of seeds in my hastily-dug vegetable beds. Unfortunately, ignorance and lack of preparation led to a lot less "harvest the bountiful fruits of my labor," and a lot more "get three beans and a tomato, then watch the rest destroyed by heat and insects."
As I cleared away the wilted remains of my garden, it occurred to me that I may need to shift my direction and come at the idea of gardening from a more focused perspective. I decided to grow only a few plants — those that I would use most often — and did a little research so I could redesign my approach. The result was a small indoor garden, one from which much basil (and mint, and oregano) has since come.
Changing direction or, worse, starting over from the beginning, can be a wrench in the cogs of any project, and it can be especially harrowing when your business is on the line. For the team behind Direct Debit powerhouse GoCardless, however, it turned out to be the right move.
The original idea behind the startup that became GoCardless looked little like its modern successor; its focus instead was on a platform for facilitating group payments. While educational to build, the platform never took off as well as the team wanted.
"It wasn't a big enough problem for people to really change their behaviors," explained GoCardless Co-Founder and CEO, Hiroki Takeuchi. "There was a moment where we just went, 'We need to rethink this whole proposition.'"
Though the project didn't pan out quite like the team expected, they did learn a lot about payments — and, they figured out where to go next. "We realized there was this much deeper, and wider ranging, payments problem."
Their discovery? The large number of companies struggling with banks for the ability to use Direct Debit payments, instead of credit cards, to execute recurring or subscription payments.
The team made a complete pivot, creating GoCardless in 2011, the focus shifting to introducing modern technology into the legacy banking system and making Direct Debit accessible to the greater marketplace. It wasn't long before the company's ideas piqued the interest of a few large fintech investors, and, in just months, the startup received its first million in venture capital.
Extraordinary Growth Spurs Expansion to U.S. and Beyond
The biggest secret to the GoCardless success may simply be that the company helps solve an actual problem. Before the arrival of products like GoCardless, most businesses didn't have the option to process Direct Debit payments themselves.
"Just getting access to the system in the first place is quite hard," said Hiroki. "Direct Debit gives merchants a pipe directly into people's bank accounts, and so the banks were obviously worried that smaller businesses would mess things up."
In the simplest terms, GoCardless acts as the go-between for merchants who want to take advantage of Direct Debit, and the banks who don't want thousands of businesses popping in and out of people's accounts. Hiroki describes it as making the system more foolproof, allowing GoCardless to open up access to businesses who would otherwise be denied.
Much like the proverbial wildfire, interest in GoCardless and their new Direct Debit solution ignited around Europe. The company credits a lot of its initial success to an early partnership with Kashflow, a popular accounting software company, and a wide array of small businesses excited to start accepting Direct Debit payments.
Interest — and investment — in GoCardless was hardly fleeting. Over the last five years, GoCardless has been through several lucrative rounds of fundraising, with the latest, in early 2016, netting them another $13 million in venture capital. What started as a four-man operation now has dozens of employees, and they're preparing to expand worldwide. "For us, it's a core component of our strategy," explained Hiroki. The ultimate goal? Creating a worldwide debit payments platform.
"[Direct Debit] is hard to use, and fragmented across countries — the U.K. has a system, Europe has another system, the U.S. has a still different system. We think there's a huge opportunity for creating a unified network." To start building that network, GoCardless has plans to expand into 10 to 15 new countries over the course of the next two years, with hopes to launch in the U.S. within 12-18 months.
The eventual hope is to provide Direct Debit payments processing, globally, to every business, of any size. "We want to provide a platform that enables people to build that one [payments system], with one integration, and get access to Direct Debit around the world."
Creating a Direct Debit Path to Card Independence
So why Direct Debit at all? To start, processing a Direct Debit transaction is usually cheaper than a credit card transaction. Where a credit card processor may charge around 2.4% + a flat fee, GoCardless processes each transaction for just 1%, with a cap at £2 (about $2.60 U.S.).
Direct Debits also tend to be more reliable, especially for companies that need to take recurring payments, such as the subscription-based businesses currently flooding the market. Rejected or incomplete credit card payments cause a lot of issues for many, with the average business seeing churn (the number of failed payments) as high as 10% from card payments.
Taking advantage of Direct Debit payments, GoCardless is capable of reducing the number of recurring payments churn to around 0.5%, which is not only better for the bottom line, but for company reputation, as well.
Despite the benefits, Direct Debit payment processing used to be so difficult to access that many companies simply couldn't, and even those companies that could access the system usually found it too cumbersome to use. GoCardless grants access to those who didn't have it and simplifies the Direct Debit process for those larger companies that want more payments options.
"No business is too large or too small to benefit from using GoCardless because our product is flexible enough to accommodate all needs." Even the small-business-of-one can take advantage of Direct Debit through GoCardless, using already-made forms and links to ease integration into websites — without needing a dedicated developer.
For the larger businesses, GoCardless offers white label processing services, allowing companies to maintain their own branding throughout the payments experience. Extensive developer tools are available to allow customization, and the team takes pride in the usability of their code. "A huge factor in helping us win business has been our API," said Hiroki. "A big part of what we do is create really great APIs that a development team will want to work on."
On the numbers side, the GoCardless Dashboard keeps track of everything, including who you owe, who owes you, and how much you've already been paid. Comprehensive search functionality makes it easy to find just about any payment, searching by anything from date or amount to the payment description or metadata.
To ensure customers are getting the most of their GoCardless experience, the company has spent a lot of time developing a brand new customer Support Centre, launching it mid-September of 2016. The Centre was designed to make finding answers as simple as possible, with common topics, like payment timings, easily accessed from the main page. Of course, customers can still communicate with customer support directly through the contact form.
A Culture of Learning and Collaboration
Though they may no longer be the size of a startup, GoCardless has maintained many of the best core values that seem to characterize a fledgling technology company, including the fun, funky, wall-free office, and a company culture focused on learning and collaboration.
The GoCardless offices have all the architectural hallmarks of a startup, with the open floor plan and modern design that has quickly become associated with the technology industry. In addition to the snack-stocked kitchen and cozy couches, employees can occasionally be spotted taking advantage of the company pool table for a little distraction.
GoCardless puts a lot of emphasis on acquiring new skills and improving old ones, encouraging employees to constantly learn and improve. "Everyone's very inquisitive and curious," described Hiroki. "We're always driven by learning, and wanting to be better tomorrow than we are today."
The company's even created an in-house "university," where they bring in specialists from any number of areas to share their knowledge with the team. GoCardless also sponsors regular team meals and group outings, including trips to cool restaurants or awesome adventures like rock climbing, to help foster a collaborative learning environment.
Merchants Can GoCardless in 34 Countries (and Counting)
Recognizing the need to refocus your efforts can sometimes be quite difficult; few want to spend their time in a fruitless endeavor. However, great things can come from a shift in direction — like fresh basil on your pasta, or GoCardless in your business.


No longer a small startup, GoCardless has blossomed from a little four-man team with a big idea into a multi-national Direct Debit processor, all in less than five years — with little sign of slowing down. In fact, when Hiroki talked about the future of GoCardless, he said, "We're still at the beginning of our journey."
The numbers say he's probably right. In just the first half of 2016, the company has processed nearly $2 billion in Direct Debit payments, and with plans to expand into additional markets, we'll likely be watching GoCardless make waves for years to come.
Advertiser Disclosure
CardRates.com is a free online resource that offers valuable content and comparison services to users. To keep this resource 100% free, we receive compensation for referrals for many of the offers listed on the site. Along with key review factors, this compensation may impact how and where products appear across CardRates.com (including, for example, the order in which they appear). CardRates.com does not include the entire universe of available offers. Editorial opinions expressed on the site are strictly our own and are not provided, endorsed, or approved by advertisers.