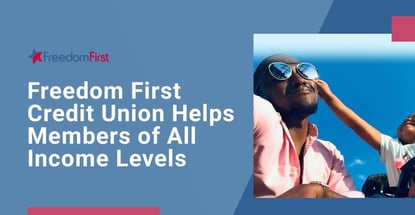 In a Nutshell: Freedom First Credit Union is a Community Development Financial Institution committed to the financial success of its members, from people of modest means to those with accumulated wealth. It provides customized services tailored to its members' specific needs, often in one-on-one sessions, in addition to no-cost financial counseling for the community. Its financial products are designed to meet the needs of low-income individuals while also incentivizing and attracting wealthier members. These products include checking accounts and credit cards with rewards, and a host of other loans and services that help improve the financial well-being of its members and the community.
Credit unions very often cite the motto "people helping people." As member-owned institutions, they're able to redirect funds into the institution, providing better rates and service to their members. On the other hand, banks are typically for-profit institutions that pay dividends to shareholders with no reinvestment in their customer base.
There is a particular category of banks and credit unions called Community Development Financial Institutions (CDFIs). Their primary goal is to help revitalize economies in distressed areas, and they do so by focusing on ways to help economically disadvantaged individuals.
"Our primary goal is to serve people on any level of the economic spectrum," said Steve Hildebrand, Senior Vice President of Marketing at Freedom First Credit Union. "We have a robust Community Development department that helps people build credit and reduce debt. But we are also the only locally headquartered financial institution with a full Private Banking team for higher wealth individuals, not to mention a growing commercial lending department. And our retail team fulfills the everyday banking needs of everyone in-between."
As of 2021, Freedom First manages $800 million in assets, up from $350 million only five years before in 2016. It operates 10 local branches, with another two scheduled to open in 2022. These new branches will make Freedom First the most accessible institution in its field of membership.
Accessibility is crucial for Freedom First's mission. By making itself available to the people most in need of its products and services, Freedom First can help them save money, build their credit, and help their community's economic health from the ground up.
Members Get Customized Service For Individual Needs
Freedom First prides itself on providing customer care tailored to different lifestyles. For example, low- to moderate-income individuals prefer to meet face to face and walk through their finances step by step, as do business owners looking to finance a new commercial development. A major motivator behind opening new branch locations is to make that option available to more people.
But Freedom First also extends these opportunities beyond its member base. In 2020, the credit union partnered with the City of Roanoke and the Cities for Financial Empowerment Fund with additional support from Carilion Clinic to open the Roanoke Financial Empowerment Center, which provides no-cost financial counseling services to anyone in need.
"[The Roanoke Financial Empowerment Center] is dedicated to bringing financial guidance to people of all walks of life," Hildebrand said. "With COVID happening, we mostly meet via Zoom or phone, but [our counselors will] actually travel to satellite partner locations such as public libraries to meet people in easily accessible places, too. We have three full-time financial counselors, and they're booking appointments with all sorts of people in our community."
And low-income members receive the same service and attention that higher-income individuals receive. The latter often receive special treatment from banks since their money furnishes more of the institution's revenue. That's not the case at Freedom First.
"We have a longstanding reputation in the community for helping people of all income levels," Hildebrand said. "Whether you're a big investor type or you're struggling to make ends meet, we're going to take care of your needs one on one."
It is understandably difficult to market to both high-net-worth individuals and low-income members. But Hildebrand emphasized that Freedom First is committed to serving all demographics and prioritizing its member's needs, regardless of their income.
Credit Products Offer Low Rates and Rewards
When it comes to credit cards, there are two big draws for consumers. The first is interest rates. Lower rates help people save money in the long term when they carry balances on their cards. 
The other is rewards, which provide incentives and perks for people who regularly use their cards for purchases. The more they buy, the more they can maximize those rewards.
Freedom First wanted to economize its card offerings for both types of consumers. But in both cases, credit cards are a prime way to draw in the higher-income members whose wealth can help support the credit union's mission.
The rewards credit card offers a signup bonus, and cardholders can redeem points for gift cards and other valuable rewards. The card offers greater rewards during seasonal promotions and on certain products — gas and groceries, for example, are worth three times the points during summer. Complementary to that, Freedom First also runs deals that lower the interest rate charged on particular purchases.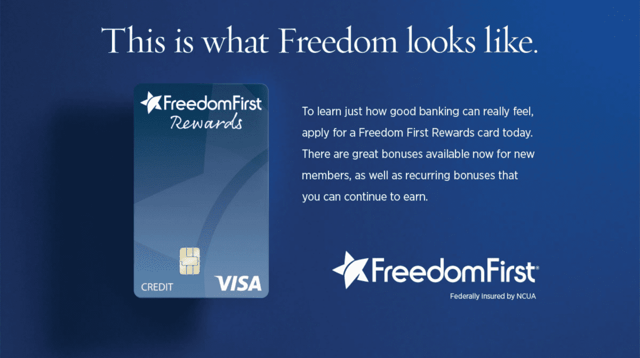 Finally, Freedom First also offers cash advances at a lower rate than the card's purchase APR (Annual Percentage Rate). The interest rate and the amount they can withdraw are both determined by the card they have. Additionally, the credit union offers a balance transfer with only a $5 fee rather than a percentage of the balance, as most providers have.
"We try to make it as easy and as consumer-friendly as possible," Hildebrand said.
And because credit union lending rates are federally capped at 18.00% APR, even the highest interest rate on Freedom First's cards is pretty competitive when compared to big bank cards that sometimes start at 20.00% APR or higher.
Checking Products Offer Cash Back and Dividends
In September 2018, Freedom First launched two checking products: Freedom Cash™ and Freedom Stash™. There is no minimum balance required for either product, although a $1,000 monthly minimum direct deposit is what unlocks the account perks.
Freedom Cash™ is designed for spenders, who get 2% cash back on qualifying debit card purchases. Freedom Stash™ is designed for savers, who get up to 5.00% Annual Percentage Yield (APY) on their average daily account balances.*

"[These accounts] help our low-income members as well as high-income members. If you're someone who uses their debit card for everyday shopping, you can earn 2% cash back on your groceries or household supplies," Hildebrand said. "But if you're building a nest egg, you could be earning up to 5.00% APY every month on your balance and watch it grow over time. And both accounts also offer up to four nationwide ATM fee refunds that you get at the end of the month with your cash back or dividends you'd just earned."
Higher-income members tend to gravitate toward the Freedom Stash™ account, which helps them realize greater returns on their deposits while maintaining accessibility to their funds. Even when people use the account regularly for spending, they tend to maintain a balance close to $10,000 to maximize their earnings.
Freedom First Benefits Communities Through Impact Products and Services
These are just a few of the ways Freedom First fosters financially healthy communities in its service area. Through its Impact Banking Products and Services, it casts a wider net by providing various services and benefits to the community.
One example is the no-cost financial counseling services provided to all community members through the Roanoke Financial Empowerment Center. Freedom First also provides community investment grants to local nonprofits, scholarships to local students, and sponsorships for regional events.
In addition, Freedom First offers a variety of specialized loan products beyond the typical auto, consumer, and home loans of most banks. The American Dreamer Loan helps immigrants who are on the long path to U.S. citizenship, while Flash Cash provides small-dollar loans that members can apply for from a mobile phone with no credit check. The Workforce Development Loan helps put licensure and certification in reach for people trying to build new, more lucrative careers in trades such as truck driving, healthcare, and welding.

Freedom First also offers the Responsible Rides® program, which furnishes affordable auto loans alongside education to help drivers keep their automobiles in good working order, circumventing the need for additional loans to make unexpected repairs. Finally, Freedom First has a dedicated Mortgage Loan Originator in the Community Development department who works with members of modest means for months or even years to reach the goal of owning their own home for the first time.
But all of that is work and no play. To sweeten the deal, Freedom First's Scoop ice cream truck makes appearances at community events, local schools, and partner nonprofits to hand out free ice cream — one more unique way the credit union enriches the communities it serves.
*Terms and conditions are valid as of the publish date of this article and are subject to change at any time without notice. For the most up-to-date terms and conditions, please visit www.freedomfirst.com/checking.
Advertiser Disclosure
CardRates.com is a free online resource that offers valuable content and comparison services to users. To keep this resource 100% free, we receive compensation for referrals for many of the offers listed on the site. Along with key review factors, this compensation may impact how and where products appear across CardRates.com (including, for example, the order in which they appear). CardRates.com does not include the entire universe of available offers. Editorial opinions expressed on the site are strictly our own and are not provided, endorsed, or approved by advertisers.