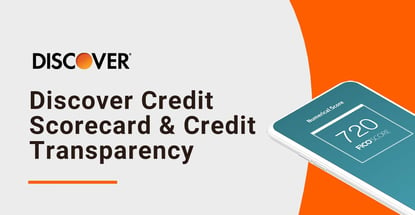 In a Nutshell: Establishing a credit history and maintaining a healthy credit score is extremely important for U.S. consumers. Financial institutions rely on credit scores to help determine a person's creditworthiness whether they're qualifying for a credit card or purchasing a home or automobile. Discover Credit Scorecard helps consumers stay on top of their credit scores and understand the factors that go into them. The free service is available to anyone whether they are a Discover cardholder or not. Discover Credit Scorecard works to ensure that security and privacy are one of its top priorities, implementing 128-bit data encryption and monitoring thousands of dark websites, and notifying users if their Social Security numbers appear on them.
Many years ago, I ran into some trouble with my credit score. I was fresh out of college and through a series of unfortunate events, my score had taken a dive. I wasn't even really aware of the problem until I was denied a line of credit I applied for.
Back then, one of the only ways to know your credit score was to request a copy of your credit report by mail. Consumers were entitled to one free credit report each year.

My problems were a result of a lack of financial literacy, certain circumstances outside of my control, and the fact that the credit industry was extremely opaque at the time.
Thankfully, I was able to identify the causes of my credit score dip and worked to bring it back up to where it should have been to begin with.
I would be highly unlikely to run into this same scenario today. Not only because I have progressed down the road of financial literacy but also because companies like Discover have helped break down the barriers to the mysterious world of credit.
With services like the Discover Credit Scorecard, consumers can always be aware of their credit score and even track the smallest changes.
We wanted to learn more about this valuable tool for consumers so we reached out to Discover and spoke with Gaurav Sharma, the company's Senior Vice President of Marketing. Sharma discussed the value of understanding one's credit score, how the Discover Credit Scorecard aids consumers in their financial wellness journey, and the importance of consumer feedback.
Making it Easier for Consumers to Access and Understand Credit Scores
"Credit scores play an important role in many of life's big moments, like buying a home, taking out a student loan, and renting an apartment," Sharma said. "Banks and landlords use your credit score to determine how reliable you are as a borrower and how likely you are to pay your bills in full each month."
Discover knows how important it is for consumers to have a clear understanding of their credit health, and the credit card issuer is passionate about helping people build financial futures, he explained.
"We have provided our cardmembers with FICO Scores for free since 2013," Sharma said. "Three years later, in 2016, we extended this benefit by launching Credit Scorecard, which offers everyone access to their FICO Credit Score — for free."
FICO Scores are the standard for credit scores and are used by 90% of top lenders, according to Discover.
"Our Credit Scorecard is an easy-to-use platform that provides a firsthand look at your FICO Credit Score, payment history, and credit mix," Sharma said. "Our Credit Scorecard offers access to credit scores free of charge to any individual — not just Discover cardmembers."
"In addition, Discover's Credit Scorecard includes enhanced security and privacy features, including alerts if your Social Security number is found on any of thousands of dark web sites, along with notifications if any new credit cards, loans or other accounts appear on your credit report," the Senior Vice President explained.
Credit Scorecard provides an updated score every month and checking your score never negatively impacts it, Sharma said.
Credit Score Awareness Can Lead to Healthier Finances
Sharma offered some valuable information on just how crucial it is for consumers to be aware of their credit scores and just how impactful good (and bad) scores can be.
"Awareness of credit scores seems to play a role in financial management for many individuals," he said. "We recently commissioned our annual Credit Health survey and found the majority of Gen Z, millennials, and Gen X believe checking their credit score helps them make better financial decisions (66%, 70% and 63%, respectively)."
These are significant numbers. If I had been asked the same question when I was the same age as Gen Z folks are today, I certainly don't think I would have recognized the importance of checking credit scores.
"Discover wants to bring awareness to healthy credit habits and encourage Americans to take an active role in monitoring and improving their credit," Sharma said.
Simply monitoring your score frequently can help you understand your score and take actionable steps to improve it, he said.
"Our Credit Scorecard is a free FICO resource that you can use, regardless of whether or not you are a Discover cardholder," Sharma explained. "In addition, Credit Scorecard provides resources and educational materials to help individuals stay on top of their credit."
The Credit Scorecard even alerts users of any unusual activity on their accounts so they can take appropriate action. The service also helps consumers more easily explore how they are utilizing their credit and understand how certain categories weigh more heavily on a consumer's score.
Listening to Customer Feedback and Looking for New Ways to Improve Financial Well-Being
Discover also makes a point to seek consumer feedback and incorporate it into future decisions to help improve its products, including the Discover Credit Scorecard.
Sharma said the company knows that awareness of credit health has increased over the last few years.
"In our 2017 annual Credit Health survey, 73% of consumers reported they were aware of their credit score. That number jumped by 9 percentage points, to 82%, in our 2020 annual credit health survey," he said.
Discover also collects customer feedback in a number of other ways, including its mobile app, website, and via phone calls with its U.S.-based agents, Sharma said.This feedback helps guide decisions about future products and services and helps Discover further refine its current offerings.
"We're always looking at ways we can help consumers achieve a brighter financial future," Sharma said. "Last week we launched a broader campaign that highlights how we're helping consumers achieve financial health through our products, tools, and services."
Sharma provided an example of how the campaign can positively impact consumers.
"Besides access to free FICO credit scores, we offer matching cash back rewards through our credit cards, fraud protection, online calculators to track savings, loans, and debt as well as college planning advice," he said.
Of course, the company's Credit Scorecard is delivered with all the security and privacy one would expect from a leading company like Discover.
Discover Credit Scorecard implements 128-bit encryption for data protection and never sells user information to third parties. The service will also notify users if their Social Security number is found on any of thousands of websites on the dark web.
Advertiser Disclosure
CardRates.com is a free online resource that offers valuable content and comparison services to users. To keep this resource 100% free, we receive compensation for referrals for many of the offers listed on the site. Along with key review factors, this compensation may impact how and where products appear across CardRates.com (including, for example, the order in which they appear). CardRates.com does not include the entire universe of available offers. Editorial opinions expressed on the site are strictly our own and are not provided, endorsed, or approved by advertisers.