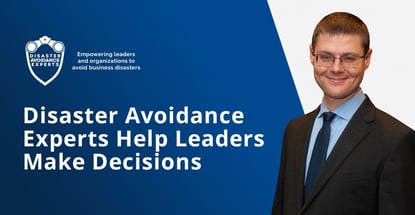 In a Nutshell: According to the team at Disaster Avoidance Experts, the most successful credit and business planning strategies rely on goal setting and systematic analysis. However, that type of decision-making doesn't come naturally to many people or businesses. That's why Disaster Avoidance Experts provides science-based training that empowers leaders to set emotions aside and focus on achieving the most optimal personal and business outcomes.
When people want to improve their decision-making skills, the key is understanding that millions of years of evolution may be working against them.
Overcoming the heat of the moment to make credit planning or business decisions requires insight — but also practice. Behind every choice, there's an internal debate going on between the emotional and the rational. Evolution gives emotional the advantage, but people are usually far better off when the rational wins.
That's because the demands of modern culture have outstripped our evolutionary heritage, and we no longer rely on the types of instant reactions that were essential to survival in prehistoric times.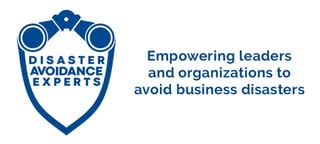 Disaster Avoidance Experts draws on academic training in behavioral economics and behavioral science to help people make better decisions in those moments. CEO Dr. Gleb Tsipursky, along with his wife and partner, COO Agnes Vishnevkin, use a research-based approach to help people and organizational leaders overcome their gut instincts and cut through the clutter.
"We look at what the science says works," Vishnevkin said. "Through consultation, coaching, and content, we help people make better business decisions, get more out of life, and meet their goals."
In today's connected world, sudden wild animal attacks that demand a fight, flight, or freeze response are, thankfully, quite rare. Much more common are inflection points that call on us to consider all the pertinent factors.
"Credit cards and finances, saving for the future — our guts are terrible for that," Vishnevkin said. "When we plan for the long term, when we work with people who are different from us, our guts just lead us astray."
An Eight-Step Approach to Making the Best Decisions
Disaster Avoidance Experts offers consulting services to help businesses mitigate threats, take advantage of opportunities, and resolve personnel problems. Coaching helps individuals and teams work better together and boost motivation, engagement, and productivity.
Web resources include books written by Tsipursky and a comprehensive collection of blog posts, case studies, testimonials, and social media content. It is all available to bring new insights to workplace conflicts and personal financial and credit challenges.
Neuroscience-based techniques are at the root of the Disaster Avoidance Experts strategy. Its proprietary methodologies structuralize fail-safe decision-making in several prototypical contexts.
Watch on
Tsipursky and Vishnevkin acknowledge that even everyday decision-making benefits from structure, and truly major or highly complex decisions require the most thorough technique. They also provide a methodology for addressing moderate decision-making that concerns people most of the time.
With those moderately challenging decisions, gut instinct is most likely to kick in and mess things up.
That methodology is distilled into an eight-step strategy called Making the Best Decisions. It first requires identifying a need to instigate a process before moving into information gathering and goal setting.
Then, the process moves to generating, weighing, implementing, and evaluating choices.
"Instead of going with your gut, take every drop of intellectual focus you have to detach yourself from your feelings, look at all your options, and just do the work. That's how you're going to create the business you want to have, the future you want to have, in any decision you make," Vishnevkin said.
Skills for Defeating Unconscious Cognitive Bias
Disaster Avoidance Experts' strategies even work for consequential decisions, including homebuying. Tsipursky and Vishnevkin said they effectively used their own approach to create a list of pros and cons for two homes they were considering a few years ago.
Vishnevkin said she initially fell in love with a home that had a beautiful shaded backyard, where she envisioned winding down on the porch at the end of the day. When her husband pointed out some of that home's deficiencies, they settled it by independently scoring 20 relevant homebuying factors.
"And then when we compared everything, and my beautiful backyard that I loved so much was just one of 20 things, the other house was so far ahead, and I was very upset," Vishnevkin said.
But the numbers didn't lie — even when they did the evaluation again.
"There was nothing we could do to make the house with the backyard compare to the second one," Vishnevkin said. "And so we bought the second house."
The lure of that backyard was putting Vishnevkin in danger of falling prey to her unconscious cognitive bias and invalidating the entire home-buying process.
That's why Disaster Avoidance Experts also provides a 12-step methodology to help leaders see through their own mental blindspots. Vishnevkin was careful enough to keep that in mind when she did her scoring. Consumers considering going into credit card debt to buy something they want, but don't need, can also benefit from the strategy.
"Every situation is different, but it's always important to plan for the future," Vishnevkin said. "Going with your gut? That's not made for planning for the future."
Resources to Help Leaders Pursue Success
Anyone responsible for other people can benefit from learning how to make better decisions. From executives responsible for earnings and employees to parents responsible for livelihoods and children, many people are in a position to miss the mark on critical decisions.
Disaster Avoidance Experts has crafted an eight-step process for making those types of high-level decisions in a way that inspires trust and leads to positive outcomes. It includes methods for optimizing long-term strategic planning and maximizing success by prioritizing reason over emotion.
Disaster Avoidance Experts also makes Tsipursky available for virtual and in-person speaking engagements in addition to consultation and coaching services. Among his published works is "Never Go With Your Gut," the first book to address cognitive bias in business leadership and career development. Tsipursky has written more than 550 articles and participated in more than 450 interviews.
No matter where people are in their personal or professional journeys, the best introduction to Disaster Avoidance Experts is its Wise Decision Maker Course, which includes eight weekly video-based modules.
Participants also receive a free digital copy of Tsipursky's "Assessment on Dangerous Judgment Errors in the Workplace."
"You get a blog, a video podcast, and there are exercises — a lot of content that goes over the things we talk about," Vishnevkin said. "When we go with our gut, we focus on the short term. But when we think, that's how we focus on the long term."
Advertiser Disclosure
CardRates.com is a free online resource that offers valuable content and comparison services to users. To keep this resource 100% free, we receive compensation for referrals for many of the offers listed on the site. Along with key review factors, this compensation may impact how and where products appear across CardRates.com (including, for example, the order in which they appear). CardRates.com does not include the entire universe of available offers. Editorial opinions expressed on the site are strictly our own and are not provided, endorsed, or approved by advertisers.