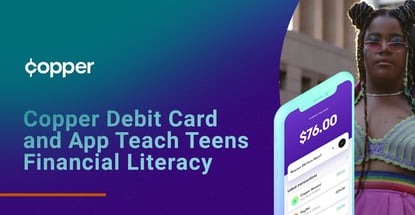 In a Nutshell: Copper provides digital banking services and products, including a debit card attached to an app, to help teens take control of their financial futures. The app offers interactive tools and resources, and Copper partners with parents to help kids master the fundamentals of digital banking. Copper also allows teens to manage their spending and balance their financial tradeoffs to build skills to manage their money as adults.
People of a certain age probably remember how to balance a checkbook. But today, with so many digital tools available for managing money, it's not a particularly important skill that people need to learn.
Yet, balancing a checkbook is the standard financial skill today's Gen Z teens are taught in high school. That's unfortunate because acquiring money management skills at a young age is vital for future financial success.
Most schools don't have the resources to effectively teach financial literacy. Community banks and credit unions that partner with schools often bring some instruction into the classroom. But when lessons focus on outdated skills, like balancing a checkbook, they may not offer much help.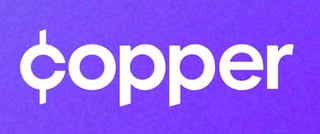 When business partners Stefan Berglund and Eddie Behringer introduced their digital fundraising business to schools a few years ago, they began witnessing this educational deficit firsthand. That's why they built the Copper digital banking ecosystem to bring modern financial tools to Gen Z teens.
"We noticed full-on classrooms in high schools that teach home economics, but we're doing very little to prepare this generation to be financially successful," Behringer said. "Copper is a teens-first digital bank that focuses on teaching kids what they need to know about money early on."
Since Copper launched in early 2021, more than 400,000 teens have signed up. Parents are always in control, but they don't drive usage.
"We build trust with parents, but the product is intended as a teen's first primary card," Behringer said. "By providing teens with early financial access in a safe space, we set them up better financially than if our primary user was the parent."
Helping Teens and Families Learn Banking Basics
One way Copper starts building trust is through a debit card as opposed to a secured credit product. While some of Copper's competitors seek to move teen users to unsecured credit cards as soon as they turn 18, Copper concentrates on helping teens gain financial competency, not accrue debt.
Copper doesn't charge overdraft or minimum balance fees and makes money available through fee-free cash withdrawals at more than 55,000 ATM locations nationwide.
"For us, the focus is on providing a product that helps kids understand tradeoffs and things beyond just a bank account," Behringer said.
Parents link their bank account to the Copper app to activate the debit card. Copper provides a personalized card to each teen user, and the app also enables peer-to-peer payments, direct deposits, and savings.
Watch on
Copper strives to help users build a financial work ethic early in life by inspiring teens to create spending and savings goals. Behringer said that aspect has never been more critical.
"Teens have the highest level of technology access we've ever had in history, and you would think that increased access would equal financial literacy and that we'd have better financial outcomes," Behringer said. "But over half our users don't understand the difference between a debit card and a credit card when they onboard, so I think the reverse has been true."
Teens also drive family financial decision-making more than ever before. As consumers, teens need a card they can use responsibly to manage their spending.
"We give teens the ability and the safe space to go for it," Behringer said. "We think it's important that they actually use the product themselves."
Designed to Teach a Variety of Financial Skills
The platform presents bite-sized financial lessons called cheat codes on a range of topics, including debt and budgeting. It also offers Copper Corner, a blog that features tips and tricks for handling a variety of financial challenges. But the key to Copper's educational value is engagement.
"That's another core differentiator for us," Behringer said. "We don't just host educational modules on their own."
More than half of Copper users engage with the app's interactive savings functionality, which is where teens learn to balance their desire for the things they want with the discipline of saving for the things they need.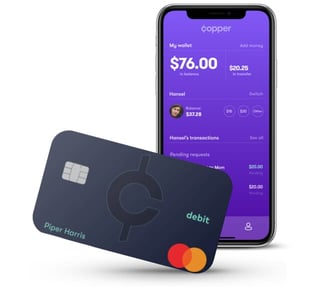 "When a teen onboards to Copper, we allow them to tell Copper what they want," Behringer said. "From there, they can put money into savings goals and really understand the tradeoffs with every purchase they make against what they aspire to achieve."
Parents can get in on the education through the app's allowance feature. The feature enables parents to schedule recurring deposits into their kids' accounts as if they were paying out a salary. Spending and tracking features are also helpful so parents know when teens are in a position that most adults are familiar with — not having enough money.
Learning by doing is often the best way for teachers to make a lesson stick. With Copper, experiential learning is front and center.
"From the teen perspective, they can simulate what it's like to have that paycheck land on a monthly basis and make those decisions on their own," Behringer said.
Copper: Evolving with Users To Produce Better Outcomes
When Behringer was in high school, his mother told him to grab his birth certificate, and they drove to the bank together to open an account. They spent about three hours getting his teen debit card up and running within his parent's account.
With Copper, parents still provide that essential financial anchor, but setup takes just a few minutes, the teen manages the card — and there's no checkbook to balance.
"We're very transparent with parents, but we build a product that resonates with teens," Behringer said.
Copper has been so effective that referrals are now a chief growth driver for the company. The app enables teens to send $3 of the platform's money to their friends and receive $3 back for each friend who joins. A network of student brand ambassadors promotes the product in schools.
"We also host financial education workshops around the country," Behringer said. "About 70% of our growth has been organic through word of mouth."
Teen users and their parents receive a secure and compliant card product that works through a partnership between Copper and Evolve Bank & Trust. Thanks to this partnership, parents can rest assured that the card has FDIC insurance and zero liability fraud and identity protection making it well-positioned to help for the long haul.
As Copper's under-18 users embark on life after high school, many of them will enter college. Copper has plans to accompany those users as they develop more sophisticated financial needs.
"Research indicates that your first bank account is something you keep for 14 years on average," Behringer said. "We firmly believe we can be that primary account over time."
Advertiser Disclosure
CardRates.com is a free online resource that offers valuable content and comparison services to users. To keep this resource 100% free, we receive compensation for referrals for many of the offers listed on the site. Along with key review factors, this compensation may impact how and where products appear across CardRates.com (including, for example, the order in which they appear). CardRates.com does not include the entire universe of available offers. Editorial opinions expressed on the site are strictly our own and are not provided, endorsed, or approved by advertisers.