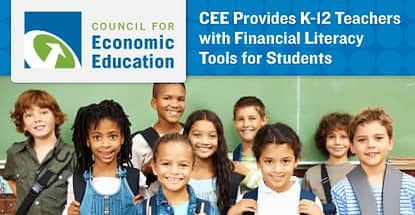 In a Nutshell: Only 43% of 12th-grade students tested at or above proficient on the 2017 National Assessment of Educational Progress (NAEP) economics assessment. That startling lack of financial literacy among young adults is one of the reasons the Council for Economic Education (CEE) exists. CEE was founded shortly after World War II and has spent nearly seven decades providing US K-12 teachers with professional development opportunities and classroom resources designed to help students learn more about finance. A five-year digital transformation has brought many of these resources to the Council's online portal, EconEdLink, with new lessons added regularly. The Council also hosts online webinars and offline workshops, as well as the annual National Economic Challenge that pits top high school teams against each other. //
The main complaint about today's education system is testing. Educators — of which I was one for five years — maintain job security only if their students' grades are high enough on national and state standardized assessments. That leaves teachers spending most of their 180 days each school year teaching to the test.
Most of these tests deal with the basic knowledge you'd expect — multiplication and division and reading comprehension that increase in difficulty as students get older. What they almost never touch on, though, are the real-world skills that students need to be successful after graduation.
So who is in charge of teaching these skills? That's a question the Council for Economic Education (CEE) set out to answer just after World War II and continues to respond to today with tools designed for K-12 teachers that create a strong financial education foundation for students.
"We provide professional development and resources for teachers," said Nan Morrison, President and CEO of CEE. "The resources range from lesson plans for the classroom, interactive activities, games, an assessment center, and videos."
Most of the resources are available through the CEE's online portal EconEdLink.
57% of High School Seniors are Not Proficient in Economics
Recent studies have found that only 43% of 12th-grade students tested at or above proficient on the 2017 National Assessment of Educational Progress (NAEP) economics assessment. These results highlight the need to start financial education early in a child's life — which the CEE aims to do.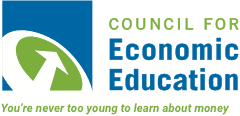 "In the early grades, we're teaching basic fundamentals about making good choices, what trade-offs are, and all of the things that form the building blocks for making good decisions," Nan said. "As students advance to high school, the topics get a little more hardcore."
When students move into the upper grades, the curriculum expands to meet the needs of modern young adults.
"We teach two separate tracks at the high school level," Nan said. "The first is real-life economics with charts and graphs, even ways to use Federal Reserve data. We also teach important elements of personal finance — saving, investing, making good choices about college and career."
CEE's mission starts by educating the educators with tools and professional development resources that make presenting the curriculum easier.
In 2017, new content included cybersecurity — in advance of the credit card and Equifax data breaches. Lessons also focused on Jim Crow laws and natural disasters.
"Those are not comfortable topics, but we know how important they are for kids to learn about and understand the financial underpinnings of," Nan said.
Teaching Personal Finance to 5 Million US Students
CEE offers offline professional development workshops for educators throughout the year with the help of more than 200 affiliates in all 50 states. Online webinars attract a separate audience to bring the estimated total to 55,000 educators accessing the CEE knowledgebase each year.
Those teachers reach an estimated 5 million students, totaling more than 10% of the population of US schools. Nearly 63% of these educators come from schools serving large numbers of low- and moderate-income students.
Tough topics like online security and spotting fake websites aren't presented solely to older students. Early elementary pupils are given access to programs like "Goldilocks and the Three Passwords" and the "Pacific Northwest Tree Octopus" that are intended to educate on the potential dangers of surfing the internet.
"The age that children are going online and seeing things that they need to be aware of is getting younger," Nan said. "The lessons we present are fun and engaging and start to give the students the language and vocabulary they need to understand these concepts and protect themselves as they grow up in a cyber world."
More than 1 Million Unique EconEdLink Users Each Year
In 2014, the CEE launched a digital transformation initiative aimed at reaching a larger audience through online lessons. The centerpiece of that transformation, EconEdLink, has rapidly grown in popularity among teachers and logged more than 1.2 million sessions in 2017.
The website takes most of CEE's educational resources and puts them at the fingertips of classroom teachers. Portal visitors gain access to online compound interest calculators, animated videos explaining tough topics, and other games and exercises that typically aren't available under tight school budgets.
One of the most popular series on the website is Math in the Real World. The application of math to the real world has doubled its total pageviews in each of the last two years and it continues to grow at a rapid pace.
Nan said the online tools are intended to help the new generation of teachers entering the classroom.
"The average age of teachers is going down and younger teachers are accustomed to looking for resources online," she said. "That helps EconEdLink derive traffic and be the go-to destination for professional development, resources, and tools."
The National Economics Challenge Goes Global in 2018
Each year, over 11,000 high school students across the US participate in the CEE's National Economics Challenge. The event recognizes exceptional students for their knowledge of economic principles and their ability to apply problem-solving and critical-thinking skills to real-world events.
The events start at the state level and progress to the national finals, held each year in New York. There, the top teams compete against each other until a champion is crowned. In 2018, the competition is adding a wrinkle that has the CEE excited.
"In the 2018 finals, there will be a couple rounds in each division where the top US teams will go up against eight teams from China," Nan said. "We're so thrilled to see this event growing every year."
The competition is hosted by CNBC's Sr. Economics Reporter Steve Liesman and is featured in segments on the network's "Power Lunch" along with PBS's "Nightly Business Report."
Providing a Solid Foundation for Youth Financial Education
For nearly 70 years, the Council for Economic Education has provided professional development opportunities and financially-driven classroom resources to US teachers.
The council's online webinars, in-person workshops, and the annual Educators Conference helps CEE's financial literacy lessons meet the needs of more than 5 million K-12 students each year.
While that number grows, Nan hopes the move toward digital resources will help even more students.
"We still have a couple of years left on our digital transformation plan," she said. "We continue to put the right resources in front of teachers."
But even more than individual lessons, the CEE's overarching goal is to continue the plan started when the council was formed shortly after World War II.
"We want to promote greater financial literacy among students and advocate for more, and better, financial education in schools," Nan said. "One of our key tools for that is our Survey of the States. We work closely with the National Association of State Treasurers, as well as a good number of state treasurers themselves, to help them forward the cause of financial education in their states."
So while standardized tests — and the unrealistic expectations they often hold — won't be going away anytime soon, it's nice to know that there is a group working to shift the focus toward real-world skills that will carry students well beyond graduation.
Advertiser Disclosure
CardRates.com is a free online resource that offers valuable content and comparison services to users. To keep this resource 100% free, we receive compensation for referrals for many of the offers listed on the site. Along with key review factors, this compensation may impact how and where products appear across CardRates.com (including, for example, the order in which they appear). CardRates.com does not include the entire universe of available offers. Editorial opinions expressed on the site are strictly our own and are not provided, endorsed, or approved by advertisers.