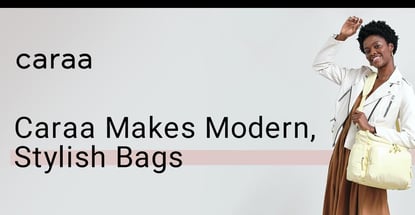 In a Nutshell: We enjoy covering the ins and outs of credit cards, and that's especially true when it comes to credit card rewards. That means that we're always dreaming of cool ways to cash in on those rewards, whether it's traveling abroad or trading them for cash to buy great products that make trips even better. The stylish and comfortable bags offered by Caraa make for the perfect travel accessory. Designed to combine utility and style, the company's bags hit the bullseye. Caraa also makes sure that its customers' needs are considered in every design, and it relies heavily on customer feedback. The company recently added a line of face masks and accessories to its ever-expanding product offerings.
As credit card experts, we here at CardRates, love to explore the ins and outs of all facets of the wide world of credit cards. And one of our favorite facets is a category that we believe most cardholders can appreciate — rewards.
Our regular readers may have also picked up on our passion for travel with the numerous articles we write on destinations around the world or those that highlight companies that make traveling easier. Simply put, we think traveling is a great way to cash in on those hard-earned credit card rewards and save money while creating memorable experiences.

So when we come across travel accessories that catch our eye — such as the luxury sports bags made by Caraa — we're always eager to learn more about the products and the people behind them.
We recently spoke with Caraa's CEO and Co-Founder Aaron Luo about the inspiration behind Caraa, its range of products, and the company's commitment to its customers.
"Caraa is a New York City-based sport bag and accessory company founded in 2015 by CFDA award-winning designer Carmen Chen Wu and Aaron Luo to reimagine handbags for modern life," according to the company website. "With backgrounds in design and global supply chain, Carmen and Aaron merged their respective expertise in form and function to create Car + aa."
Wu and Luo were both born in China and raised in Spain. When they moved to New York City, they both needed to learn how to adapt to the city's fast-paced environment. They also realized one thing that would make high-speed city life easier was a utilitarian but stylish bag.
"Nothing on the market existed that merged the two needs — so they joined forces to create the perfect bag," according to the company.
An Array of Versatile, Designer Bags for Any Occasion
The results of Wu and Luo's collaboration can be seen in Caraa's diverse offering of bags for nearly any occasion. And their inspiration — to marry utility and style — is evident in each design.
So whether you're cashing in credit card rewards and heading overseas or simply heading across town, Caraa's bags are ready for the journey.
"Movement is at the heart of our brand; whether it's our customer's daily commute from home to office, a weekend away, or even a longer haul, we want to be the go-to brand for their travel and organizational needs," Luo said.
For Caraa, travel is all about comfort, convenience, exploration, and adventure, and the company's bags are designed to complement these aspects, he explained.
"Over 80% of our customers are using our bags for travel in addition to their daily commute, finding that beautiful aesthetics can go hand in hand with practical and functional features," Luo said.
Caraa's flagship product is the Studio Bag, which Luo said was designed with the company's unique multistrap system that allows the bag to be worn as a backpack, crossbody, or satchel.
"Paired with thoughtfully designed compartments, with spots for laptops, shoes, toiletries, and more, it really is the ideal travel bag," Luo said.
The Cloud Collection was Caraa's second collection launched following the Studio Bag, and it is known for its light-as-air construction, smart compartments, and cloud-like look that is versatile enough for a daily commute or weekend getaway, the CEO explained.
"We also recently introduced our Athena Collection created using our proprietary performance cotton, which features convertible styles that are fully machine-washable," Luo said. "Whatever someone's style might be, we have a bag for them to enhance their travel experience and lifestyle."
A Practical and Consumer-Focused Ethos
Luo said that customer feedback is a critical part of Caraa's design and product development cycle.
"A great example of this is our Baby Bag," he said. "We worked closely with over 500 moms and dads worldwide over 14 months in order to truly understand a parent's needs and wants in a diaper bag."
The result is a convertible bestseller that has thermal insulators on the front pockets, a caddy that can be taken out for organization, a multi-strap system so it can be used as a backpack or tote, and hooks for a stroller.
The bag is also designed to have a unisex look so parents can use the bag interchangeably, Luo added.
"We believe that your bag is your ultimate companion, and that it should be thoughtfully designed to fit your needs, without sacrificing your style and designed to last," according to Caraa. "Whether you're in transit from the sidewalk to a workout, a meeting to a dinner date, or anywhere in between, each piece is thoughtfully designed to match your individual and unique aesthetic."
This carries over into the materials used to create the bags as well.
"Quality of materials is a pillar in how we design," Luo said. "Our Creative Director and her team consistently challenge existing and new designs within our assortment when it comes to material sustainability and quality."
From a performance and quality standpoint, the company rigorously stress tests all of its styles, making sure that they can withstand long-term usage from customers, he said. The goal is to put forward a bag that consumers can invest in, and versatile enough that they can use for all aspects of their lives.
"Our goods are constructed with luxury nylons and leathers, designed to withstand your routine, and turn heads while doing so," according to the company. "Discover our signature buffed Italian leather, custom oversized hardware, proprietary waterproof and antimicrobial linings, and more."
Caraa Now Offers Masks and Accessories
In recent months, companies around the world have been forced to adapt in countless ways thanks to the COVID-19 pandemic. Of course, some businesses became casualties of the pandemic while others pivoted to use either their resources or expertise to help out in some way.
And, as a modern company focused on fashion and function, it only makes sense that Caraa added a line of face masks and accessories to their 2020 offerings.
"This year has truly put our industry, and world, in uncharted waters," Luo said. "Something that will be a long-standing accessory for daily life and travel is the mask. Back in April, we pivoted a portion of our production to create masks for those in need; offering packs available for purchase that are matched on our end to donations to those in need and on the frontlines."
Since launching, Caraa has been able to perfect its face masks, he said, offering an array of styles and colors for the whole family.
"The Wall Street Journal dubbed our Universal Mask the most breathable option on the market, and we have been able to donate over 60,000 masks," Luo said. "As the world continues to evolve and adapt we're going to be there, helping as we can, in this case through design."
In addition to its Universal Masks, Caraa offers Universal Kids Masks, Tailored Masks, and Sport Masks. Each type of mask stays true to Caraa's underpinning philosophy of marrying design and functionality. The company also offers mask accessories, including filters, mask toggles, and mask pouches.
So, if you've been looking for ways to spend your credit card rewards, we're confident that trading them in for cash to purchase a Caraa bag or mask is a solid choice.
Advertiser Disclosure
CardRates.com is a free online resource that offers valuable content and comparison services to users. To keep this resource 100% free, we receive compensation for referrals for many of the offers listed on the site. Along with key review factors, this compensation may impact how and where products appear across CardRates.com (including, for example, the order in which they appear). CardRates.com does not include the entire universe of available offers. Editorial opinions expressed on the site are strictly our own and are not provided, endorsed, or approved by advertisers.