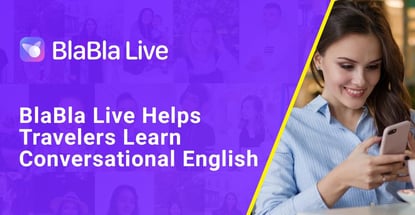 Our experts and industry insiders blog the latest news, studies and current events from inside the credit card industry. Our articles follow strict editorial guidelines.
In a Nutshell: English is the world's most commonly spoken language, and many people with different native languages use it to communicate. But English-language instruction typically emphasizes reading instead of speaking skills, putting nonnative English speakers at a disadvantage. BlaBla Live changes that dynamic through engaging live audio lessons led by certified instructors. The BlaBla Live mobile app teaches conversational English to enrich educational, professional, and travel experiences.
After World War II, the US emerged as the dominant Western power and a global economic leader. That led to more nonnative English speakers deciding to learn the language. They wanted to communicate with the West and participate in international exchanges, and English gave them a shared mode of communication.
Today, English is the most commonly spoken language in the world. As technology brings the global population closer together, the impetus to learn English as a second language has grown even stronger.
Unfortunately, many people learn English by focusing on the written word, not speaking the language. That type of learning emphasizes grammar and vocabulary. It offers a sense of how the language works, but people don't need all that information when they just want to communicate.

BlaBla Live is a platform that flips that dynamic by helping nonnative English speakers learn practical, conversational English. That can provide users with a quicker path to communication and give them an advantage in educational and professional settings and when they travel.
The BlaBla Live mobile app connects more than 100 certified English instructors with students in Turkey, Latin America, and Spain. Engaging live audio classes emphasize practical speaking skills, and roundtable chat rooms allow students to practice with each other as much as they want for free.
"English has become the language of the internet and the language of business," said Sophia Sudak, Marketing Manager for BlaBla Live and a former teacher on the platform. "Some would even say it's the language of the future."
Like an English Teacher in Your Pocket
BlaBla Live contains more than 12,000 free video lessons to reinforce concepts and patterns users learn in class. Realistic scenarios and dialogue help students have fun while gaining confidence and getting to know each other as English speakers.
The platform helps international travelers wherever they are in the world. It clarifies conversations in predominantly English-speaking countries, but because English is the world's lingua franca, or common language, it also aids travelers where English is a secondary language.
For example, when Asian travelers visit other countries, English can provide a common thread for communication among thousands of languages and dialects.
Signup is easy, and payment via credit card is seamless. Once users register on the platform, they choose from a variety of 30- to 60-minute live audio courses designed for individuals and groups. Prices vary depending on teaching style, but BlaBla Live always aims to keep costs affordable.
Classes are conversation-based and often include time for free talk. Formal topics address common scenarios, including asking for directions, accessing public transportation, and ordering food, among others.
The aim is always to draw students out and get them talking. If students ever feel unsure about joining a live speaking session, they can listen in as audience members as if they were auditing a college course.
Participating students receive written instructor feedback via the app. Students may gather independently in the app's Roundtable space to continue conversations before or after a lesson to socialize.
"The best way to learn is with a friend," Sudak said. "That's where you learn everyday English."
Results-Based Learning with Certified Instructors
BlaBla Live's instructional quality generates positive results and keeps students coming back. The platform's teachers go through a strict vetting process and must possess a bachelor's degree or higher and certification in teaching English as a second language.
The company also prioritizes native English speakers, with instructors from English-speaking nations including the UK, the US, South Africa, New Zealand, and Australia. They can live anywhere in the world given the remote nature of the work, and BlaBla Live mainly employs teachers who don't live in their native countries.
Sudak is a great example. She grew up in London and earned an education degree in the UK before moving to South Africa, where she enjoys a sunnier climate that matches her friendly disposition.

Sudak said that students she talks with often tell her the value of BlaBla Live lies in its emphasis on speaking. Students in many other parts of the world already learn English as part of their formal public education, but those lessons offer few opportunities to practice conversations.
BlaBla Live differentiates itself by putting those learners in a position to succeed at a high level as students, world travelers, and professional participants in the global economy. The company will be providing scholarships to Ukrainian students who wish to improve their English wherever they are in the world.
"There were lots of changes we had to make to adjust the platform for a global market," Sudak said. "After all, it's not only the Chinese who need and want to learn English."
BlaBla Live: Transforming Travel Through Immersion
Native English speakers who travel to foreign countries may prepare by memorizing a few phrases to ask for help or directions. But many know they can at least get by with the language they understand.
In some ways, a journey to one of those countries without knowing English may be even more limiting. Traveling to Japan without speaking Japanese or English, for example, could be a very isolating journey.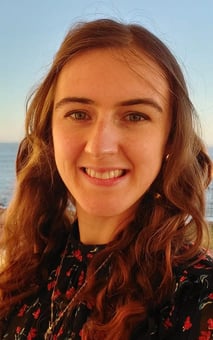 BlaBla Live can help make travel more immersive and transform language learning into an experience through engaging live audio classes. Some lessons focus on travel vocabulary, so it's easier to connect with home-country speakers in a manner that may elicit a friendlier and more helpful response.
BlaBla Live audio lessons help users overcome any hesitancy or insecurity while encouraging students to speak freely in class.
BlaBla Live Roundtables include students from all the platform's service areas, so those reticent can interact with students who are more outgoing by nature. That helps them gain the confidence to take risks and make progress in class. As a result, they're better prepared to use the English they learn.
"It's nice to see students come out of their shells and just start chatting," Sudak said. "That's the way you make friends."