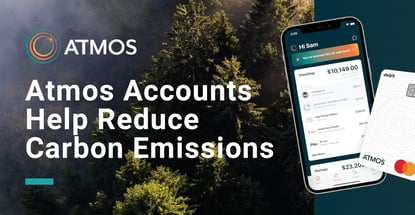 In a Nutshell: Banks have a responsibility to satisfy customers, and they often play a significant role in determining best practices. Atmos is a financial institution that sets an example for how institutions and account holders can work together to bring about change. The Atmos debit card offers cash back rewards whenever customers spend at eco-focused businesses. It also has a high-yield savings account that allows fast, free donations to approved nonprofit organizations that work for climate justice. Consumers can send a powerful sustainability message by trusting Atmos with their money and supporting eco-friendly businesses and organizations.
Many people think of carbon emissions through the lens of energy, transportation, and industrial processes. Those are some of the biggest culprits when measured by ecological footprint, but every industry plays a role in climate change — and finance is no exception.
Financial institutions contribute to climate change through direct emissions and by funding ecologically damaging enterprises.
"The world desperately needs ways to decarbonize," said Pete Hellwig, Co-Founder of Atmos. "My background in banking has given me a unique understanding of the financial markets and how banks operate, what they do with money, and what part they've played in climate change. And it's a big part."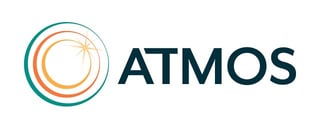 Atmos aims to tackle both sides of the problem. It sets an example for how banks can mitigate their ecological impact and support enterprises that prioritize sustainability and climate justice. It also pursues that mission with a debit card that rewards eco-friendly purchases, and savings accounts that enable fee-free donations to charitable organizations working to counter climate change and foster sustainability.
"Atmos has developed its own banking model that attacks this problem and gives people the opportunity to take charge and make a real climate impact with their dollars," Hellwig said. "What we offer that other institutions don't are pure values, alignment, and knowledge so customers can know they're having an impact in the world. The ongoing task for Atmos is continuing to measure that impact and deliver that to each customer."
Consumer Choices Guide Ecological Policies and Goals
In April 2021, Bloomberg reported that investing, lending, and underwriting activities indirectly produce carbon emissions 700 times greater than the direct emissions of financial institutions. If customers and members want to align their values with their financial practices, choosing a bank with responsible in-house policies is not enough.
They also have to analyze the industries and sectors that institutions finance.
"If you were to analyze what that bank invested in, or is lending money to as far as sectors, you would find with 99% accuracy, less than 1% of a loan portfolio is dedicated to anything deemed climate-focused or climate impact," Hellwig said. "So how do we, as a species, expect to meet the challenges that lie ahead if we're not investing in the infrastructure that's required to decarbonize the economy?"
Watch on
As with all societal and market-related concerns, change is ultimately driven by a single source: consumer demand. If customers signal they won't support a bank that doesn't prioritize ecological change, their bank will respond.
After all, it can't stay in business without them.
But if customers don't decisively send that message, the situation is unlikely to change. Institutions will set small goals that look good on paper and in advertising campaigns but have minimal impact.
"The big banks don't take action because there's no market signal telling them to take action right now," Hellwig said. "It's all just words and PR and marketing, and it stays there. They'll meet the goals they lay out, which are not rigid or difficult."
Atmos is moving the conversation beyond advertising rhetoric to action. It provides a refreshing alternative that allows consumers to demonstrate their desire for ecological responsibility in finance and actively contribute to positive change through eco-conscious financial products and practices.
Debit Card Rewards Eco-Friendly Spending
New customers can open an Atmos account in less than two minutes. They can keep their accounts with other institutions while they get a feel for Atmos and decide whether they want to move over more of their money and services. Atmos also rewards customers by not forcing them to trade amenities for ethics.
"With the feature set we have, we don't want our customers to sacrifice," Hellwig said. "Yes, you can have an unparalleled impact on climate with your bank. You can earn a lot more money than you can at any other bank. And the technology is better than at many other banks out there. What we're trying to do is offer a no-compromise solution."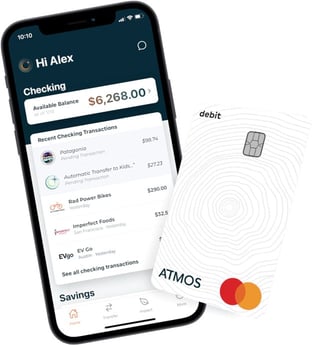 The Atmos debit card offers cash back on its customers' eco-friendly purchases. Its system recognizes where those purchases occur, and the account rewards customers for paying to charge their electric car, for example, but it won't reward someone fueling up at a gas station.
That approach helps support a sustainable economy in the short term and encourages consumers to switch to more eco-friendly alternatives. It also serves as a market signal that indicates customer preferences and will promote sustainability in the long term.
"We're trying to build the most inclusive cash back program that we can that recognizes sustainability on a binary basis. Is it better for the world?" Hellwig said. "If so, you get cash back."
No-Fee Donations to Sustainability-Focused Charities
As of the end of 2021, Atmos savings accounts offered a rate of 0.8%, which is above average for interest earned on deposits. Atmos helps customers earn more from their money and empowers them to support ecologically charitable organizations with some of those earnings.
Account holders can donate money directly from their savings account to nearly 60 environmentally focused nonprofit organizations. Atmos charges no fees to customers or their organization of choice.

"If you donate to any nonprofit, you know there's usually a cut of 3% to 5% taken off the top and given to the processor," Hellwig said. "We don't need to do that because we're the banking entity and the processor. So all of these donations are processed, fee-free, for our customers and the benefit of nonprofits."
Atmos enables customers to make those donations in several ways. They can opt to give a portion of their interest yield, donate a fixed amount each month, or create a one-time contribution of any size at any time.
Customers can also choose to round up to specific nonprofits on the Atmos platform on purchases with their debit cards and through their high-yield savings accounts. Users can turn this on or off when they want, change nonprofits at will from their native mobile apps or web apps. Atmos is currently matching all round-up donations for the benefit of the nonprofits their customers select through Earth Day 2022.
All the money benefits organizations with experience in sustainability and conservation. Donations help support education, advocacy, research, and other environmentally friendly efforts.
"We're trying to support these organizations through recurring donations on the platform," Hellwig said.
Atmos: Building a Climate-Positive Banking Platform
According to Hellwig, Atmos aims to build the most climate-positive banking platform on the planet. And after less than a year, he said he feels the institution is well on its way.
"That's a pretty big accomplishment for Atmos and says a lot about all the hard work that the team has put into it," Hellwig said.
The team has built a financial platform for customers who are just as motivated as the developers to contribute to widespread, climate-focused change in finance and the economy at large. The most meaningful and effective way to pursue that goal is to leverage money for action.
Atmos empowers its account holders to do that, whether they buy sustainably sourced products or contribute to work and research that protects the environment. Its customers can use their money to indicate their concerns and desires, and those dollars speak just as loudly — if not louder — than words.
"As far as climate solutions, people think of flying or driving less or making big behavioral changes," Hellwig said. "Those are great, but can be really hard too. In less than a minute to open an account with Atmos, you can contribute to systemic change and take real, measurable climate action. With higher yields and cash-back bonuses, it's great for our customers and a much-needed win for Earth."
Advertiser Disclosure
CardRates.com is a free online resource that offers valuable content and comparison services to users. To keep this resource 100% free, we receive compensation for referrals for many of the offers listed on the site. Along with key review factors, this compensation may impact how and where products appear across CardRates.com (including, for example, the order in which they appear). CardRates.com does not include the entire universe of available offers. Editorial opinions expressed on the site are strictly our own and are not provided, endorsed, or approved by advertisers.