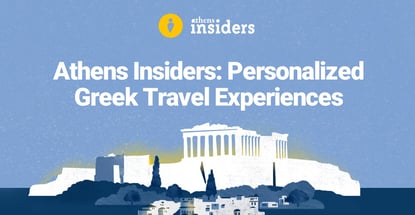 In a Nutshell: We love traveling here at CardRates, and we also love cashing in our hard-earned credit card rewards for great deals and experiences. Athens Insiders offers the option to do just that with the company's customizable, unique, and authentic Greece travel packages. The company is motivated by the understanding that the very best travel experiences are often the ones that are the most authentic. So, Athens Insiders' tour guides are the real deal, providing travelers with stories about their personal experiences living in Greece, and possessing detailed knowledge about the locations they visit. Athens Insiders can design trips for any type of traveler, from young honeymooners, families with children, or retirees looking for a unique adventure.
Every time I've had the opportunity to travel abroad, the adventures were enriching, educational, and just plain fun. There's nothing quite like the experience of observing and participating firsthand in a culture that's not your own.
While my travels have taken me to several countries in the Mediterranean region, Greece remains unchecked on my list. When the opportunity arises to finally visit the country that helped modern civilization grow in leaps and bounds, hopefully, I'll coordinate it through Athens Insiders.

Athens Insiders is a dynamic travel agency designed with today's travelers in mind. While it's based in Athens, the company leads diverse excursions, from preselected packages to customized itineraries, all over Greece.
At CardRates, we're always looking for exciting ways to cash in our hard-earned credit card rewards, and traveling is one of our favorites. We were intrigued by Athens Insiders' unique take on visiting Greece, so we reached out to Sales Manager Alexandros Frydas to learn more.
Frydas said the company was founded in 2012 when four friends realized their most enriching travel experiences were when they were able to gain an insider's view of the country or city they were visiting. So, as native Athenians, they launched Athens Insiders with the goal to give visitors an up-close and personal view of their city.
Our conversation was illuminating, to say the least, and had us checking up on our credit card point status by the end of our phone call.
Offering an Array of Tailor-Made and Themed Tours throughout Greece
"We started by offering tours in Athens, but as the years went by, we started offering tours everywhere around Greece," Frydas said. "And for the past three years, we've been offering complete packages to Greece for independent travelers."
This means the company can arrange every aspect of a vacation to Greece, from booking airline tickets in the U.S. through arriving back in the states, he said.
"Our philosophy is to provide private, exclusive and personalized experiential activities that engage travelers in a unique and entertaining way," according to the Athens Insiders website. "We are committed to sharing our 'insider' knowledge and give our visitors the opportunity to look below the surface and see Greece through our eyes, as we know and love it."
Travelers can choose from a huge selection of packaged tours — each with its own unique twist and authenticity — or work with the company to create the perfect Greek experience, tailor-made just to their tastes.
"We value all visitors as special and unique; by collecting information on your tastes and interests, we design individual programs that match your profile and schedule, so that we can offer you the highest level of customer service," according to the company.
Tours range from day trips around Athens to round-trip excursions to Delphi, Mt. Olympia, and beyond. Athens Insiders can offer trips geared toward the biggest history buffs with history-focused tours or the most adamant foodies with its Culinary Odyssey tour. (It's worth noting that dining experiences are another great way to cash in on credit card rewards.)
Fryda said the company also offers trips curated with families with young children in mind.
"It's difficult traveling the globe with young kids because young kids have their own needs," he said. "They need to stop for the bathroom or they're hungry. We keep all this in mind."
Engaging Travelers in Unique Ways with Insider Knowledge and Authentic, Unforgettable Experiences
"Our goal is to offer unique travel experiences that exceed your expectations," according to the company. "We want to give you the opportunity to discover what lies beneath the surface of our city through our distinctive Insider's look. Join our innovative tours and workshops and get back home with special memories which will last forever."
Fryda said one way the company imparts unique, authentic experiences are through its guides, who regale tourists with stories about their own personal experiences as natives to Greece. And, of course, they have extensive knowledge about the historical sites, restaurants, and other uniquely Greek places they visit.
"Our tailor-made, personalized services are the perfect option for families and small groups visiting Greece," according to the Athens Insiders website. "Our friendly and experienced guides are eager to satisfy your needs and wishes, offering you a unique, fulfilling travel experience."
For those travelers looking for a customized itinerary, the company collects information on travelers' tastes and interests and design individual programs that match their profiles and schedules.
Fryda said the majority of customers want to experience a combination of history, culture, and relaxation. These trips often take them through at least one night in Athens, to experience its long and rich history, and several nights on one of the Greek islands, such as Santorini, to enjoy the scenic views and relaxing beaches.
And travelers can be assured that Athens Insiders prioritizes customer service and has a reputation for quality.
"Insiders Travel Experiences are officially recognized and licensed by the Greek National Tourist Organization," according to the company. "All our services are carefully designed to offer you a unique experience of exceptional value. Our team consists of licensed guides and professional experts, all dedicated to offer you the best possible service."
Traveling During the COVID-19 Pandemic
As the world grapples with the COVID-19 pandemic, travel, in general, is down across the globe. Fryda said this is to be expected, and the company is looking forward to booking more trips in 2021. Additionally, he said the majority of Athens Insiders' customers come from the U.S. and, historically, the company sees fewer bookings from U.S. residents in an election year.
But the company is still moving forward with the safety of its customers and guides in mind.
"Safety is paramount and is placed above all other considerations," according to the company. "We follow all the expected guidelines and regulations regarding the safety of our guests. We are always on the alert for external factors that may challenge our safety standards and our staff is well-prepared for any situation that might occur during our tours."

Athens Insiders announced on its website some of the measures it has taken in the face of the pandemic, including full compliance with all measures announced by the Greek government and the World Health Organization.
Additionally, it is currently offering private tours and transfers only. The company is also coordinating its tours to avoid large crowds at all times.
Outdoor seating is implemented at restaurants, and disposable masks and sanitizer is offered to all guests.
"Hosts, guides, and drivers are trained to be aware of operations and hygiene safety," according to Athens Insiders. "All employees will be going through regular medical examinations."
While 2020 has presented travelers with distinct challenges, Athens Insiders is doing its best to help people fulfill their wanderlust in the safest way possible.
So, if your credit card rewards are burning a hole in your wallet, and you're on the lookout for a unique, authentic travel experience, Athens Insiders is certainly worth considering.
Advertiser Disclosure
CardRates.com is a free online resource that offers valuable content and comparison services to users. To keep this resource 100% free, we receive compensation for referrals for many of the offers listed on the site. Along with key review factors, this compensation may impact how and where products appear across CardRates.com (including, for example, the order in which they appear). CardRates.com does not include the entire universe of available offers. Editorial opinions expressed on the site are strictly our own and are not provided, endorsed, or approved by advertisers.