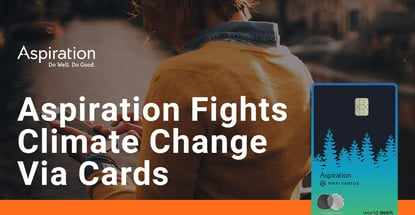 In a Nutshell: Customers open checking or savings accounts, apply for credit cards, and take out loans with their financial institutions of choice every day. But they may not stop to consider how the institutions are using their funds. In fact, some big banks help support the fossil fuel industry and other industries that work against climate change. Aspiration offers banking services and credit and debit cards that are guaranteed to fight climate change. Customers can actually offset their carbon footprints simply by making purchases with their Aspiration cards. The company's new credit card plants a tree for every transaction and allows the customer to round up to plant a tree as well. Aspiration customers can also earn cashback rewards, so they can do good for the planet and their wallets at the same time.
Most people in the U.S. choose to do business with a financial institution, whether it's as a bank customer or a credit union member.
Maintaining a bank account and tapping into the credit card products and other services these institutions offer is, for many, a necessary part of personal finance. But most folks may not consider other aspects of their financial institutions, like what other companies or political agendas they may support.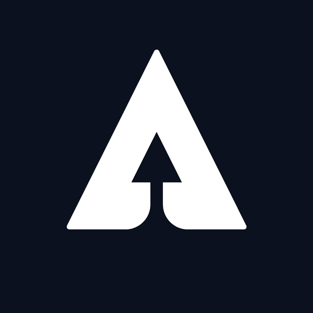 Some consumers may not care either way. But the more socially conscious among us may take pause when we hear that our bank of choice spends big bucks supporting the fossil fuel industry or contributing funds to politicians whose interests don't align with our own.
For these folks, Aspiration offers a fresh take on financial institutions. Aspiration doesn't put money into big oil or shady political campaigns. And it goes a step further and facilitates ways in which its customers — through their bank accounts and credit and debit card purchases — can help make positive impacts in the fight against climate change. All the while, earning their own cash back rewards.
We recently spoke with Andrei Cherny, CEO of Aspiration, to learn more about the financial institution's novel and progressive approach to banking and how customers are helping to fight climate change and create a sustainable future.
"We didn't set out to build a bank. We set out to build a better world," according to Aspiration. "That could mean more money in your pocket — and more power to do good in your hands. Welcome to Aspiration — a new kind of financial partner that puts our customers and their conscience first."
A Bank Designed to Build a Better World
Cherny is no stranger to issues surrounding climate change or finance.
"I've worked on a lot of issues around sustainability and in financial opportunity going back for a long time," Cherny explained. "I worked for Vice President Al Gore and in the White House back in the 1990s at a time when he was really leading the way on the battle to get people to pay attention to what they were calling back then global warming."
He has also worked as a financial fraud prosecutor and has had a consulting role for several large banks.
"I really saw that there was a need for a different kind of financial institution, one that put people and the planet first," Cherny said. "And the current options that people had around financial products were counter to that."
He said banks were often taking consumer deposits and lending them out to oil, gas, and drilling companies.
"We wanted to create a different set of financial products — ones that help our customers bring sustainability action into their daily lives," Cherny said.
Aspiration not only helps its customers make positive changes on the planet but it also prioritizes the needs of those same customers.
"Big Banks and Wall Street work their hardest for the wealthiest few. At Aspiration, we work to bring the best financial solutions to everyone," according to the organization.
Aspiration also donates 10% of every dollar its customers pay the company to charities helping struggling Americans build a better life. This strategy makes the institution the financial industry leader in giving back, according to the Aspiration website.
Plant a Tree With Every Purchase
"Aspiration offers socially-conscious and sustainable cash management services and investment products, so you can make money while making the world a better place," according to the company. "And, unlike the Big Banks, we don't use your deposits to fund oil pipelines or turn your fees into campaign contributions to the politicians that work against you."
Aspiration's Spend and Save account is the primary way the company is able to help customers make a difference.
"Turn every transaction into positive action," according to the company. "Plant a climate change-fighting tree with every purchase by rounding up to the nearest whole dollar. And know that your deposits won't fund fossil fuel projects like pipelines, oil drilling and coal mines when you open an Aspiration Spend & Save account"
Given its socially conscious mission and approach to banking, Aspiration wanted to make sure it offered something special when it decided to enter the credit card space.
"It couldn't be just another credit card, but something in keeping with why customers come to Aspiration in the first place," he said. "That's why we created Aspiration Zero. Aspiration Zero is really built around being a tool for people to eliminate their carbon footprint."
He said it's the first product of any kind that, simply by using it on a daily basis, can completely eliminate a person's carbon footprint, based on the impact of the average American.
"Every time you make a purchase on your Aspiration Zero card, Aspiration plants a tree, and then we let you round up that purchase to the nearest dollar so, with your spare change, you can plant a tree as well," Cherny explained.
He said that if someone is making 30 purchases a month and rounding up, that's about 60 trees planted.
Customers Earn Financial Rewards While Fighting Climate Change
Aspiration's mission to support sustainability and a healthy planet is a noble mission, but the company didn't forget that customers also want other rewards.
"We wanted to make sure that we're giving people financial incentives," Cherny said. "The experience is really based around how do you get to those 60 trees and how do you get to zero on a monthly basis?" Every month we do get to zero, you earn 1% cash back rewards. There are so many cards out there that let you rack up miles, and this is the only card that allows you to take miles off the planet."
So customers are able to reap financial rewards and the reward of knowing they are helping to eliminate their negative impact on the planet.
"We want our customers getting a lot of cash back because it means they're making a really positive impact," Cherny said.
Watch on
And, again, customers can rest assured that Aspiration is sticking to its environmentally friendly mission.
"Aspiration is 100% committed to Clean Money," according to the company. "The four biggest banks in America lend more than $240 billion of their customers' money to fossil fuel projects, every year. That's a lot of Dirty Money. Every $1,000 you transfer to Aspiration has the planet-saving climate impact of 6,000 fewer miles driven by the average car."
The company also facilitates clean investment opportunities for customers, requiring only a $10 minimum investment.
"Aspiration makes investing easy with professionally managed funds that are 100% fossil fuel free or with fewer ups and downs," according to the company website.
Similarly, Aspiration's IRAs allow customers to save for their future, save on taxes, and save the planet, all at the same time.
If you're someone who feels a bit uneasy knowing that your financial institution may be supporting industries and politicians working against sustainability and social positions that are important to you, Aspiration may be just the financial institution for you.
Advertiser Disclosure
CardRates.com is a free online resource that offers valuable content and comparison services to users. To keep this resource 100% free, we receive compensation for referrals for many of the offers listed on the site. Along with key review factors, this compensation may impact how and where products appear across CardRates.com (including, for example, the order in which they appear). CardRates.com does not include the entire universe of available offers. Editorial opinions expressed on the site are strictly our own and are not provided, endorsed, or approved by advertisers.