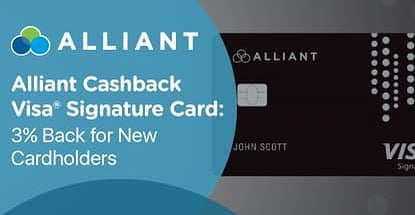 In a Nutshell: Tailored to serve members who charge more than $50,000 each year to credit, the Alliant Credit Union Cashback Visa® Signature credit card stands out in its class for providing a superior 2.5% flat-rate cash back on up to $10,000 spent each billing cycle. With an APR starting at 11.24%, the card doesn't have the inflated interest rates common among many other cash back cards. This combination of generous cash back and low interest rates is why the Alliant Credit Union Cashback Visa® Signature credit card has earned our Editor's Choice™ Award for 2017's Best Credit Union Cash Back Card. //
Credit cards that offer cash back rewards have grown in number over the last decade as consumers move closer toward a cashless society and seek benefits for their loyalty to a particular card issuer.
My cash back card has held its spot atop my wallet for several years. I use it to pay nearly all of my expenses — monthly bills, gas, groceries, and nights out on the town. As soon as the charges post, I pay them off and let the cash rewards accrue in my account. At the end of each month, I withdraw them into a high-interest savings account and let them grow even more. This year was the fifth straight I managed to take a sizeable vacation paid for solely with my cash back. My wife uses her cash back card in a similar manner, paying for a majority of our Christmas shopping each December.
Everyone has a different approach to their cash rewards, and that's the beauty of cash back. It's a stream of passive income that rewards you for spending money, which you're already doing.
Based in Chicago, Alliant Credit Union has more than 350,000 members nationwide and is expected to exceed $10 billion in assets by the close of 2017. Until February, the company hadn't offered a cash back rewards credit card. After some market research, Alliant found it had many members who spent in excess of $50,000 per year on their existing cards and wanted a better perk for their patronage. Alliant's response was going above and beyond with its Cashback Visa® Signature credit card.

"At Alliant, many of our members are high earners and high spenders with high FICO scores," said Michelle Goeppner, Alliant's Senior Manager of Credit Product Strategy. "We noticed that we didn't have as much penetration with our cards. In doing some research, we found out why. We didn't have a card specifically tailored to these folks."
With access to 2.5% cash back on all purchases, this card laps the competition and is among the best in its class. With an APR starting at 11.24% and a first year of waived annual fees, this card has deservingly won our Editor's Choice™ Award for 2017's Best Credit Union Cash Back Card.
Alliant Listened to Member Feedback and Delivered
Michelle told us Alliant used research from current and prospective members and designed the cards with the features they said were most important to them. With many options on the table for the company's first cash back offering, she said members favored simplicity instead of bells and whistles.
"We asked them things like, 'What does it take to be 'top of wallet?' and "What do you like in a credit card?" she said. "We heard loud and clear that this group valued cash back. Not only did they value cash back, but they said 'Give it to me straight. Make it easy for me to use. Don't make me think about categories and tiers. I just want to earn straight cash back.'"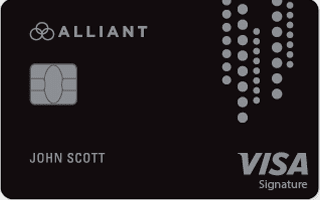 The cash accrued through purchases can be redeemed via a statement credit, or a direct cash deposit into an Alliant checking or savings account. With the credit union already offering a 1.11% interest return on deposits — an unheard of amount for brick-and-mortar institutions — your cash back savings can grow into whatever goal or purchases you have in mind.
For early adopters of mobile payment technology, the card also aligns with the requirements for Apple, Samsung, and Android Pay services, meaning you can buy your morning coffee with your phone or watch instead of whipping out your wallet in line.
The convenience, according to Michelle, is part of what's driving members to the card.
"Our members are loving the cash back that they're earning. The feedback has been good. Our members have been very excited about the product," she said.
Earn 2.5% Cash Back on Up to $10,000 Spent Each Billing Cycle
Many card issuers use favorable rates and offers to entice new customers, only to have those advantages reversed after an introductory period.
The Cashback Visa® Signature has an extended one-year introductory rewards period and doesn't pull the rug out from under you once the trial ends. While many of the top cash back cards may offer escalated rewards percentages in rotating categories, no card in its class offers the amount of consistent cash back in all categories that Alliant's card does.
A $59 annual fee, modest for many of the cards in its class, is waived for the first year. Since this card is tailored for consumers who spend $50,000 or more per year on the card, that fee constitutes less than two weeks worth of the cash back earnings you'd receive. If you hit that average in your first year, the rewards would exceed $1,500 — not a bad haul for doing nothing more than making regular purchases.
In general, cash back rewards cards tend to charge higher interest rates to balance the money given back to cardholders. If you carry a balance on your cash back card, any windfall you get from the rewards is quickly eaten up in interest, which essentially defeats the purpose of the card. But for responsible cardholders, cash back cards are a no-brainer, and Alliant's Visa Signature is a great example of one.
Added Security, ID Theft Protection, and Double Warranty Coverage
On top of the already stellar rewards and interest rates, Alliant's offering boasts the added layer of service and protection with Visa® Signature. The program comes standard with the card and features services that Michelle said members wanted most.
"As an issuer, through Signature you can choose a multitude of additional benefits for the card you're offering," she said. "Rather than us deciding what those benefits to the card would be, we asked our members what they wanted."
The Signature program also adds identity theft protection and double warranty protection — meaning that for any large item you purchase on the card, Warranty Manager Service will extend the life of your existing US manufacturer's warranty of three years or less. For warranties of less than one year, the term is doubled; for warranties of one year up to three years, the warranty is extended an extra year.
Approaching $10 Billion in Assets, Alliant Keeps Growing
Already among the top 10 credit unions by assets, Alliant is primed to surpass $10 billion by the end of the year. With a member base that's growing monthly, the dividends of increased revenue are put back into its membership base, with perks like the Signature credit card and industry-leading savings deposit interest rates.
Membership is open to Chicagoland residents and any current or retired employees of select employers, as well as blood or law relatives of current members. Members of certain organizations or citizens of qualified communities are also eligible.
If you don't fall within those parameters, membership is still an option. Through a partnership with Foster Care to Success, membership is extended to anyone who makes a donation to the worthy cause.
"It's really in alignment with Alliant's values and service mission, which is to provide members with the opportunity to take control of their economic future," Michelle said. "We believe in promoting financial well-being, so that's how we aligned with FCS. FCS is a large provider of college funding, and it provides support for foster students across the US. We're a national credit union, so it was a good fit for us."
Alliant has already made its Visa® Signature credit card a good fit for your daily needs. Anyone looking to earn cash back for purchases they're already making will find this card a must-have for the top of their wallets. Michelle says Alliant's purpose behind the card wasn't just to outpace the competitors, but to give the company's members what they want in a card they will be proud to use.
"We're very dedicated to our members," she said. "When we're looking to implement new products or services or features, we always take that feedback, and take it seriously and take it to heart. That definitely rang true with the launch of this new credit card."
Advertiser Disclosure
CardRates.com is a free online resource that offers valuable content and comparison services to users. To keep this resource 100% free, we receive compensation for referrals for many of the offers listed on the site. Along with key review factors, this compensation may impact how and where products appear across CardRates.com (including, for example, the order in which they appear). CardRates.com does not include the entire universe of available offers. Editorial opinions expressed on the site are strictly our own and are not provided, endorsed, or approved by advertisers.