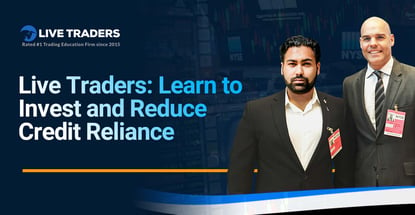 In a Nutshell: Financial planning is important — there's no way around it. Unfortunately, many U.S. residents are ill-prepared when it comes to their financial future. In fact, about 40% of Americans can't cover an unexpected $400 expense without going into debt using a credit card or a loan. Live Traders offers people a path to financial security through its proprietary trading methods. The company lets customers virtually sit in and watch the Live Traders team conduct trades in real time. The insights from this type of training can be invaluable. Live Traders also offers a wealth of educational information via its website, from comprehensive courses to books and articles.
Planning for the future inevitably involves thinking about finances. Ideally, one should have money in savings, a retirement account, and even an investment fund.
Unfortunately for many U.S. residents, that's not the case. About 40% of Americans would not be able to afford an unexpected $400 expense without going into debt, whether through using a credit card or a short-term loan.

And yes, we think credit cards can be great tools, but they should not be used as a financial safety net. One way to avoid having to rely on credit cards is to build up a healthy nest egg of your own by trading on the stock market.
Investing in securities is a great way to grow your money. The average annual return on stock market investments is around 10%. For comparison, most savings accounts offer a return of around 0.05%. That's quite a difference.
But if you think trading on the stock market is reserved for savvy financial experts, that's no longer the case. Today, there are plenty of opportunities for individuals to invest, and Live Traders offers a bevy of educational resources to teach people how.
We recently spoke with Live Traders Founder Anmol Singh to learn more about the company, its educational mission, and what sets it apart from other trading resources.
So, put those credit cards away as we learn what Singh had to tell us.
Establishing a Company Focused on Teaching People How to Trade
Singh explained that as he was nearing graduation from college in London he realized he wasn't making much headway entering the world of investment banks and other large financial firms the way he had imagined.
"It kind of dawned on me that this might not be something that's handed over to me — I might have to build something on my own," he said. "I started researching markets, trading, and reading blogs, purchasing books, taking courses, all that stuff a university student would do at the time."
Singh would go on to meet Jared Wesley and Jeff Yates, who both helped mentor him about the world of trading, he said. Wesley would eventually become Singh's business partner and the President of Live Traders.
"They both kind of taught me while I was in college, then they brought me on board in a trading firm, which was in New York, as an intern," Singh said.
Singh said he found himself immersed in the trading world. At first, he was researching and writing articles as well as taking more courses. Eventually, he was trading with the firm's capital.
"That's kind of how I got my start in the trading world, as a proprietary trader sharing profits with the firm where I was trading their capital," Singh said.
Singh's success led to him coaching other, newer traders as well.
The firm was eventually bought out by another firm, at which point, Singh said he contacted Wesley and asked if he would be interested in launching their own company, which would become Live Traders.
"That's how we started back in 2015, and we've been doing that since then — training and coaching traders," Singh said.
Users Can Watch and Learn from Professional Traders in Real Time
Live Traders is not a firm itself, rather Singh and his colleagues offer valuable resources to help other traders learn the ropes. But the company is more than just a repository of information.
"There are a lot of competitors in the space, and I think what differentiates us — we are called Live Traders — is that we actually trade live," Singh said. "There are a lot of people in the education business, but we're traders first and then we're educators next. We trade every single day, and we trade in front of everybody whether we win or lose."
Letting newcomers see professional traders doing their thing in real time, and the transparency that comes along with that, is one the company's greatest values, the founder explained.
"Live trading rooms are critical to growing as a trader, as they allow immediate feedback, networking, and learning from a variety of individuals with different experience levels," according to the company. "It also enables you the opportunity to witness the emotional rollercoaster trading can be."
Watch on
Live Trader members are able to use the company's proprietary trading patterns and unique formula to gain a trading edge, while professionals are able to monitor the new traders' ability to use the information effectively.
"Live Trading can help you bridge that experience by allowing you to learn on the spot from the industry's best, while saving you a ton of time and possible losses," according to the company website. "Allow your network to become your net worth."
Singh explained that the live trading process includes letting trainees see their computer screens via webcam and listening to their audio feeds.
"It's basically like they're sitting next to us," he said. "So when I lose, they'll see it on their screen because they can see our P&L statements and everything. We offer full transparency in that regard."
Live Traders Offers a Wealth of Educational Resources via Courses and Online Tools
Live Traders doesn't only offer the chance to get up close and personal with real-world trading, the company also provides a number of other valuable educational resources and courses.
The company's flagship course is Professional Trading Strategies.
"The primary goal with creating that course was to provide something that, once people take it, then that's it. They know everything," Singh said. "They don't have to jump around from course to course."
He said some companies will offer several tiered courses, but Live Traders wanted to give users all the information they need in one package.
"We created a monster. It's like a bible for traders," Singh said. "It's almost 20-plus hours of education and comes with a manual that has almost 600 pages. It's the A to Z of trading."
He said the course will take people through the basics, then on to advanced techniques, and even into how to set up your own trading business.
"It's basically how to make a trading business from scratch," Singh said. "The results have been phenomenal. We have a lot of people who are now running money management firms or running hedge funds or even their own education firms, who have at some point gone through our program."
The company also offers "The Trader's Guide to Success."
"This book was designed to benefit traders and investors of all levels, as well as in all timeframes. Whether you are an experienced veteran trader or a beginner without any experience there is something in this book for you!" according to the company.
Live Traders also offers courses on trading on foreign exchanges, market patterns, and much more — all of which can be found on the company website.
Advertiser Disclosure
CardRates.com is a free online resource that offers valuable content and comparison services to users. To keep this resource 100% free, we receive compensation for referrals for many of the offers listed on the site. Along with key review factors, this compensation may impact how and where products appear across CardRates.com (including, for example, the order in which they appear). CardRates.com does not include the entire universe of available offers. Editorial opinions expressed on the site are strictly our own and are not provided, endorsed, or approved by advertisers.